42
Say Hello to Groupon Now & Right Here, Right Now Deals. Groupon has just launched Groupon Now, the company's much-anticipated time-based deals app that wants to redefine how society eats and shops.
Groupon Now, which was first revealed in March, is a simple application within Groupon's mobile apps that gives a user the ability to find local deals in realtime. This is accomplished by mapping a list of time-specific daily deals in the user's vicinity. These daily deals can last anywhere from a few hours to a full day, depending on when and how long a business wants to run a deal.
The goal of Groupon Now is to give businesses the opportunity to bring in new customers during slow periods of business. If a restaurant knows that it gets weak business on Wednesday afternoons, it can set up a daily deal for that time frame. HOW TO: Set Up a Foursquare Special. This post originally appeared on the American Express OPEN Forum, where Mashable regularly contributes articles about leveraging social media and technology in small business.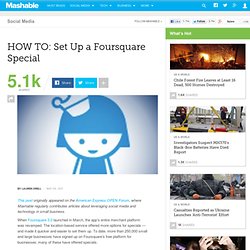 When Foursquare 3.0 launched in March, the app's entire merchant platform was revamped. The location-based service offered more options for specials — and made it quicker and easier to set them up. To date, more than 250,000 small and large businesses have signed up on Foursquare's free platform for businesses; many of these have offered specials. The beauty of a Foursquare special — aside from rewarding your customers and getting them back in the door — is that when users often check out the "Specials Nearby" menu when they first open the app. If they're within a few blocks of your store and you have a special, you'll show up in that menu. HOW TO: Start Marketing on Foursquare. The Social Media 101 Series is sponsored by Global Strategic Management Institute.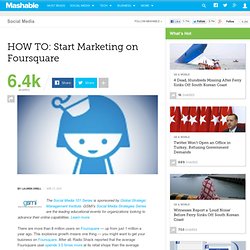 GSMI's Social Media Strategies Series are the leading educational events for organizations looking to advance their online capabilities. Learn more. There are more than 8 million users on Foursquare — up from just 1 million a year ago. The Future of Geolocation: What is Coming? Since location-based check-in app Foursquare was launched at South by Southwest in 2009, the app has seen exponential growth, reaching over 7.5 million users this year.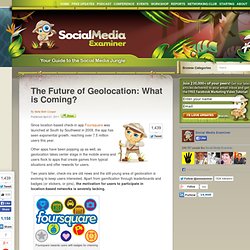 Other apps have been popping up as well, as geolocation takes center stage in the mobile arena and users flock to apps that create games from typical situations and offer rewards for users. Two years later, check-ins are old news and the still-young area of geolocation is evolving to keep users interested. How to Use Geolocation in Your Marketing Initiatives. 2011 has been hailed as the "year of geolocation."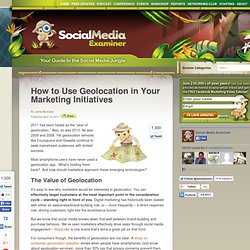 Alas, so was 2010. As was 2009 and 2008. Yet geolocation services like Foursquare and Gowalla continue to seek mainstream audiences with limited success. 6 Ways to Market on Foursquare Without a Location. Scott Bishop is a director of social influence and author of How To Make Money Marketing Your Business With Foursquare (FT Press Delivers).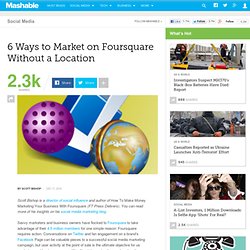 You can read more of his insights on his social media marketing blog. Savvy marketers and business owners have flocked to Foursquare to take advantage of their 4.5 million members for one simple reason: Foursquare requires action. Conversations on Twitter and fan engagement on a brand's Facebook Page can be valuable pieces to a successful social media marketing campaign, but user activity at the point of sale is the ultimate objective for us marketers and business owners.
Badgeville Gives Publishers Trendy, Plug-and-Play Game Mechanics. This post is part of Mashable's Spark of Genius series, which highlights a unique feature of startups.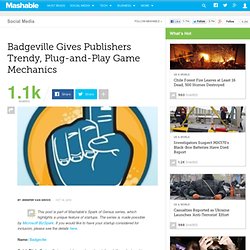 The series is made possible by Microsoft BizSpark. If you would like to have your startup considered for inclusion, please see the details here. Name: Badgeville. Earn Badges on Foursquare, No Checkins Required. Foursquare announced Thursday that users can now earn badges for completing tasks as well as checking in.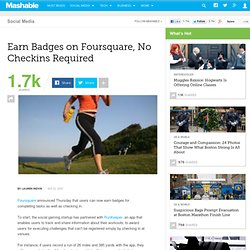 To start, the social gaming startup has partnered with RunKeeper, an app that enables users to track and share information about their workouts, to award users for executing challenges that can't be registered simply by checking in at venues. For instance, if users record a run of 26 miles and 385 yards with the app, they will be rewarded with a Marathon badge, which will show up on both their Runkeeper and Foursquare profiles. (I'm personally excited to unlock that one on October 31.) Foursquare is all about getting people out of their homes and exploring the real world, so the new initiative aligns well with the team's mission. How Universities Can Win Big With Location-Based Apps. Dan Klamm is the Outreach & Marketing Coordinator at Syracuse University Career Services.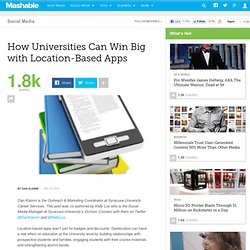 This post was co-authored by Kelly Lux who is the Social Media Manager at Syracuse University's iSchool. Connect with them on Twitter @DanKlamm and @KellyLux. Location-based apps aren't just for badges and discounts. Geolocation can have a real effect on education at the University level by building relationships with prospective students and families, engaging students with their course materials, and strengthening alumni bonds. Universities are always looking for ways to strengthen ties within their communities and many higher education institutions have already implemented social media plans to help them carry out that end.
Foursquare 2.0 for the iPhone Has Arrived. When Facebook Places launched, Foursquare CEO Dennis Crowley was quick to label Facebook's location offering as generic.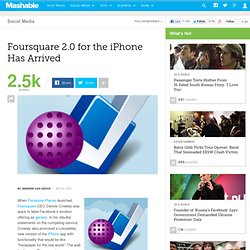 In his rebuttal statements on the competing service, Crowley also promised a completely new version of the iPhone app with functionality that would be like "Instapaper for the real world. " The wait for the new iPhone app is over — version 2.0 has arrived. In version 2.0 [iTunes link], Foursquare emphasizes Tips and To-Dos, which are now split up and given prominent placement in the application's bottom navigation bar. The emphasis is not application specific, as Foursquare will now also connect the dots between web discovery and mobile activity. When Group Buying Met Check-In: SCVNGR Hooks Up With BuyWithMe On Local Deals. In perhaps the most inevitable combination since peanut butter and chocolate, the addictiveness of both group buying and irrationally checking into places have finally come together as Groupon clone BuyWithMe partners with geolocational gaming app SCVNGR.
The partnership launches today primarily as a collaboration in which local BuyWithMe affiliated businesses in New York, Philadelphia and Boston will now be able to use the SCVNGR platform to integrate local deals with real life engagement, a SCVNGR speciality. Basically, if someone buys a deal on BuyWitheMe, the SCVNGR app allows them to complete challenges at that specific local business location for even more discounts or rewards. Users can earn points by doing anything from taking a funny photo, checking in, scanning a QR code or whatever customized activity a business owner can think of that will keep users coming back. "SCVNGR's game platform gives them more reason to visit again and again," says BuyWithMe CEO Cheryl Rosner. Why Foursquare Drives Business: What You Need to Know. For the first time in history, the Internet is focusing in on local business in a major way.
And Foursquare is leading the trend. Instead of competing in a "global marketplace," local business owners now have access to geotagging, local search, and location-based services. How to Drive More Customers to Your Local Business With Social Geotagging. Local Merchants, It's Time To Ditch The Sidewalk Chalkboard For Foursquare Welcome Screens. As Foursquare becomes more and more popular, so is the sidewalk chalkboard sign beckoning Foursquare users into the local coffee shop or bar and hailing the store's current Mayor. While the chalkboard signs are quaint and add a nice personal touch, they don't really change much throughout the day. What if a store put up a digital sign instead that welcomed the Mayor whenever they checked in, or really any patron when they checked in, and alerted them to Foursquare specials? A small Canadian startup called ScreenScape now offers a Foursquare app for their digital signage service which lets local merchants display their Foursquare specials and welcome Mayors and other Foursquare users whenever they check in.
5 New Ways Small Business Can Offer Location-Based Deals. This post originally appeared on the American Express OPEN Forum, where Mashable regularly contributes articles about leveraging social media and technology in small business. Location-based services, such as Foursquare and Gowalla, are proving quite popular with consumers open to sharing their locations with the world. They're also built to be inherently business-friendly, as most allow retailers to incentivize checkins and social sharing behaviors in the hopes of attracting swarms of patrons to their businesses. As the space continues to evolve, new platforms, technologies and services are emerging with the specific intention of helping small businesses reward their loyal patrons with deals for their in-store behaviors.
Small businesses looking for fresh and relevant ways to serve up location-based deals and stay ahead of the curve have numerous options. Check (In) Yo' Self Before You Wreck Yo' Self: Why Foursquare Users Check In "Off The Grid" SCVNGR Brings Location Game to Facebook Places. Foursquare Check-In Campaigns: Worthwhile for Consumers? — BlogWorld Expo Blog. Top 5 Ways Big Brands are Using Foursquare. Beyond Foursquare: 5 Location-Based Apps for Your Small Business. FourSquare for Small Business: A Primer. Facebook Places Coming To The iPhone App Tonight. Check-Ins With Friend Tagging. Foursquare Focuses on Privacy on Eve of Expected Facebook Location Launch.
---