Administration
Daily Tip: Edit Your .htaccess File in the WordPress Dashbaord | WordPress News at WPMU.org. Want to make changes to your .htaccess file without having to fire up an FTP client?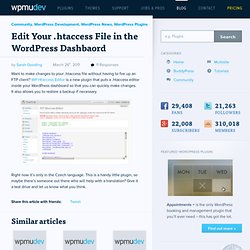 WP Htaccess Editor is a new plugin that puts a .htaccess editor inside your WordPress dashboard so that you can quickly make changes. It also allows you to restore a backup if necessary. Right now it's only in the Czech language. This is a handy little plugin, so maybe there's someone out there who will help with a translation? Duplicate content et référencement Wordpress. Tout le monde le sait, un contenu dupliqué nuit au référencement.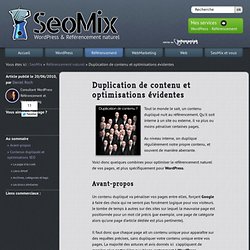 Qu'il soit interne à un site ou externe, il va plus ou moins pénaliser certaines pages. Au niveau interne, on duplique régulièrement notre propre contenu, et souvent de manière aberrante. Voici donc quelques combines pour optimiser le référencement naturel de vos pages, et plus spécifiquement pour WordPress. Rediriger le flux d'informations de votre blog vers celui de Feedburner ! » Snippets, hacks et codes sources WordPress. Un bon plugin Google Analytics pour Wordpress. Redirections Permanentes. Quand vous commencez avec WordPress.com, votre blog reçoit un nom de domaine de WordPress.com dans ce format: exemple.wordpress.com.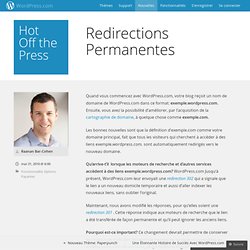 Ensuite, vous avez la possibilité d'améliorer, par l'acquisition de la cartographie de domaine, à quelque chose comme exemple.com. Les bonnes nouvelles sont que la définition d'exemple.com comme votre domaine principal, fait que tous les visiteurs qui cherchent à accéder à des liens exemple.wordpress.com. sont automatiquement redirigés vers le nouveau domaine. Qu'arrive-t'il lorsque les moteurs de recherche et d'autres services accèdent à des liens exemple.wordpress.com? WordPress.com Jusqu'à présent, WordPress.com leur envoyait une redirection 302 qui a signale que le lien a un nouveau domicile temporaire et aussi d'aller indexer les nouveaux liens, sans oublier l'original. Optimize the Performance of Widgets, Buttons & More. A recent post by web site performance thought leader (and user experience expert as a result) Steve Souders reminds me of a vital nuance that's not even clearly expressed in the popular Yahoo!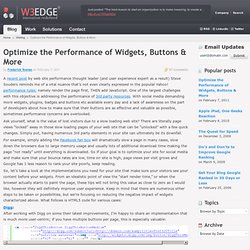 Performance rules; namely render the page first, THEN add JavaScript. One of the largest challenges with this objective is addressing the performance of 3rd party resources. With social media demanding more widgets, plugins, badges and buttons etc available every day and a lack of awareness on the part of developers about how to make sure that their buttons are as effective and valuable as possible, sometimes performance concerns are overlooked. Ask yourself, what is the value of lost visitors due to a slow loading web site? There are literally page views "locked" away in those slow loading pages of your web site that can be "unlocked" with a few quick changes.
---