Landing page optimization
Landing Page Plugins and Templates
Low cost online Lead Generation, Landing Pages - Landing5 Pricing. Basic Professional Enterprise Individual salespeople, very small business owners and entrepreneurs Small businesses, and clients with more leads Large organizations.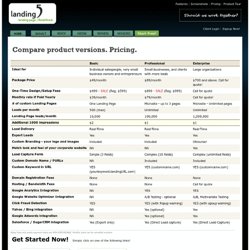 Lead Generation - Landing Page HubSpot May2009. Build a Lead Generation Website - Buzzoodle. Lead Generation - Ten Tips for Landing Pages. Editor's Note: The next in our series of guest posts from SEM professionals comes from Jon Miller, VP of Marketing at Marketo.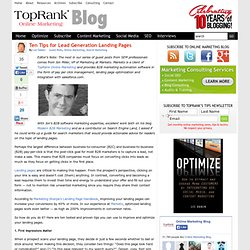 Marketo is a client of TopRank Online Marketing and provides B2B marketing automation software in the form of pay per click management, landing page optimization and integration with salesforce.com. With Jon's B2B software marketing expertise, excellent work both on his blog Modern B2B Marketing and as a contributor on Search Engine Land, I asked if he could write up a guide for search marketers that would provide actionable advice for readers on the topic of landing pages. Perhaps the largest difference between business-to-consumer (B2C) and business-to-business (B2B) pay-per-click is that the post-click goal for most B2B marketers is to capture a lead, not make a sale.
SEO Landing Page Conversion Optimization Tips. Conversion Rate Optimization. Who Is The Best Landing Page Optimziation Person You Know. 7 Best Practices for Landing Page Optimization - Web Analytics World Blog. Increase Landing Page Conversion Rates. YOU ARE HERE: Home > Marketing Tips > Increase Landing Page Conversion Rates If you're looking for an easy and low risk way to increase your landing page conversion rates, then use the conversion rate optimization strategies outlined in this online guide.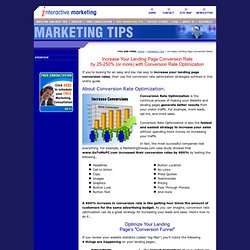 About Conversion Rate Optimization: Landing Page Best Practices | The Adventures of PPC Hero® Webtrends Lead-Gen: A Lesson in Cool Simplicity. Today's landing page example comes from WebTrends.com, a web analytics company.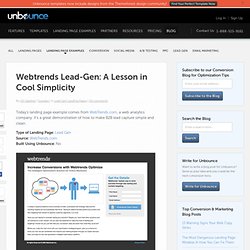 It's a great demonstration of how to make B2B lead capture simple and clean. Type of Landing Page: Lead GenSource: WebTrends.comBuilt Using Unbounce: No Landing Pages Elements Infographic: Visual aids on a landing page are "worth a thousand words" and can improve understanding among the attention-challenged internet generation. In this instance I'm not sure I completely get what it's trying to demonstrate, but the intent is good, and stylistically it captured my attention.Directional cues: The arrows in the diagram are used to show the flow of information within the infographic. The Perfect Landing Page. 12 Landing page Tips and Examples > Smart Insights Digital Marketing. Most discussion of web design in companies who don't know the power of landing pages still tends to focus on the home page.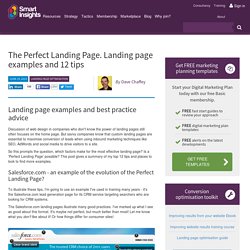 But, for companies who are running a lot of online marketing campaigns, the effectiveness of the different pages deeper within the site is vital to getting returns from these campaigns. So this prompts the question, which factors make for the most effective landing page? Is a 'Perfect Landing Page' possible? This post gives a summary of my top 12 tips and places to look to find more examples. 10 Best Practices for Website Landing Pages. Creating relevant experiences is the goal of good web design.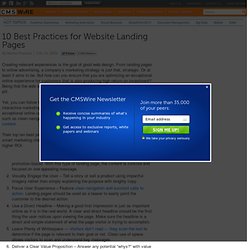 From landing pages to online advertising, a company's marketing strategy is just that, strategic. Or at least it aims to be. But how can you ensure that you are optimizing an exceptional online experience for customers that is also producing high return on investment? 20+ HTML Landing page templates for your business. Spark – The Perfect Landing Page.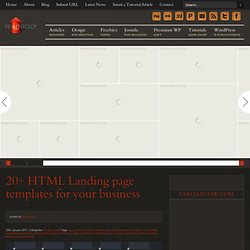 Is a good solution because it distills what is great about your product by giving customers a bird's-eye view of the features and benefits they are getting. TheLanding Landing Page. SMX Advanced: Landing Page Myths.
Web Design Best Practice Guide | Econsultancy. Landing Page Best Practices: the definitive guide (with infographics) We (at Visual Website Optimizer) are starting a series on the blog where the experts in A/B testing, landing pages, conversion rate optimization will share everything they know about how to increase sales and conversions online.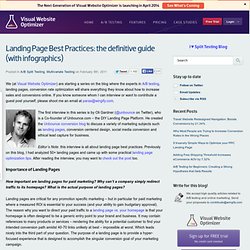 If you know someone whom I can interview or want to contribute a guest post yourself, please shoot me an email at paras@wingify.com. The first interview in this series is by Oli Gardner (@unbounce on Twitter), who is a Co-founder of Unbounce.com – the DIY Landing Page Platform. He created the Unbounce conversion blog to discuss a variety of marketing subjects such as landing pages, conversion centered design, social media conversion and ethical lead capture for business. Editor's Note: this interview is all about landing page best practices. Previously on this blog, I had analyzed 50+ landing pages and came up with some practical landing page optimization tips.
7 Habits of a Highly Effective Landing Page. Does your online marketing strategy include things like "conversion," "ROI" and "new customers?"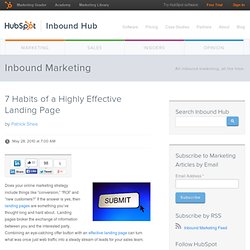 If the answer is yes, then landing pages are something you've thought long and hard about. Landing pages broker the exchange of information between you and the interested party. Combining an eye-catching offer button with an effective landing page can turn what was once just web traffic into a steady stream of leads for your sales team. 1. Pass the Blink Test - Visitors to your site will often make the decision of whether or not they're going to fill out your form before the page even finishes loading.
---