Cross Browser Testing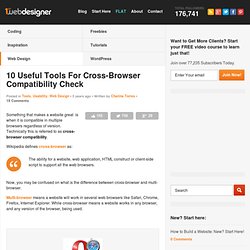 10 Useful Tools For Cross-Browser Compatibility Check
Something that makes a website great is when it is compatible in multiple browsers regardless of version.
Multi-Browser Viewer | Cross Browser Testing - Standalone Browsers & Screen Capture Testing
Ceon | Pick an OS Pick a Browser Test a Website
At some point in the future, the way that all major browsers render Web code will likely be standardized, which will make testing across multiple browsers no longer necessary as long as the website is coded according to Web standards. But because that day is still a way off (if it will really come at all), testing your design the advanced browsers as well as legacy browsers is a necessary part of any project.