Acid Alkaline PH Diet & Health
Eat Alkaline Foods to Boost Immune System and Prevent Disease Naturally
Consuming the correct balance of acid and alkaline foods will help you maintain optimal health or recover from poor health .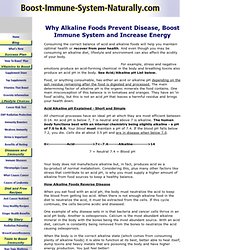 How to Restore the Body to an Alkaline pH « Essential Oils… more than basic Aromatherapy
An alkaline environment in the body is hostile to fungi (and I might also add, hostile to many types of cancer), which require acidity to survive and thrive. Lowered yeast and fungus (read more about Vaginal Yeast and Fungus at the end of this article) populations translate into lower levels of body-damaging, disease-inducing mycotoxins. Some of the most common varieties of pathogenic bacteria, yeast, and fungi that live in the intestines are inactive.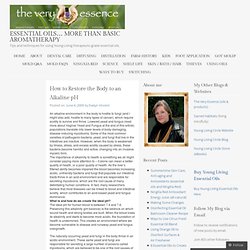 Over acidity, which can become a dangerous condition that weakens all body systems, is very common today.
Lesson 18 - Restoring pH Balance in the Body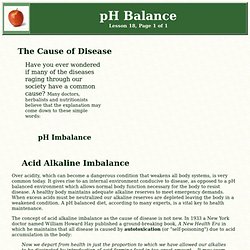 Balanced body chemistry is of utmost importance for the maintenance of health and correction of disease. Acidosis, or over-acidity in the body tissues, is one of the basic causes of many diseases, especially the arthritic and rheumatic diseases. All foods are "burned" in the body--more commonly called "digested"-- leaving an ash as the result of the "burning", or the digestion.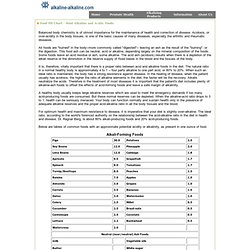 acid-akaline-foods.pdf (application/pdf Object)