WoW Gaming
Mining is used to collect the ores you'll need for Blacksmithing, Jewelcrafting, and Engineering…this means that the Auction House is usually LOADED with ALL the Mining supplies you'd ever need for leveling. So instead of wasting the time running around leveling your Mining you may want to just BUY everything. If you don't think you can afford it then you should read this guide now before you start. This Mining Leveling Guide is updated for patch 5.4 and Mists of Pandaria. **Due to changes in Patch 5.3, you can now level mining in Mists of Pandara from level 1-600. If you are a high level player please check out the Mining Guide for Level 90s.
WoW Mining Guide | 1-450 Mining Leveling Guide | Almost Gaming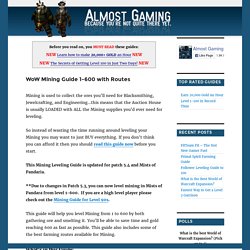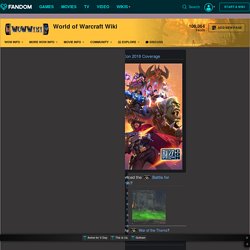 Comment here! A month has gone by since our last news update. We're still waiting for Patch 5.4.0 which, among other things, brings us the Siege of Orgrimmar and Virtual Realms. So what's the news in the meantime? Warcraft Movie trailer If you were lucky enough to attend Comic-Con recently, Blizzard released a very short video blip about the Warcraft movie.