Wemaster
Home of SMF: Free PHP and MySQL forum software. Lifehacker, tips and downloads for getting things done. VengeanceCo:. Home. Mambo - open source content management system. Web Hosting Services: All-inclusive website hosting package, Free blog and CMS, Free domain, top customer care. SiteGround - the best Web Space Hosting Provider. Flash. COLOR CHARTS & TOOLS.
Color Matters A most complete and comprehensive website devoted to all aspects of color, from how we see color (brain) and how it affects our bodies, to how it works in computers and TVs, plus all the other stuff you've never even known about.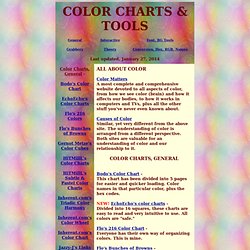 Causes of Color Similar, yet very different from the above site. The understanding of color is arranged from a different perspective. Both sites are valuable for an understanding of color and our relationship to it. Bodo's Color Chart -This chart has been divided into 5 pages for easier and quicker loading. Color names in that particular color, plus the hex codes. Online Web Tutorials. Tipped - The Javascript Tooltip Framework. Tipped allows you to easily create beautiful tooltips using the jQuery Javascript library.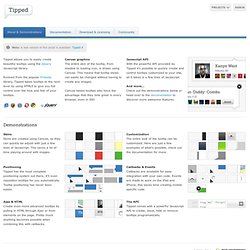 Evolved from the popular Prototip library, Tipped takes tooltips to the next level by using HTML5 to give you full control over the look and feel of your tooltips. Canvas graphics The entire skin of the tooltip, from shadow to loading icon, is drawn using Canvas. This means that tooltip styles can easily be changed without having to create any images.
Canvas based tooltips also have the advantage that they look great in every browser, even in IE6! WP-reCAPTCHA. Notice If anyone is interested in taking up development of this plugin, please contact me at blaenk@gmail.com.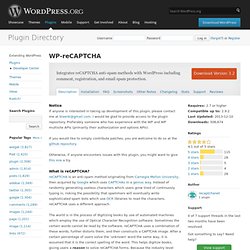 I would be glad to provide access to the plugin repository. Preferably someone who has experience with the WP and WP multisite APIs (primarily their authorization and options APIs). If you would like to simply contribute patches, you are welcome to do so at the github repository.
---