#Occupy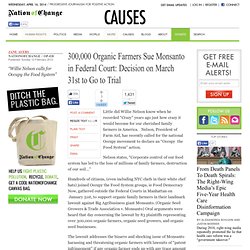 Published: Sunday 12 February 2012 "Willie Nelson calls for Occupy the Food System" Resize Text + | - | R Little did Willie Nelson know when he recorded "Crazy" years ago just how crazy it would become for our cherished family farmers in America. Nelson, President of Farm Aid, has recently called for the national Occupy movement to declare an "Occupy the Food System" action. Nelson states, "Corporate control of our food system has led to the loss of millions of family farmers, destruction of our soil…"
300,000 Organic Farmers Sue Monsanto in Federal Court: Decision on March 31st to Go to Trial
Occupy Psychopaths 1 (OWS vs. the Pathology of the 1%)
OWS is over - The Insiders
Posted at 01:57 PM ET, 11/16/2011 Nov 16, 2011 06:57 PM EST TheWashingtonPost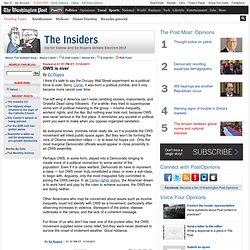 Police shut down Occupy London *The Indignants*
Homeless Man thanks Occupy Vancouver
Occupy Vancouver death dooms protest camp - British Columbia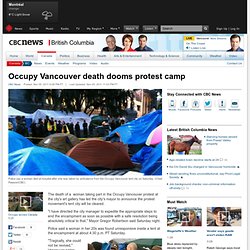 The death of a woman taking part in the Occupy Vancouver protest at the city's art gallery has led the city's mayor to announce the protest movement's tent city will be cleared. "I have directed the city manager to expedite the appropriate steps to end the encampment as soon as possible with a safe resolution being absolutely critical to that," Mayor Gregor Robertson said Saturday night. Police said a woman in her 20s was found unresponsive inside a tent at the encampment at about 4:30 p.m. PT Saturday. Police talk to people at the scene. (CBC)
[Occupytimessquare] 1 Marine vs. 30 Cops (Marine Wins)
On standing down from the Pastoral Team at St Paul's Cathedral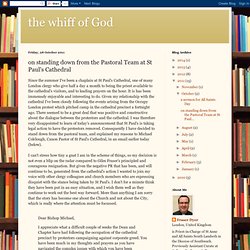 Since the summer I've been a chaplain at St Paul's Cathedral, one of many London clergy who give half a day a month to being the priest available to the cathedral's visitors, and to leading prayers on the hour. It is has been immensely enjoyable and interesting to do. Given my relationship with the cathedral I've been closely following the events arising from the Occupy London protest which pitched camp in the cathedral precinct a fortnight ago. There seemed to be a great deal that was positive and constructive about the dialogue between the protestors and the cathedral. I was therefore very disappointed to learn of today's announcement that St Paul's is taking legal action to have the protestors removed.
There's A Revolution Brewing, Occupy Wall Street Enters Week Two
Observations of a Jailed Journalist | MetroFocus
MetroFocus Web Editor John Farley, kneeling, was arrested while reporting on the Occupy Wall Street protest. Farley was working on a story about citizen journalism at the time. MetroFocus/Sam Lewis. On Sept. 24, while working on a story about citizen journalism for my employer, I found myself arrested, along with many other people.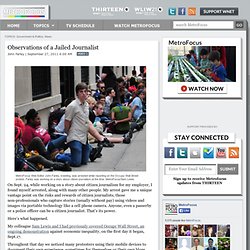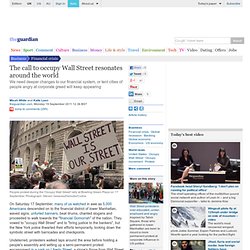 The call to occupy Wall Street resonates around the world | Micah White and Kalle Lasn | Comment is free
On Saturday 17 September, many of us watched in awe as 5,000 Americans descended on to the financial district of lower Manhattan, waved signs, unfurled banners, beat drums, chanted slogans and proceeded to walk towards the "financial Gomorrah" of the nation. They vowed to "occupy Wall Street" and to "bring justice to the bankers", but the New York police thwarted their efforts temporarily, locking down the symbolic street with barricades and checkpoints. Undeterred, protesters walked laps around the area before holding a people's assembly and setting up a semi-permanent protest encampment in a park on Liberty Street, a stone's throw from Wall Street and a block from the Federal Reserve Bank of New York. Three hundred spent the night, several hundred reinforcements arrived the next day and as we write this article, the encampment is rolling out sleeping bags once again.
OWS protesters fear movement is being turned into a Democratic election campaign front Paul Joseph Watson Prison Planet.com Monday, October 10, 2011 The "official" Occupy Wall Street website has publicly formed an alliance with yet another Obama campaign front group, the New Jersey branch of the American Federation of Teachers, the parent organization of which spent $1.9 million on Obama's 2008 election campaign. Fears that the OWS movement is being subverted by Democratic Party operatives will only be heightened after OccupyWallSt.org celebrated the fact that "AFT fully endorses Occupy Wall Street," noting that the local chapter stood in "solidarity" with 'Occupy' demonstrators.
'Occupy' Forms Alliance With Obama Lobby Group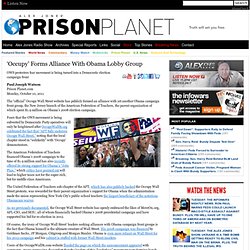 OCCUPY VICTORIA - JOSH STEFFLER
wikipedia commons 40mm tear gas launcher As the events that led to Oakland protester Scott Olsen's head injury continue to unfold and investigations begin, we thought it important to offer some perspective. This comment is from a former Marine with special operations in crowd control. He points out that shooting canisters such as those that likely hit Scott Olsen is prohibited under rules of engagements in Iraq and Afghanistan.
Marine Says Oakland Used Crowd Control Methods That Are Prohibited In War Zones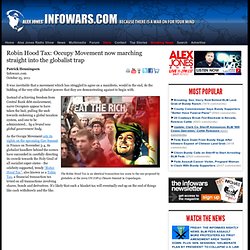 Patrick HenningsenInfowars.com October 25, 2011 It was inevitable that a movement which has struggled to agree on a manifesto, would in the end, do the bidding of the very elite globalist powers that they are demonstrating against to begin with. The Robin Hood Tax is an identical transaction-tax scam to the one proposed by globalists at the 2009 UN COP15 Climate Summit in Copenhagen. Instead of achieving freedom from Central Bank debt enslavement, naive Occupiers appear to have taken the bait, pulling the mob towards endorsing a global taxation system, and one to be administered… by a brand new global government body.
» Robin Hood Tax: Occupy Movement now marching straight into the globalist trap Alex Jones
Scott Olsen, the Iraq war veteran who was seriously injured by a police projectile during a protest in Oakland, has regained consciousness but "cannot talk". Olsen, 24, is communicating with friends and family at his bedside by writing notes, but his injury is believed to have damaged the speech centre of his brain, according to Keith Shannon, who served with Olsen in Iraq. Olsen is believed to have been injured by a police projectile. He was hit in the forehead in downtown Oakland on Tuesday evening, after marching with fellow demonstrators to protest the closure of an Occupy Oakland camp in the city. "He cannot talk right now, and that is because the fracture is right on the speech center of his brain," said Shannon.
Scott Olsen 'cannot talk' after injury at Occupy Oakland protest | World news