Harper
WARNING: Harper wants 1984 Big Brother Government (Bill C-30)
Time To Depose Stephen Harper
Canada's cold new dawn | Heather Mallick | Comment is free
Canada woke up to an election shock this morning. It was a self-inflicted jolt, and all the more painful for that. After three minority governments in seven years – all following inconclusive, forgettable elections that never gave the Conservatives the solid majority they were sweating for – a man of the hard right named Stephen Harper finally has his win. He triumphed over Michael Ignatieff – known to the British as a fine writer, historian and BBC talking head – who had returned to Canada to lead the Liberals, often described as the country's traditional party of government.
Why Canada can't afford Stephen Harper | The Vancouver Observer - News, Culture, Sports, Blogs in Vancouver, BC
It's a good time to debunk the biggest Stephen Harper myth there is: "We are good economic managers".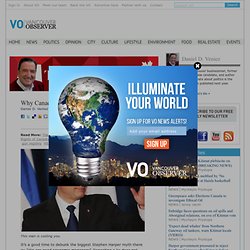 TRAITOR Stephen Harper LOSS OF CANADIAN SOVEREIGNTY
His government 'doctored' a document to get its way and punish enemies.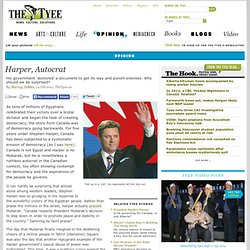 Harper, Autocrat
CBC News - Harper secretly recorded