Vegie gardening
The Greenhorns
The Cottage Smallholder
The Farm Gate by Nashdale Fruit Co.
Free Range Eggs
Truefood Network
Import Conditions Database - ICON - AQIS
Growing a great vegetable garden involves juggling the needs of dozens of different crops. Some like it hot while others prefer cool spring or fall growing conditions, but figuring out when to plant what — and where — just got easier. With the help of our interactive Vegetable Garden Planner , you can quickly get the data you need to design your best garden ever — and it's all free for 30 days .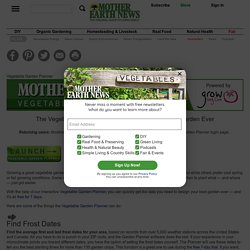 Vegetable Garden Planner — Design Your Best Garden Ever
One Green Acre
The Earth Garden Path
Yates Garden Club - Yates
Exclusive member offers, promotions & growing challenges Monthly gardening calendar email with tips & projects Use the Virtual Garden creator to visualise & design your garden Expert gardening advice from Yates The Yates Garden Club is perfect for the first time or experienced home gardener. Whether you're into growing vegetables, growing roses, maintaining your lawn or if you like to grow flowers, there is certainly lots of helpful gardening advice and information to suit all plant types. As a garden club member you will receive a monthly gardening email that contains a 4 week gardening plan specific to the time of year.