Trucs sympas à acheter - Gadgets
Ovarius. Santani's deviantART Gallery. Villafane Studios – Pumpkin Carving, Sand Sculpting, Action Figure Creating. ThisIsWhyImBroke.com :: The Internet's Mall. Cadeau original : nodshop, idée cadeaux fun et insolites pour elle, pour lui. Clé usb à votre image 4gigas | x EXCLUSIF !! | icommeiphone - Aurora.
Le cadeau de fin d'année parfait !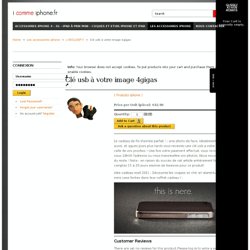 : une photo de face, idéalement une de profil aussi, et qques jours plus tards vous recevrez une clé usb a votre image ou à celle de vos proches ! Une fois votre paiement effectué, vous recevez par email sous 24h00 l'adresse ou nous transmettre vos photos. Nous nous chargeons du reste ! Note : en raison du succès de cet article entièrement fait main, comptez 15 à 20 jours environ de livraison pour ce produit! Idée cadeau noel 2011 : Découvrez les coques so chic en aluminium brossé nere.case livrées dans leur coffret cadeau ! Figurine personnalisée, objet cadeau, cadeau personnalisé, idée cadeau | 1MiniFace - Aurora. Optimus family - Aurora. Source: Google 22:13 Flashkus USB Concept Este concepto de Art.
Lebedev Studio promete, considerando su mismo motto, sin duda van a ser más prácticos que los disquettes en su tiempo! En usar un flashdrive de cartón, son más pros que cons: Se puede escribir en ellos, ... The 5 Coolest Keypads And Keyboards Keypad. (Image: iStockPhoto / caracterdesign). Faux magazines : une couverture de magazine personnalisée pour un cadeau original.
---