Ai
Tous les tutoriaux Illustrator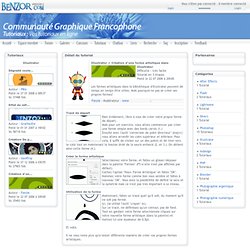 Tracé de départ Bien évidement, libre à vous de créer votre propre forme de départ. Mais pour cet exercice, nous allons commencer par créer une forme simple avec des bords carrés (1.) Ensuite avec l'outil "conversion de point directeur" (maj+c) nous allons arrondir les coins supérieur et inférieur. Pour cela, il suffit de clicker sur un des points et de tirer vers le coté tout en maintenant le bouton droit de la souris enfoncé (2. et 3.).
Tutorial - Illustrator - Création d'une forme artistique dans Illustrator
Illustrator Brushes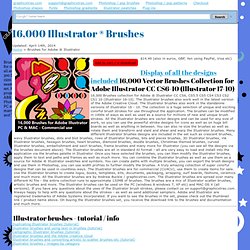 Price: $19.99 Thumbnail gallery: 16,000 Vector Brushes Collection for Adobe Illustrator CS6-10 16,000 Brushes collection for Adobe ® Illustrator CS6, CS5.5 CS5 CS4 CS3 CS2 CS1 10 - a huge selection of unique and exciting colorful brush strokes for use throughout the application. All the Illustrator brushes are vector designs, all for any size of work. The Illustrator brushes are all in standard AI format - all are very easy to load and install into the application via the brushes palette. The Illustrator brushes are for commercial use, all royalty-free, use them to create items for sale. Use them create logos, books, templates, kits, documents, packaging, wrapping, surf boards, fashions, ceramics and much more. All the Illustrator brushes are by graphicxtras.com (Andrew Buckle).
Illustrator brushes - graphicxtras.com
28 Free Illustrator Brushes for making Swooshes and Swirls 
28 Free Illustrator Brushes for making Swooshes and Swirls If our freebies have benefited you personally or have helped you earn a profit please consider donating via paypal. Donate Now