Favicon Bannière
Textures
Innovative and Useful CSS3 Techniques And Tutorials
Toujours à la recherche de nouveaux supports performants, Effiliation met à disposition des affiliés: des bannières vidéo… Pour en savoir plus suivez le guide! Qu'est ce que c'est ? La bannière Vidéo est nouveau type de support publicitaire : il s'agit d'une bannière vidéo dynamique proposée par Effiliation et développée en partenariat avec la société Content To Emotion Comment ça marche ? A la manière d'une émission TV, les produits sont animés dans la bannière de façon dynamique à partir des données (catalogue produits) de l'annonceur. Les informations récupérées sont mise à jour automatiquement : produit, prix, descriptif, réductions…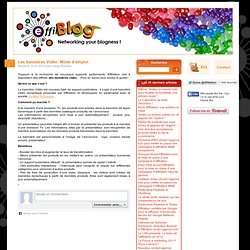 Les bannières Vidéo: Mode d'emploi | Effiblog
Un favicon pour votre site
Favicon Validator is a free online service that can be used to validate favicon files, link tags and related items on web pages. If you'd like to double check the favicon on your web page or if you're having trouble viewing it, enter your web page address and click "Check" Features: Checks if there's a favicon (favicon.ico or icon specified in a <link ...> tag). Makes sure that the favicon files are readable icons or image files. Validates the content of <link ...> tags, if available. Previews the favicons.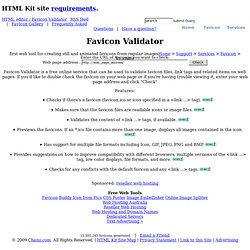 FavIcon from Pics -- free favicon.ico for your website (animated, static and marquee icons)
Le favicon est une petite icône sur les sites web, qui se retrouve juste à côté de la barre où il y a la barre d'URL (voir la capture d'écran ci-dessous). Cette petite image donne une identité visuelle à un site pour être retrouvée plus facilement dans les favoris. Ce petit tutoriel explique comment créer et mettre une telle image sur un site web. Format accepté En général les sites web choisissent le format ico, png ou gif. Malheureusement, tous les navigateurs ne gèrent pas tous ces formats.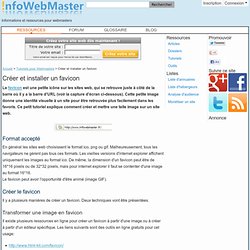 Créer et installer un favicon - Tutoriel pour Webmasters