Blakmagek
Georgii Collunz
i have been alive for about 15-16 years and have moved house once. i went to kindergarten, primary school and now highschool. im going to uni. i don't get a choice. i like my music and watch [V] often. i hate MTV now (damn reality shows.) i am routinely described as "weird" but really, i prefer the term "enigmatic paradoxical cryptic eccentric" i am prone to eating, breathing, sleeping (sometimes) and being a grammar Natzi and a hypocrite.
Doujinshi Index M, N, O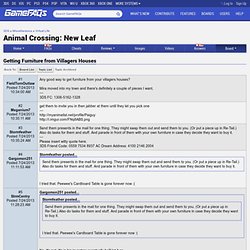 Gargomon251 posted... Stormfeather posted... Send them presents in the mail for one thing.
Getting Furniture from Villagers Houses - Animal Crossing: New Leaf Message Board for 3DS
AWKWARD ZOMBIE
Animal Crossing New Leaf Paths | Animal Crossing New Leaf Paths | Pin…
Pin by Lindsay Thompson on New Leaf QR Codes
Animal Crossing New Leaf paths | geeky things.
Crochet / black | Animal Crossing QR codes
Pin by Laura Moncur on Animal Crossing
* SEMI - HIATUS * | Animal Crossing
Pin by Jose Hendriks on Animal Crossing 3DS
Animal Crossing #qr #acnl | Animal Crossing QR codes
Stone-walkway | QRCrossing.com | Animal Crossing QR codes
See site for full set | Animal Crossing QR codes
Pin by Cassie Nolen on Animal Crossing QR codes
Animal Crossing New Leaf dress QR codes | Animal Crossing QR codes | …
Animal Crossing New Leaf | Animal Crossing QR codes
Stained glass 'Turn it!' | Animal Crossing QR codes
Animal Crossing New Leaf QR codes water | Animal Crossing QR codes | …
qr closet | Animal Crossing QR codes
Pin by Cassie Nolen on Animal Crossing QR codes
Pin by Cassie Nolen on Animal Crossing QR codes
DEATH NOTE 10th