Law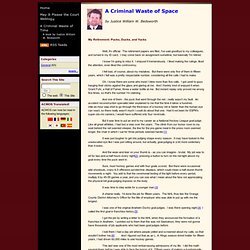 I think I may have underestimated the Pepsi Cola people. This would, after all, be an easy thing to do. About all we see of Pepsi is that red-white-and-blue beachball logo, and it's hard to take them seriously as an evil empire when all they seem to want us to do is join the Pepsi generation and think young. Frankly, I think we've long since passed the point of diminishing returns on getting me to think young, and I doubt I would be successful if I tried somehow to switch generations, so I'm afraid I haven't paid them a lot of attention. Too bad. Turns out they are some kind of corporate Hannibal Lecter and I've fallen right into their evil clutches.
A Criminal Waste of Space
Are you a Legal Professional? Build Your Business >> Lawyers.com > Discuss Your Legal Issue > Home Help Home Welcome to the Lawyers.com Community ! Site Activity
Lawyers.com Community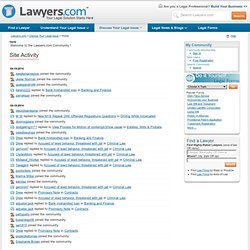 My FindLaw
Well, as we get nearer and nearer to the real Opening Day in Cincinnati, it's probably about time we took a little time to look at the prospects of our beloved Houston Disastros. The club is coming off an unbelievable three-year run of 100+ losses and looking to make it four-in-a-row. But where to begin? First we have Jim Crane dealing with the grease fire that is the sports network the Astros set up with the Rockets and Comcast. The teams got together to create their own regional sports network because they thought the rights fees Fox was paying wasn't what the market would bear.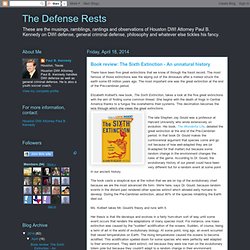 The Defense Rests
Criminal Jurisdiction
Probable Cause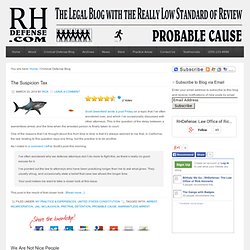 In the years since I became a lawyer, there are a few things I've never really gotten used to. One of them is how it is that people who hire me will almost always have made some kind of statement to the police; usually a statement that harms them in some way, and makes their case more difficult to defend. Now the average person out there might be thinking, "Yeah, so what? I'm glad criminals don't know better. I don't want people getting off on a 'technicality' because they exercised their right to remain silent."
So wrote Thomas Jefferson in 1774, foreshadowing his more famous quote about the "inherent and inalienable rights" of men, in the Declaration of Independence. To me, what Jefferson meant by that is that we, as humans and citizens of a great free democracy have certain inherent rights that are ours by the very nature of our existence and these rights are not dependent upon the charity of ministers, politicians and judges. Yet, for the most part, the realm of criminal law has continually drifted away from this Jeffersonian concept of "self-executing" rights and toward a more passive, dormant view of individual liberties and freedoms that need to be invoked to be awakened into performing their duties as our guardians.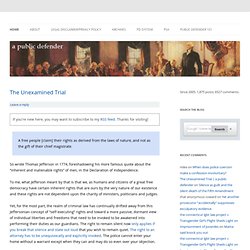 A Public Defender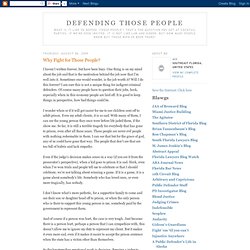 Defending Those People
From the ABA's recently e-mailed newsletter. Besides the books by Dickens, Harper Lee and Anthonly Lewis, I've read the Dali Lama's book. I highly recommend them and look forward to making time to read some of these: Nasty People: How to Stop Being Hurt by Them Without Becoming One of Them by Jay Carter.
Lawyers Weekly Books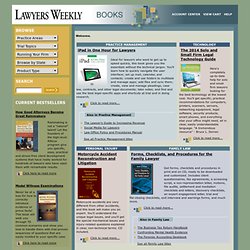 Ideal for lawyers who want to get up to speed quickly, this book gives you the essentials without the technical jargon. You'll learn how to quickly navigate the user interface; set up mail, calendar, and contacts; create and use folders to multitask and manage apps; add files and sync them; create, view and manage pleadings, case law, contracts, and other legal documents; take notes; and find and use the best legal-specific apps and shortcuts at trial and in doing research. Here's completely up-to-date help for solo and small firm lawyers looking for the best technology at the lowest cost. You'll get specific, practical recommendations for computers, printers, scanners, servers, networking equipment, legal software, security products, smart phones, and everything else your office might need, all in clear, easily understandable language. "A tremendous resource" - Bruce L.
American Constitution Society for Law & Policy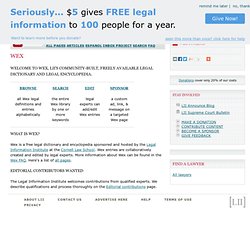 Welcome to Wex, LII's community-built, freely available legal dictionary and legal encyclopedia. What is Wex? Wex is a free legal dictionary and encyclopedia sponsored and hosted by the Legal Information Institute at the Cornell Law School. Wex entries are collaboratively created and edited by legal experts. More information about Wex can be found in the Wex FAQ.
Wex
Jurist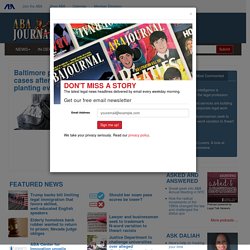 In December 2012, Emily Sue Falkenstein of Renton, Wash., drove into a marked crosswalk where wheelchair-bound Gregory Ramirez, 48, was crossing with his 6-year-old niece in his lap. The crash broke his leg and his wheelchair, and it left the girl with bruises and scrapes, according to court papers. The responding officer said Falkenstein's car smelled strongly of marijuana, but Falkenstein refused to take a blood test voluntarily. At the time, Washington law made blood draws mandatory for anyone arrested… full story
Law News Now
ACLU Forum
OCU
OCU Law Calendar
Law Office ManagementOffice Supplies and Equipment, Overnight Couriers and Document Delivery, Software and Computing Law PracticeCourt Reporters, Expert Witnesses, Private Investigators Law SchoolLaw School Exams, Law Schools and Libraries, Law School Outlines, Law School Textbooks
Gavel 2 Gavel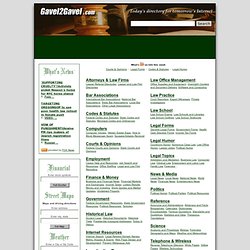 US Law
Yahoo! Law Directory
Attorney Pages
Justice Rudolph Hargrave has passed away Tuesday April 1. Our condolences to his wife Madeline and their family. Graveside services were held on Friday April 4 at 2 p.m. at the Oakwood Cemetery in Wewoka, located on SH-56, just south of U.S. 270.
The Oklahoma Supreme Court Network
OCRA
We hope you like our new design. Most of the content has been retained, but we've also added some new content that we hope you enjoy and will find useful. OCRA will strive to keep members up-to-date with information concerning upcoming conventions and court reporting news on both the state and national level.
OBA
MY OKBar
OBA-NET
ODCR
OIDS
OSCN Forms
Doug Loudenback on the Web
Standard Visitation In Oklahoma
Crime & Punishment Forum
Prayer to St. Thomas More
Legal News
My FindLaw
Blawg
Blawg Directory - ABA Journal
Blawg Review
Appellate Law & Practice
Defending Those People
Federal Civil Practice Bulletin
The Legal Workshop
Crime & Federalism
Criminal Defense Blawg
CrimProf Blog
US District Court for the Eastern District of Oklahoma
US Code
American Law WebRing
Law Issues WebRing
Legal History WebRing
The Code of Hammurabi