Law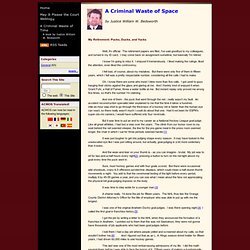 I think I may have underestimated the Pepsi Cola people. This would, after all, be an easy thing to do. About all we see of Pepsi is that red-white-and-blue beachball logo, and it's hard to take them seriously as an evil empire when all they seem to want us to do is join the Pepsi generation and think young. Frankly, I think we've long since passed the point of diminishing returns on getting me to think young, and I doubt I would be successful if I tried somehow to switch generations, so I'm afraid I haven't paid them a lot of attention. Too bad. Turns out they are some kind of corporate Hannibal Lecter and I've fallen right into their evil clutches.
A Criminal Waste of Space
Lawyers.com Community
My FindLaw
The Defense Rests
Studies Demonstrate Police Misconduct and Lies are "Pervasive" By: Houston Criminal Lawyer John Floyd and Paralegal Billy Sinclair Historically people have thought of "cops" as the kindly officer "walking the beat" keeping the streets safe from crime and everyone out of harm's way. No more. Too many people, especially those in minority communities, see the cops in a more distrustful way.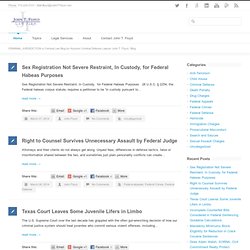 Criminal Jurisdiction
Probable Cause
A Public Defender
Legal Links Legal History
Defending Those People
Lawyers Weekly Books
American Constitution Society for Law & Policy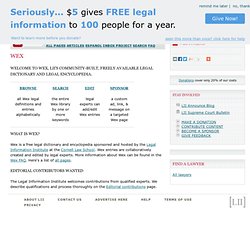 Welcome to Wex, LII's community-built, freely available legal dictionary and legal encyclopedia. What is Wex? Wex is a free legal dictionary and encyclopedia sponsored and hosted by the Legal Information Institute at the Cornell Law School . Wex entries are collaboratively created and edited by legal experts. More information about Wex can be found in the Wex FAQ .
Wex
Cornell University Law School's Legal Information Institute's "community-built dictionary & encyclopedia" by blakelylaw Dec 17
Law News Now
ACLU Forum
OCU
OCU Law Calendar
Law Office Management Office Supplies and Equipment , Overnight Couriers and Document Delivery , Software and Computing Law Practice Court Reporters , Expert Witnesses , Private Investigators Law School Law School Exams , Law Schools and Libraries , Law School Outlines , Law School Textbooks
Gavel 2 Gavel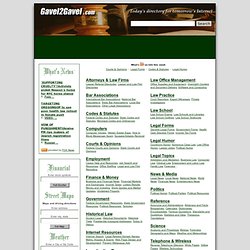 "Today's Directory for Tomorrow's Internet" by blakelylaw Jul 12
US Law
Yahoo! Law Directory
Attorney Pages
The Judicial Nominating Commission seeks applicants to fill the following judicial office: District Judge Twenty-first Judicial District, Office 3 Cleveland County This vacancy is due to the retirement of the Honorable Tom A.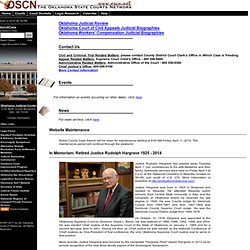 The Oklahoma Supreme Court Network
OCRA
"Oklahoma Court Reporter's Association" by blakelylaw Aug 1
OBA
Archived Oklahoma Bar Journals
MY OKBar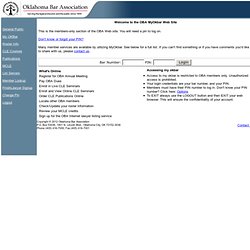 This is the members-only section of the OBA Web site. You will need a pin to log on. Don't know or forgot your PIN? Many member services are available by utilizing MyOkbar.
OBA-NET
OIDS
OSCN Forms
Doug Loudenback on the Web
Standard Visitation In Oklahoma
from Doug Loudenback on the Web by blakelylaw Sep 23
Crime & Punishment Forum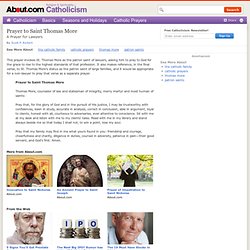 Prayer to St. Thomas More
This prayer invokes St. Thomas More as the patron saint of lawyers, asking him to pray to God for the grace to rise to the highest standards of that profession. It also makes reference, in the final verse, to St. Thomas More's status as the patron saint of large families, and it would be appropriate for a non-lawyer to pray that verse as a separate prayer.
Legal News
My FindLaw
Blawg
"Your Source for Legal Blogs, Podcasts & News Feeds" by blakelylaw Dec 13
Blawg Directory - ABA Journal
Blawg Review
Appellate Law & Practice
"A blog devoted to appellate law & advocacy." by blakelylaw Aug 14
Defending Those People
Federal Civil Practice Bulletin
The Legal Workshop
Crime & Federalism
"Because everything I was ever told was a lie." by blakelylaw Aug 22
Criminal Defense Blawg
Saturday, March 30, 2013 Beety on the Local Impact of Capital Cases Valena Elizabeth Beety (West Virginia University - College of Law) has posted Risk and Execution: The Local Impact of Capital Cases on Mississippi Counties (Mississippi Law Journal, Forthcoming) on SSRN. Here is the abstract: Mississippi codified the death penalty because people thought it was fair. Mississippians thought a death sentence was a fair punishment for the most heinous of crimes.
CrimProf Blog
"A Member of the Law Professors Blog Network" by blakelylaw Feb 25
US District Court for the Eastern District of Oklahoma
US Code
Cornell University Law School's Legal Information Institute by blakelylaw Dec 18
American Law WebRing
Law Issues WebRing
Legal History WebRing
The Code of Hammurabi
Legal History Legal Links