Jobs/Employment
ABA Career Center
Leave Law Behind
Some of us lawyers want to leave the law: We are unhappy and dissatisfied with our work situation. We suffer long hours. We find our day-to-day lawyer tasks mostly uninteresting. We are demotivated because we are not included in the partner track discussions. We feel we receive little-to-no mentoring.
Leave Law Behind
The Chronicle of Higher Education
MSU Employment Opportunities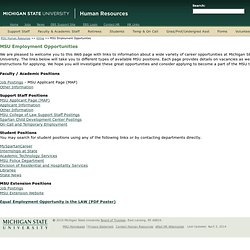 We are pleased to welcome you to this Web page with links to information about a wide variety of career opportunities at Michigan State University. The links below will take you to different types of available MSU positions. Each page provides details on vacancies as well as instructions for applying. We hope you will investigate these great opportunities and consider applying to become a part of the MSU team. Faculty / Academic Positions Job Postings - MSU Applicant Page (MAP) Other Information
Advanced Search Keyword Search Tips Use keywords that describe the job you're looking for. Examples include: Job Categories: Marketing, sales, telecommunications Job Titles: Truck driver, cashier, CEO Company names: Monster, Microsoft, Starbucks Use city names, state names, or zip codes to narrow your search to a local region Try "OR" to find jobs that may use more than one keyword to describe them. For example, "server or waiter". This widens your search and gives you more results.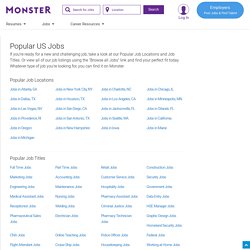 skip over navigation Search jobs - Main Page Browse Jobs Advanced/International Search Jobs in Demand
USA Jobs
About.com, a top U.S. web property, is looking for experienced online freelance writers who are credible authorities in their fields and capable of conveying information to users in a friendly, enthusiastic, and compelling way. Those freelancers who are most successful writing for About.com are highly skilled, self-motivated, and experienced web content creators with a deep passion for their topic area and impeccable journalistic integrity. They create original and easy-to-consume articles to meet the diverse needs that arise in readers' everyday lives; are able to produce content on a regular basis on their own time; and have the entrepreneurial spirit and conviction necessary to build independently upon their expertise and authority. When I started, I soon came to realize that my site growth and compensation were limited only by my own effort, creativity, and strategy. In my day job, the harder I work, the more tired I am.