Hard News
LinkedIn Today. The Christian Science Monitor. CBS DFW. Dallas-News. Ft. Worth Star-Telegram. The Paris News. The Daily Ardmoreite. NewsOK. KOCO. News9. KTUL. The Tallahassee Democrat. The NY Times. The State News. Reuters' U.S. News. UPI.
Jurist. Law News Now. Magyar Index. MTI. A nemzeti hírügynökség függetlenségének erősítése érdekében, az európai uniós normák és a magyar médiatörvény alapul vételével az MTI Zrt. szakmai erősítéséről döntött a vállalat vezetése.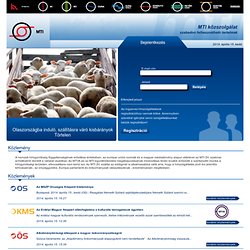 Az MTVA és az MTI együttműködési megállapodásának módosítása révén tovább erősödik a szerkesztői munka a hírügynökségi területen, elbocsátásra nem kerül sor. Az MTI Zrt. ezáltal az eddiginél is alkalmasabbá válik arra, hogy a hírszolgáltatás jövő évi jelentős kihívásainak– az országgyűlési, Európa parlamenti és önkormányzati választásoknak - eredményesen megfeleljen. Front Pages Today. Links: Home | Newspaper Map | Top 10 US Newspapers | Top 10 UK Newspapers | Magazine Directory | Headlines | About Us Sites: ThePaperboy.com | Mobile | Paperboy UK |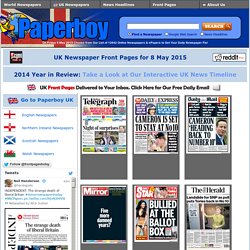 Paperboy. Today's Front Pages. Through a special agreement with more than 800 newspapers worldwide, the Newseum displays these front pages each day on its website.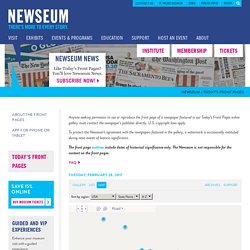 The front pages are in their original, unedited form, and some may contain material that is deemed objectionable to some visitors. Discretion is advised. Anyone seeking permission to use a front page must credit and link to the Newseum and contact the newspaper directly for permission. ESPN. NCAA Football. Sports Illustrated. NewsOK Sports News. Drudge Report. Fox News.
---