Hard News
Skip to main content LinkedIn Home Main content starts below. Pulse The news and insights you need to know. Top Posts Today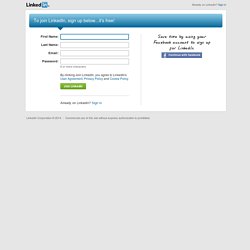 Skip to: Content Skip to: Site Navigation Skip to: Search Sign up for FREE E-Newsletters: Subscribe and save 79 Advertisements Sergei Grits / AP Terrorism & Security Pro-Russian protesters respond to a Ukraine peace deal: 'We're not leaving'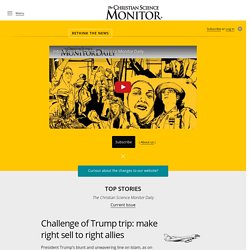 CBS DFW
The Paris News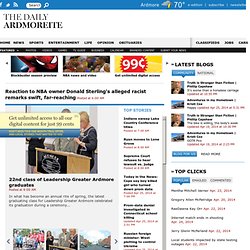 Posted Apr 4, 2014 at 8:00 AM Sen. Frank Simpson, R-Ardmore, and Rep. Tommy Hardin, R-Madill, were named Senate and House Legislators of the Year by the Oklahoma Veterans Council during a joint session Wednesday afternoon. It was the second year in a row Simpson has been honored by... Each weekday, the students at Springer Elementary make a pledge to accept the challenges ahead, be responsible, have a positive outlook and commit to becoming a leader in the future.
The Daily Ardmoreite
NewsOK
KOCO
News9
Bike Summit Aims to Make Tulsa Roads Safer The Oklahoma Bike Summit will be held this Friday and Saturday, at the Oklahoma Jazz Hall of Fame. It will to look for answers to some difficult questions in hopes that riders and drivers can coexist in the future. More>> Unchain Oklahoma Helps Keep Dogs Warm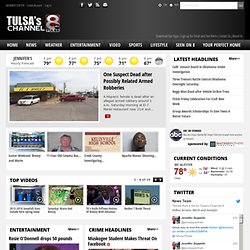 The Tallahassee Democrat
The NY Times
The State News
Hillary Clinton dodges shoe during Las Vegas speech - A woman hurled a shoe at Hillary Clinton on Thursday as the former secretary of state was delivering a speech at a Las Vegas hotel, but Clinton dodged it and continued with her remarks, a U.S. Secret Service spokesman said. | Video Pennsylvania officials seek motive for school stabbing rampage
Reuters' U.S. News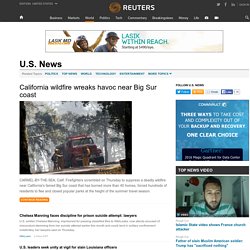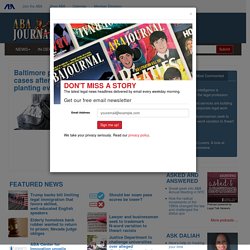 When Brother Albert Phillipp arrived at his newly formed parish in 1996, he found an area in dire need of help. The parish of San Felipe de Jesus consisted of desperately poor people who lived in ramshackle houses, many of which were unsafe. The sun-baked rural community lacked paved streets, garbage collection and streetlights. But this was not a shantytown in some desolate Third World country. This was Cameron Park, a "colonia" just outside the city limits of Brownsville, Texas. … full story
Law News Now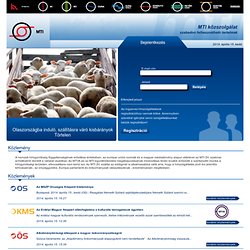 MTI
A nemzeti hírügynökség függetlenségének erősítése érdekében, az európai uniós normák és a magyar médiatörvény alapul vételével az MTI Zrt. szakmai erősítéséről döntött a vállalat vezetése. Az MTVA és az MTI együttműködési megállapodásának módosítása révén tovább erősödik a szerkesztői munka a hírügynökségi területen, elbocsátásra nem kerül sor. Az MTI Zrt. ezáltal az eddiginél is alkalmasabbá válik arra, hogy a hírszolgáltatás jövő évi jelentős kihívásainak– az országgyűlési, Európa parlamenti és önkormányzati választásoknak - eredményesen megfeleljen.
Links: Home | Newspaper Map | Top 10 US Newspapers | Top 10 UK Newspapers | Magazine Directory | Headlines | About Us Sites: ThePaperboy.com | Mobile | Paperboy UK |
Front Pages Today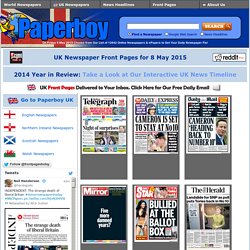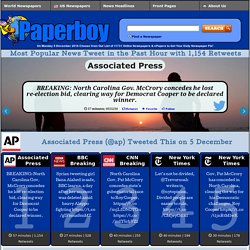 Links: Home | Newspaper Map | Top 10 US Newspapers | Top 10 UK Newspapers | Magazine Directory | Headlines | About Us Sites: ThePaperboy.com | Mobile | Paperboy UK | Paperboy Australia | Paperboy Nigeria | UK Front Pages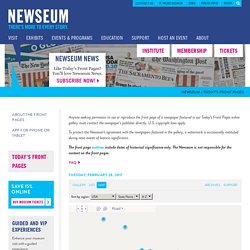 Through a special agreement with more than 800 newspapers worldwide, the Newseum displays these front pages each day on its website. The front pages are in their original, unedited form, and some may contain material that is deemed objectionable to some visitors. Discretion is advised. Anyone seeking permission to use a front page must credit and link to the Newseum and contact the newspaper directly for permission.
NewsOK Sports News
Feds form grand jury to probe Chris Christie's role in Bridgegate... Afghans line up for blocks to vote for new leader... $1.5 MILLION Hotel Bill for Obama's One-Day Visit to Brussels...