Cooking
Back of the Box Recipes. Top Secret Recipes. Sourdough Starter. A true sourdough starter is flour and water which is exposed to the microorganisms in the air and in the flour, either outside or inside the house.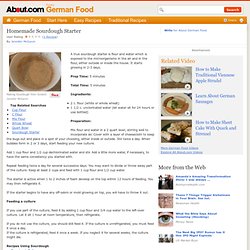 It starts growing in 2-3 days. Prep Time: 5 minutes Total Time: 5 minutes Ingredients: 2 c. flour (white or whole wheat)1 1/2 c. unclorinated water (let water sit for 24 hours or use bottled) Pasta Ristorante. Types of Wheat Flour. Types of Flour Pastry and cake flours are characterized by low protein content (low gluten) which results in a crumbly texture preferred in cakes, pie crusts and biscuits.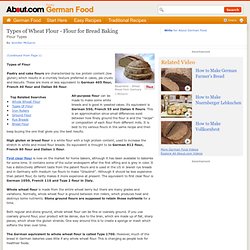 These are more or less equivalent to German 405 flour, French 40 flour and Italian 00 flour. All-purpose flour can be made to make some white breads and is good in yeasted cakes. Its equivalent is German 550, French 55 and Italian 0 flours. Aprikosenkuchen. This recipe for apricot cake is plain-Jane in everything but the taste.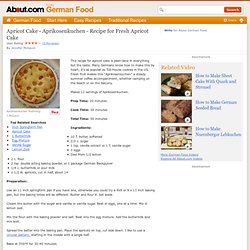 Many Germans know how to make this by heart; it's as popular as Toll-House cookies in the US. Fresh fruit makes this "Aprikosenkuchen" a steady summer coffee accompaniment, whether camping on the beach or on the balcony. Makes 12 servings of Aprikosenkuchen. Black Forest Torte. This authentic German cake is made up of a chocolate layer cake with cherries in the middle and whipped cream on top.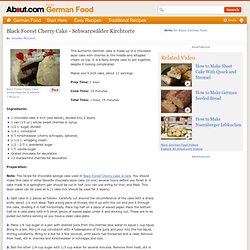 It is a fairly simple cake to put together, despite it looking complicated. Makes one 9 inch cake, about 12 servings. Prep Time: 1 hour. Coffee Soda. An interesting mix of rich creaminess and bubbly fizz.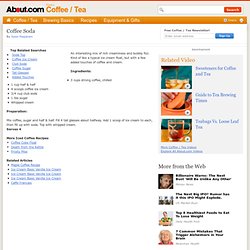 Kind of like a typical ice cream float, but with a few added touches of coffee and cream. Ingredients: 3 cups strong coffee, chilled 1 cup half & half 4 scoops coffee ice cream 3/4 cup club soda1 tbs sugar Whipped cream. Kaiserschmarn. Schmarrn comes in several forms, both sweet and savory, and is usually made up of eggs and a starch, cooked in butter and pulled apart to finish browning.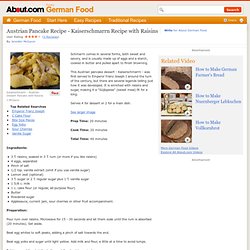 This Austrian pancake dessert - Kaiserschmarrn - was first served to Emperor Franz Joseph I around the turn of the century, but there are several legends telling just how it was developed. It is enriched with raisins and sugar, making it a "Süβspeise" (sweet meal) fit for a king. Serves 4 for dessert or 2 for a main dish. See larger image Prep Time: 20 minutes. Kirsch Kaltschale. Fruit soups and "Kaltschalen" like this cherry soup are very popular in Europe.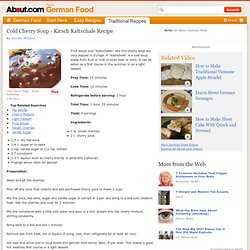 A "Kaltschale" is a cold soup made from fruit or milk or even beer or wine. It can be eaten as a first course in the summer or as a light dessert. Prep Time: 15 minutes Cook Time: 10 minutes Refrigerate before serving: 1 hour. Linseneintopf. A cold evening deserves a good, thick soup.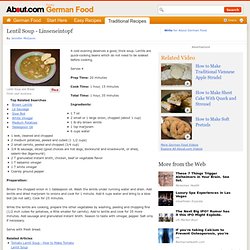 Lentils are quick-cooking beans which do not need to be soaked before cooking. Serves 4 Prep Time: 20 minutes. Pharisäer Kaffee. This drink was invented for a christening of a baby girl, Johanna Theodora Katharina, on Nordstrand Island on the 29th of February, 1872.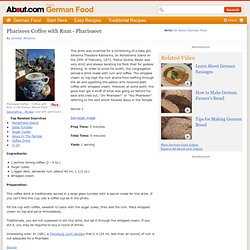 Pastor Gustav Beyer was very strict and always berating his flock their for godless drinking. In order to avoid his wrath, the congregation served a drink made with rum and coffee. The whipped cream on top kept the rum aroma from wafting through the air and upsetting the pastor, who received plain coffee with whipped cream. However, at some point, the good man got a whiff of what was going on behind his back and cried out, "Ihr Pharisäer! " or "You Pharisees! " Making Späetzle. Quark. Quark is a soured-milk, fresh cheese product which is gaining popularity in the US because of its versatility.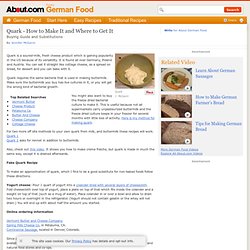 It is found all over Germany, Poland and Austria. You can eat it straight like cottage cheese, as a spread on bread, for dessert and you can bake with it. Quark requires the same bacteria that is used in making buttermilk. Make sure the buttermilk you buy has live cultures in it, or you will get the wrong kind of bacterial growth.
How to Make Homemade Quark. Quark is a specialty fresh cheese common to Germany, Poland, Austria, Switzerland and several other European countries. It is not very common in the US, and purchasing it can be an expensive proposition unless you live near a dairy which makes it. For all that, it is easier to make than yogurt, requiring no special equipment. Makes one cup stiff quark. see larger image. Buying German Bread Outside of Germany. German bread is so addictive that ex-pats and German visitors will go to great lengths to find it abroad. Here we have an (incomplete) list of German bakeries outside of Germany.
Let's see if there is one in your area. The German Bread Haus will ship UPS, or you can find their bread in stores around Ft. Lauderdale, FL. IWA. The Cook's Thesaurus. Encyclopedia of Spices. Flavor Substitutions. Food Cravings... HomeEmail The information on this site is for educational purposes only. It is not intended to diagnose, treat or cure any diseases or illnesses. The statements on this website have not been evaluated by the Food and Drug Administration. If you have a medical condition, consult your naturopathic physician. Consult your naturopathic physician or other qualified health care professional before making changes in diet or lifestyle. The Creole & Cajun Recipe Page. "New Orleans food is as delicious as the less criminal forms of sin. " -- Mark Twain, 1884 by Chuck Taggart ( email ), Native New Orleanian, and damn good cook (albeit a modest one, of course) Bienvenue à vous-autres!
Welcome to the Creole and Cajun Recipe Page! Here we celebrate the marvelous Creole cuisine of New Orleans, and the hearty cooking of Acadiana (or "Cajun country"). Italian Food Forever. About Kosher Food. The Basics of Kosher. Mixed Drinks in Germany. The Webtender. The 29 Healthiest Foods on the Planet. The World's Healthiest Foods. Cuisine.
---