Catholicism
89.5 FM - KLUX
Manager: deleteddeleted's profileDenominations and Sects > Catholic Just like in any religion, no two Catholics are identically the same; each bringing a part of their uniqueness to the whole. Members, in this ring, share about their faith, the parts of tradition they value most, their desire for traditional and modern Catholics to be united, just whatever things that are dear to their heart. And if any desire restoration, the best place to start is when we 'set self aside' to listen for the heart.
The Catholic Heart WebRing
Defending Traditional Catholicism WebRing
Roman Catholic WebRing
Celebrate Catholicism WebRing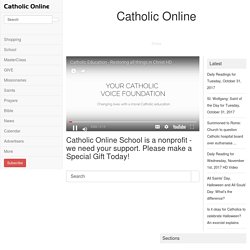 Catholic Online
By Deal W. Hudson The issue at the heart of an Evangelical Catholic movement is not about whether Catholics believe their faith is "good ... Read More
Our dear Cyndi, clutching her trusty, blessed Rosary, wearing her Brown Scapular, and fully in the state of Sanctifying Grace, passed peacefully into eternity in her sleep sometime after three (approximately 3:33) on Tuesday morning, April 8, 2014. Funeral Services: Wednesday morning, April 16. Bayview Chapel, 2859 Adams Ave., San Diego, CA 92116 Viewing from 9 to 10:15 with Rosary at 9:30 and Fr. Gerard McKee, CMRI will say a Requiem High Mass at 10:30 with interment to follow in Miramar National Cemetery at 1 p.m. followed by a potluck reception to celebrate Cyndi from 2 to 4 p.m. at the clubhouse at 2750 Wheatstone in Linda Vista Village. In lieu of flowers, we respectfully request donations in Cyndi's memory and to cover her funeral costs as well as thirty Gregorian Masses to be said for her eternal soul to Cyndi's Angels, a division of SANCTUS/DailyCatholic
Daily Catholic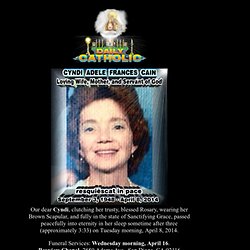 The Week of Prayer for Christian Unity is jointly observed every year from January 18 through January 25 by the Catholic Church and the World Council of Churches. The theme for the Week of Prayer for Christian Unity 2014 is "Has Christ been divided?," a reference to 1 Corinthians 1:13: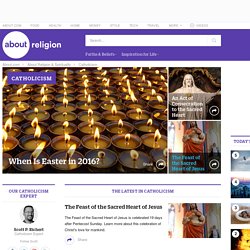 About Catholicism
An Ancient Prayer to St. Joseph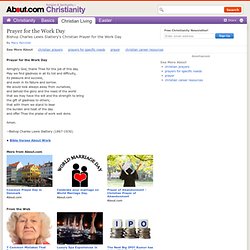 Prayer for the Work Day
Prayer for the Work Day Almighty God, thank Thee for the job of this day. May we find gladness in all its toil and difficulty, its pleasure and success, and even in its failure and sorrow. We would look always away from ourselves, and behold the glory and the need of the world that we may have the will and the strength to bring the gift of gladness to others; that with them we stand to bear the burden and heat of the day and offer Thee the praise of work well done. Amen.
While a novena is normally a nine-day prayer, the term is sometimes used for any prayer that is repeated over a series of days. The Saint Andrew Christmas Novena is often called simply the "Christmas Novena" or the "Christmas Anticipation Prayer," because it is prayed 15 times every day from the Feast of Saint Andrew the Apostle (November 30) until Christmas. The First Sunday of Advent is the Sunday closest to the Feast of Saint Andrew. The novena is not actually addressed to Saint Andrew but to God Himself, asking Him to grant our request in the honor of the birth of His Son at Christmas.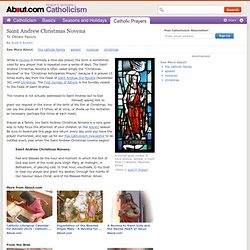 St. Andrew Christmas Novena
This prayer invokes St. Thomas More as the patron saint of lawyers, asking him to pray to God for the grace to rise to the highest standards of that profession. It also makes reference, in the final verse, to St. Thomas More's status as the patron saint of large families, and it would be appropriate for a non-lawyer to pray that verse as a separate prayer.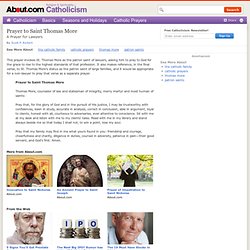 Prayer to St. Thomas More
Purgatorial Society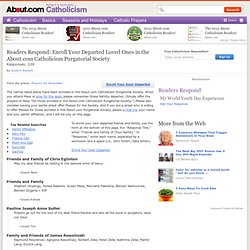 The names listed below have been enrolled in the About.com Catholicism Purgatorial Society. When you attend Mass or pray for the dead, please remember these faithful departed. (Simply offer the prayers or Mass "for those enrolled in the About.com Catholicism Purgatorial Society.")
Sacred Space
The Holy See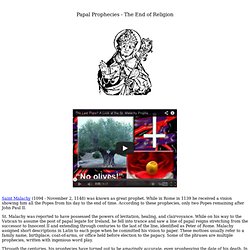 Papal Prophecies - The End of Religion Saint Malachy (1094 - November 2, 1148) was known as great prophet. While in Rome in 1139 he received a vision showing him all the Popes from his day to the end of time. According to these prophecies, only two Popes remaining after John Paul II. St. Malachy was reported to have possessed the powers of levitation, healing, and clairvoyance.
Papal Prophecies
The Fatima Network
Marian Shrines in the U.S.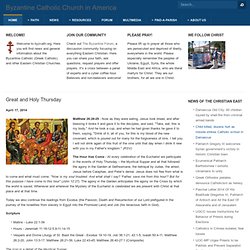 Palm Sunday (Flowery Sunday) - Vespers: Genesis 49:1,2,8-12, Zephaniah 3:14-19, Zechariah 9:9-15 - Matins: Matthew 21:1-11,15-17 - Liturgy: Philippians 4:4-9, John 12:1-18 Great and Holy Monday - Matins: Matthew 21:18-43 - Sixth Hour: Ezekiel 1:1-20 - Vespers (Presanctified): Exodus 1:1-20, Job 1:1-12, Matthew 24:3-35 Great and Holy Tuesday - Matins: Matthew 22:15-23:39 - Sixth Hour: Ezekiel 1:21-2:1 - Vespers (Presanctified): Exodus 2:5-10, Job 1:13-22, Matthew 24:36-26:2
Byzantine Catholic Church In America