0001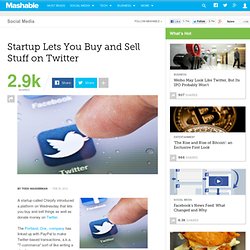 A startup called Chirpify introduced a platform on Wednesday that lets you buy and sell things as well as donate money on Twitter. The Portland, Ore., company has linked up with PayPal to make Twitter-based transactions, a.k.a. "T-commerce" sort of like writing a check. For instance, you can buy stuff from your favorite brand just by tweeting "@favoritebrand Buy" (assuming they use Chirpify, of course.) You can also donate by typing "@politician Donate." The platform also enables peer-to-peer transactions.
Startup Lets You Buy and Sell Stuff on Twitter
Easy To Set Up Your Brand Our robust & scalable platform makes it fast & easy to set up your branded app whether you have one store or 1000's. It's all about you! Industry Leading Technology A talented team of technologists builds and maintains your custom branded website and mobile app for ordering, payment and loyalty. Multiple Delivery Options One size does not fit all.
Restaurant Apps | splickit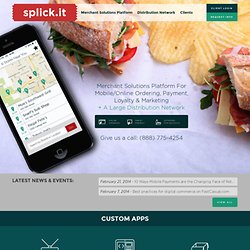 Free Trademark Search - CoffeeGram