0001
SurveyMonkey: Free online survey software & questionnaire tool. Startup Lets You Buy and Sell Stuff on Twitter. A startup called Chirpify introduced a platform on Wednesday that lets you buy and sell things as well as donate money on Twitter.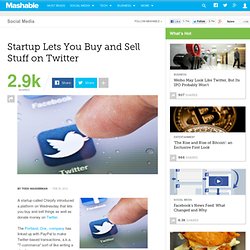 The Portland, Ore., company has linked up with PayPal to make Twitter-based transactions, a.k.a. "T-commerce" sort of like writing a check. For instance, you can buy stuff from your favorite brand just by tweeting "@favoritebrand Buy" (assuming they use Chirpify, of course.) You can also donate by typing "@politician Donate. " The platform also enables peer-to-peer transactions. Restaurant Apps | splickit. Kuler. Kickstarter.
Starbucks Patents. Free Trademark Search - CoffeeGram.
---