Education misc
Get flash to fully experience Pearltrees
Education Act 1872 (Vic) Significance This law set up in Victoria the basis for a uniquely centralised model of school education, unlike those in Britain, the United States or Canada. Victoria was the first of the Australian colonies to set up a central public school system based on the principles of free, secular and compulsory education.
Les enfants peuvent-ils prendre du plaisir à l'école ? En France, contrairement à l'idée reçue, la notion n'est pas absente des textes officiels. Ou pas totalement. Si Jules Ferry conseillait à l'origine de "rendre l'école aimable et le travail attrayant" , une école austère s'est imposée au fil du temps. "L'école n'a pas voulu, d'emblée, tuer l'idée qu'il pouvait y avoir du plaisir à apprendre" , rappelle le sociologue François Dubet. "Plaisir et ennui à l'école" ...
Ils sont une quarantaine, âgés de 6 à 9 ans, réunis dans un "espace classe" , comme le précise Marie-Christine Snyders , directrice de Plaisir d'enfance, une école Montessori installée dans le 19 e arrondissement, à Paris. Si les CP, CE1 et CE2 font "salle commune" , chaque élève vaque à ses occupations, souvent en groupe, parfois en tête-à-tête avec une éducatrice. Certains font des mathématiques assis au sol.
Votre plaidoyer pour une école "en empathie" avec les élèves repose sur votre expérience personnelle. Quelle est-elle ? J'ai vécu ce que ressentent tous les étrangers qui franchissent l'Atlantique et découvrent l'école française : un choc culturel. Mes filles et moi avons quitté Los Angeles , où l'aînée venait de terminer l'école maternelle.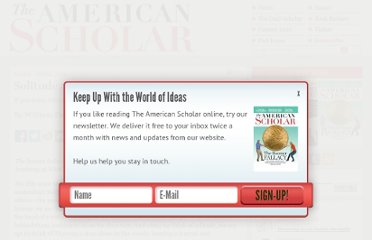 Essays - Spring 2010
Solitude and Leadership , the title of William Deresiewicz's much circulated American Scholar article intones. Solitude and Leadership: one cannot help but lower one's voice and slow one's enunciation as the title is enunciated. This piece has been shared with me by many, the estimable David Brooks recently cited it as a top essay of the year: there is indeed much wisdom to be found in it. But before I relay that wisdom, a caveat: Deresiewicz creates a false dichotomy which simply isn't supportable: solitude and concentration are valuable elements of leadership and independent thought, but they do not exclude, in any defensible way, the possibility or even as I would argue the probability that there is great parallel and synergistic value derived from an immersion in the crowd and the stimulating, creative, multitudinous energy of our contemporary Forum, Twitter. The piece, which indeed everyone should read and discuss, is in two parts.
Special Religious Education (SRE) is currently centre stage in NSW education. The potential ethics alternative to SRE, if it happens, will be an historic change of policy. Many are declaring that SRE is one thing or another, and can only be this or that. But the closer you look, the more intricate and nuanced the arguments, the more Mandelbrot and illusive the truth. So, at this time, when standpoint perspectives are being defended and some views are being dismissed or not heard, or perhaps not even voiced, it is worth making the effort to get a fuller sense of just what is at stake.
What do we know about how people learn? How do young people's motivations and emotions influence their learning? What does research show to be the benefits of group work, formative assessments, technology applications, or project-based learning and when are they most effective?
"In educational circles, sometimes the phrase 'drill and kill' is used, meaning that by drilling the student, you will kill his or her motivation to learn," explains Daniel Willingham, a professor of psychology who has written extensively on learning and memory. "Drilling often conjures up images of late-19th-century schoolhouses, with students singsonging state capitals in unison without much comprehension of what they have 'learned.' " Oh, those schoolhouses — with the hickory sticks and the dunce caps.