Tutorials - Gimp
70 creative Gimp tutorials. Today, most businesses want a website.
Some already have one. Others want one. They don't want to hire IT staff and probably can't afford any. And in most cases, an in-house IT staff, especially for your typical small business, just isn't necessary. 60+ Best GIMP Tutorials of 2010. The Gimp is a fantastic and free piece of software that can run on all major operating systems and can do nearly any graphic related task!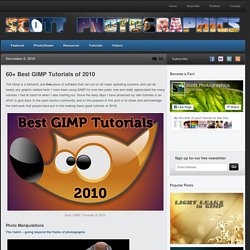 I have been using GIMP for over two years now and really appreciated the many tutorials I had at hand for when I was starting out. Since the early days I have produced my own tutorials in an effort to give back to the open source community and so the purpose of this post is to share and acknowledge the hard work that people have put in into making these great tutorials of 2010! Best GIMP Tutorials of 2010 Photo Manipulations The Catch – going beyond the frame of photographs. Top 15 GIMP Tutorials From Around The Web. 70 Best GIMP Tutorials To Enhance Your Design Skills. GIMP is a software for image editing and photo manipulations.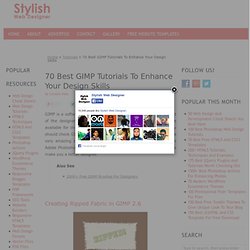 Most of the designers say that Adobe Photoshop is the best software available for image editing but I would love to tell them that they should check GIMP before saying that because GIMP has some of the very amazing options that makes image editing more easier than Adobe Photoshop. In this post I collected 70 best GIMP Tutorials to make you a better designer. Free Gimp tutorial PDFs. Issue 128 of Linux Format magazine carries the last instalment of our Gimp tutorial series.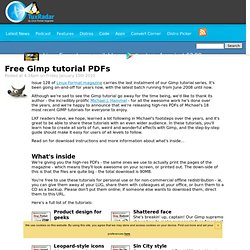 It's been going on-and-off for years now, with the latest batch running from June 2008 until now. Although we're sad to see the Gimp tutorial go away for the time being, we'd like to thank its author - the incredibly prolific Michael J. 20 Awesome Photo Manipulation Tutorials For GIMP. There's nothing better than free open source software that can do a lot of the same things and sometimes more than your professional overpriced software can do.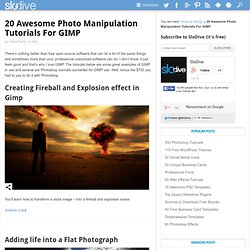 I don't know, it just feels good and that's why I love GIMP. The tutorials below are some great examples of GIMP in use and several are Photoshop tutorials converted for GIMP use. Well, minus the $700 you had to pay to do it with Photoshop. You'll learn how to transform a stock image – into a fireball and explosion scene. Gimp For Photos - Tutorials for photo editing with Gimp. 35 Outstanding GIMP Tutorials. For those who do not have Photoshop, GIMP is an excellent (and free) alternative.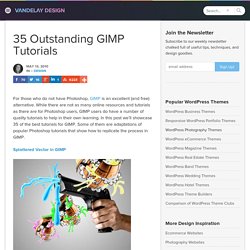 While there are not as many online resources and tutorials as there are for Photoshop users, GIMP users do have a number of quality tutorials to help in their own learning. In this post we'll showcase 35 of the best tutorials for GIMP. Some of them are adaptations of popular Photoshop tutorials that show how to replicate the process in GIMP. 25 GIMP Video Tutorials to Help Get You Started. The GIMP is a very powerful, open source digital image editing application that rivals its commercial counterpart – Adobe Photoshop.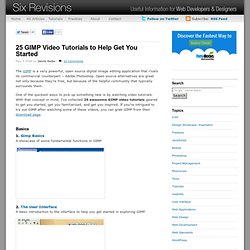 Open source alternatives are great not only because they're free, but because of the helpful community that typically surrounds them. One of the quickest ways to pick up something new is by watching video tutorials. With that concept in mind, I've collected 25 awesome GIMP video tutorials geared to get you started, get you familiarized, and get you inspired.
If you're intrigued to try out GIMP after watching some of these videos, you can grab GIMP from their download page. Basics. 50 Design Tutorials for Mastering Gimp. TutorialsBy TimothyBlake · On January 25, 2010 The ultimate compilation of gimp design tutorials to take a novice and turn them into an expert, the perfect guide for anyone looking to learn or even master the ins and outs of Gimp.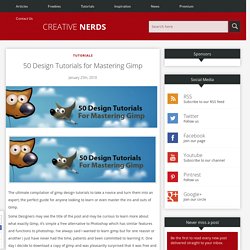 Some Designers may see the title of the post and may be curious to learn more about what exactly Gimp, it's simple a free alternative to Photoshop which has similar features and functions to photoshop. I've always said i wanted to learn gimp but for one reason or another i just have never had the time, patients and been committed to learning it. Gimp Tutorials - Gimp.PixTuts.com. Gimp Brushes. 40+ Excellent GIMP Tutorials for Designers. Gimp or the GNU Image Manipulation Program is a software that enables its user to retouch, edit and manipulate photos or image.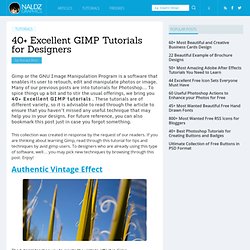 Many of our previous posts are into tutorials for Photoshop… To spice things up a bit and to stir the usual offerings, we bring you 40+ Excellent GIMP tutorials . These tutorials are of different variety, so it is advisable to read through the article to ensure that you haven't missed any useful technique that may help you in your designs. For future reference, you can also bookmark this post just in case you forgot something. This collection was created in response by the request of our readers. Tutorials « GIMP Guru. Tutorials These tutorials show step-by-step techniques for accomplishing a variety of photographic "digital darkroom" tasks using the GIMP image editor.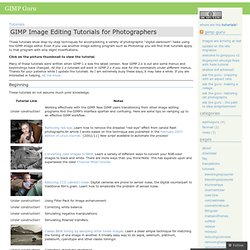 Even if you use another image editing program such as Photoshop you will find that tutorials apply to that program with only slight modifications. Click on the picture thumbnail to view the tutorial. Many of these tutorials were written when GIMP 1.x was the latest version. Best 35+ GIMP Tutorials | Qbrushes Blog.
Best 35+ GIMP Tutorials The Gimp is a free open source image editing application that can do many things to suit your needs, whether they be making a gig poster for a local concert, or touching up a few family photos, the Gimp can do it. Here is a top 30 list of Gimp tutorials hand selected by Gimper and SGlider12 that will help you to add many new Gimp design techniques to your arsenal. 1) Gimp Galaxy by abduzeedo.com. GIMP Tutorials. How to make a simple watermark in GIMP. This is a really simple tutorial and well worth the small effort required, because you'll have something to put on your photographs/artworks without making it look too ugly while making sure you get enough credit in case your work is copied or used. How to make a simple watermark in GIMP Firstly open up GIMP with a blank transparent page (1600 x 1200, 300dpi) Now Select the , type in your name, or initials if too long.
30+ Exceptional GIMP Tutorials and Resources. Oct 20 2008 GIMP is a freely distributed GNU Image Manipulation Program. Available for such tasks as photo retouching, image composition and image authoring. Awesome GIMP Tutorials - Gimpology.com. Gimp-tutorials.net - Gimp , tutorials , brushes , downloads, forum. Obsidian Dawn Resources - Photoshop & GIMP Brushes, Illustrator Vectors, and more! 20 Fantastic Step-By-Step Gimp Tutorials for Beginners. Feb11 by admin A collection of 20 fantastic gimp tutorials resources for beginners and advance users , provided by best designers and webmasters .
I have just collected some different style of gimp tutorials for beginners , So you can see what a free GNU image manipulation program can do for you . If you have latest gimp version than you can use almost all free photoshop brushes , backgrounds in program and also perform many normal photoshop tutorials on it . 1. GIMP Tutorial: Just in time for Valentines! | You the Designer.
---