Microbiology & biology terms
Apoptosis ( pron.: / ˌ æ p ə ˈ t oʊ s ɪ s / also pron.: / ˌ eɪ p ɔː p ˈ t oʊ s ɪ s / ) [ 2 ] [ 3 ] is the process of programmed cell death (PCD) that may occur in multicellular organisms . [ 4 ] Biochemical events lead to characteristic cell changes ( morphology ) and death. These changes include blebbing , cell shrinkage, nuclear fragmentation, chromatin condensation , and chromosomal DNA fragmentation. (See also apoptotic DNA fragmentation .) In contrast to necrosis , which is a form of traumatic cell death that results from acute cellular injury, apoptosis generally confers advantages during an organism's life cycle. For example, the differentiation of fingers and toes in a developing human embryo occurs because cells between the fingers apoptose; the result is that the digits are separate.
Apoptosis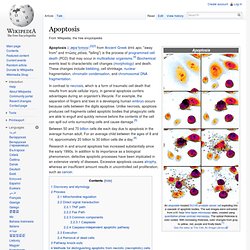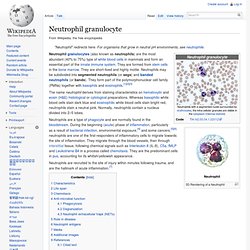 Neutrophil granulocyte
Neutrophil granulocytes are the most abundant type of white blood cells in mammals and form an essential part of the innate immune system . In general, they are referred to as either neutrophils or polymorphonuclear neutrophils (or PMNs ), and are subdivided into segmented neutrophils (or segs ) and banded neutrophils (or bands ). They form part of the polymorphonuclear cell family (PMNs) together with basophils and eosinophils . [ 1 ] [ 2 ] [ 3 ]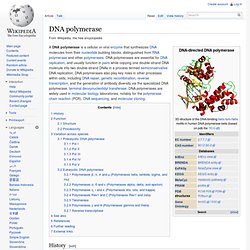 DNA polymerase
A DNA polymerase is a cellular or viral polymerase enzyme that synthesizes DNA molecules from their nucleotide building blocks. DNA polymerases are essential for DNA replication , and usually function in pairs while copying one double-stranded DNA molecule into two double-stranded DNAs in a process termed semiconservative DNA replication. DNA polymerases also play key roles in other processes within cells, including DNA repair , genetic recombination , reverse transcription , and the generation of antibody diversity via the specialized DNA polymerase, terminal deoxynucleotidyl transferase . DNA polymerases are widely used in molecular biology laboratories, notably for the polymerase chain reaction (PCR), DNA sequencing , and molecular cloning .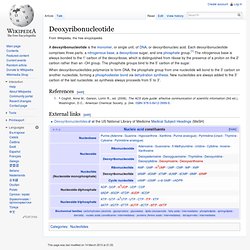 Deoxyribonucleotide
A deoxyribonucleotide is the monomer , or single unit, of DNA , or deoxyribonucleic acid. Each deoxyribonucleotide comprises three parts: a nitrogenous base , a deoxyribose sugar, and one phosphate group. [ 1 ] The nitrogenous base is always bonded to the 1' carbon of the deoxyribose, which is distinguished from ribose by the presence of a proton on the 2' carbon rather than an -OH group. The phosphate groups bind to the 5' carbon of the sugar. When deoxyribonucleotides polymerize to form DNA, the phosphate group from one nucleotide will bond to the 3' carbon on another nucleotide, forming a phosphodiester bond via dehydration synthesis . New nucleotides are always added to the 3' carbon of the last nucleotide, so synthesis always proceeds from 5' to 3'. [ edit ] References
Transfer RNA
The interaction of tRNA and mRNA in protein synthesis. A Transfer RNA (abbreviated tRNA and archaically referred to as sRNA abbreviating soluble RNA) is an adaptor molecule composed of RNA , typically 73 to 94 nucleotides in length, that serves as the physical link between the nucleotide sequence of nucleic acids ( DNA and RNA ) and the amino acid sequence of proteins. It does this by carrying an amino acid to the protein synthetic machinery of a cell ( ribosome ) as directed by a three-nucleotide sequence ( codon ) in a messenger RNA (mRNA). As such, tRNAs are a necessary component of protein translation , the biological synthesis of new proteins according to the genetic code .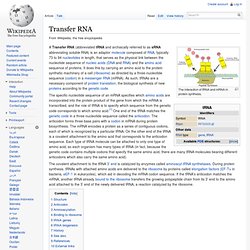 Messenger RNA
Messenger RNA ( mRNA ) is a large family of RNA molecules that convey genetic information from DNA to the ribosome , where they specify the amino acid sequence of the protein products of gene expression . Following transcription of mRNA by RNA polymerase , the mRNA is translated into a polymer of amino acids : a protein, as summarized in the central dogma of molecular biology . As in DNA, mRNA genetic information is encoded in the sequence of nucleotides , which are arranged into codons consisting of three bases each. Each codon encodes for a specific amino acid , except the stop codons , which terminate protein synthesis .
The ribosome (from ribo nucleic acid and the Greek soma , meaning "body") is a large and complex molecular machine, found within all living cells, that serves as the primary site of biological protein synthesis (translation). Ribosomes link amino acids together in the order specified by messenger RNA (mRNA) molecules. Ribosomes consist of two major subunits—the small ribosomal subunit reads the mRNA, while the large subunit joins amino acids to form a polypeptide chain.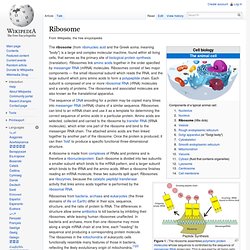 Ribosome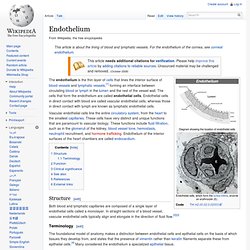 The endothelium is the thin layer of cells that lines the interior surface of blood vessels and lymphatic vessels , [ 1 ] forming an interface between circulating blood or lymph in the lumen and the rest of the vessel wall. The cells that form the endothelium are called endothelial cells . Endothelial cells in direct contact with blood are called vascular endothelial cells, whereas those in direct contact with lymph are known as lymphatic endothelial cells.
Endothelium