El Social Media
10 razones para cuidar a tus trolls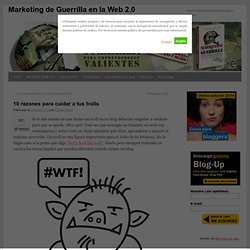 Si te das cuenta de que tienes un troll en tu blog deberías empezar a cuidarle para que se quede.
Twitter es la fuente principal de tráfico de este blog.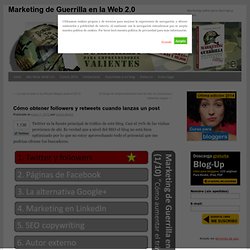 Cómo obtener followers y retweets cuando lanzas un post -
77 blogs de Social Media que no debes perderte
Marketing de Guerrilla en la Web 2.0 Marketing online para start-ups y pymes Saltar al contenido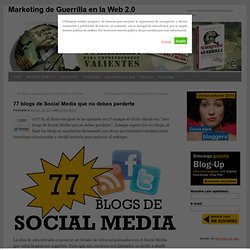 Desde hace tiempo vemos en la columna derecha de nuestras páginas de Twitter sus trending topics (algo así como temas-tendencia), que son los temas de los que más hablan los usuarios de Twitter y que se han convertido en un indicador para conocer los temas que preocupan, en un momento dado, a los usuarios de este servicio de microblogging.
¿Cuántos tweets hacen falta para convertirse en "trending topic"?
10 ideas para Incrementar flujo de comunidades
7 Social Networking Secrets Revealed by Mark Zuckerberg | Smedio | The New... - StumbleUpon
Yup! I've been thinking of blogging about the movie on Mark Zuckerberg and his journey to the first 1000,000 friends, ever since I saw the movie. A "MUST" watch cult movie, for sure!
El Community Manager debe morir
Por : Alejandro Alemán Twitter : @aaleman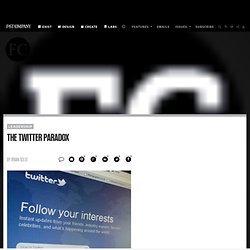 The Twitter Paradox
There's an old saying, "If it ain't broke, don't fix it." Twitter is a paradox that redefines that old saying to, "If it's broke, don't fix it, because it works." For all intents and purposes, Twitter shouldn't work, yet 200 million people (and bots) have created accounts in this thriving information egosystem .
Hace unos días tuve la oportunidad de ver el final del stream de la Mesa Redonda organizada por la LSE Alumni Association México y DC Estrategia Comunicación ( @DCEstrategia ) sobre Medios Digitales.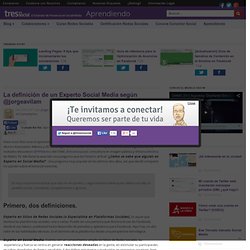 La definición de un Experto Social Media según @jorgeavilam
La definición de un Experto Social Media según @jorgeavilam
¿Es usted un community manager? Su trabajo desaparecerá pronto - ®Evolución digital
Los "community managers", a secas, se han devaluado mucho en muy poco tiempo .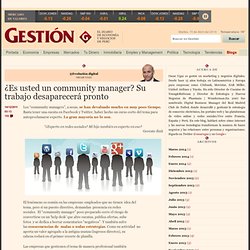 Radiografía del Experto Social Media…
Existen los expertos en Social Media?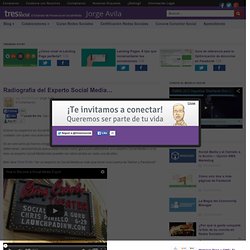 8 Ingredients That Make a Community Manager
Welcome back.