Francais
ÉSÉ - Édition Sous Étiquette, Maison d'édition d'objets - France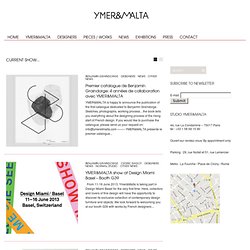 Premier catalogue de Benjamin Graindorge: 4 années de collaboration avec YMER&MALTA YMER&MALTA is happy to announce the publication of the first catalogue dedicated to Benjamin Graindorge. Sketches, photographs, working process…the book tells you everything about the designing process of the rising start of French design. If you would like to purchase the catalogue, please send us your request on: info@ymeretmalta.com ——– YMER&MALTA présente le premier catalogue... YMER&MALTA show at Design Miami Basel – Booth G39 From 11-16 June 2013, Ymer&Malta is taking part in Design Miami Basel for the very first time.
:: YMER&MALTA
Petite Friture - Accueil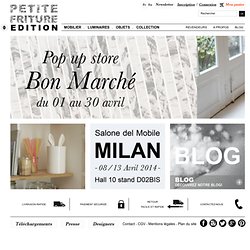 Livraison rapide Petite Friture assure une livraison entre 3 et 10 jours. Nous avons souhaité que vous ayez une information précise quant aux délais et frais de port : pour chaque achat nous vous indiquons lors de votre passage de commande les délais dans lesquels vous serez livré(e) et le montant des frais de port.