Любимые приложения Android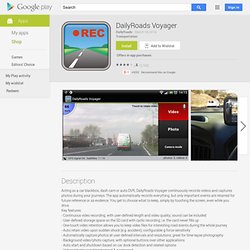 DailyRoads Voyager - Android Market
DescriptionThis application will allow you to use your phone as a simple dashboard camera. Background recording is supported so you can use your phone for navigation or receiving phone calls while recording video in the background. DashCam is currently being actively developed. If you encounter a problem, please consider using the Email Developer link below rather than just leaving a low rating, that way I can attempt to resolve the problem for you ASAP. Free Features:* Background video recording.* Notification icon for background recording.* Video preview. * Option to disable preview while recording (reduces battery usage).* Select storage folder location.
Sonomètre - Sound Meter - Android Market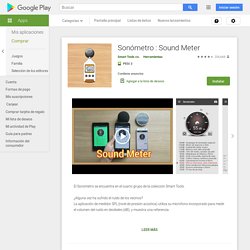 Most downloaded Android Cleaner and Ram Booster in the world from a top 10 global developer.☆Over 50 million users, supporting 30 languages.☆#1 Cache Cleaner App & Android Speed Booster in over 50 countries.☆Featured by CNET, LA Times, The Boston Globe, XDA & much more.☆#1 App in the Utilities category in the world. Trusted by 50 million users and growing, Clean Master is the number 1 powerful memory booster and trash cleaner to increase the speed of your Android device. Memory Boost/Task Killer - Boosting apps and games speed is much easier with Clean Master.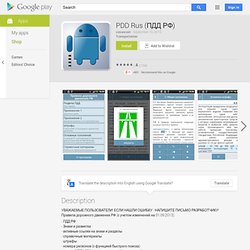 "Очень информативно. Всё самое необходимое всегда под рукой. Очень довольна." - от Лариса Савелова"Всё очень грамотно и продуманно. Текст масштабируется, есть справочный материал, обновляется довольно часто." - от Валерий Колегаев"Чтобы жена не звонила и не спрашивала, сколько дать менту денег, поставь ей эту прогу!!!"
PDD Rus - Android Market
Use Bynode TV to watch free live and on-demand video TV from Indonesia and more countries on your android phone and tablets. *Top 10 free video app in Indonesia, Top 100 in Romania, Greece, Hong Kong, Singapore, Germany and many more! Thanks :) * Bynode TV is simple to use and free with following features: A wide selection of public TV channels Intuitive and friendly UIFast channels launch and switchingVideo-on-demandOnscreen controlsAdaptive Network Bandwidth supportHigh Quality streams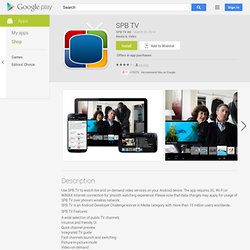 SPB TV - Android Market
- Book reader compatible with Android 1.6+- read formats: fb2, fbz, txt, epub, html, doc, docx, odt, rtf, mobi, prc (PalmDoc), tcr. Supported ZIP and GZ archives.- It is possible to specify an encoding of reading file (include 932, 936, 949, 950 code page).- Local library. The selection of authors, series, title, publication year, genre.- Supported interface languages: russian, english, german, greek, ukrainian, belarusian, polish, chineze.- Supported dictionaries: ColorDict3, GoldenDict, Fora Dictionary, Dictan, Lingvo, FreeDictionary, HedgeDict, AardDictionary, QuickDict, Slovoed.- Fb2 and TXT file editing.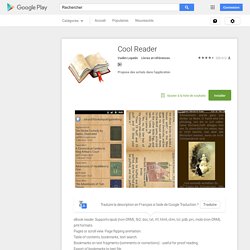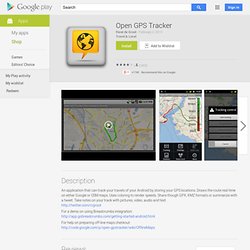 Open GPS Tracker - Android Market
Outdoor navigation app for your phone or tablet. View topo maps offline, track your route, hunt geocaches, use a voice guide and do even more... - Explore new places- Download cycling and hiking maps for offline use- Plan your geocaching adventure- Save you favorite routes and places- Save your battery with smart GPS system- Import your own tracks and points- Enjoy new and improved features every monthand much more "There's no question that Locus is an outstanding Android map app. It works as it should, the interface is clean, map selection is good, and feature set is solid. " androgeoid.com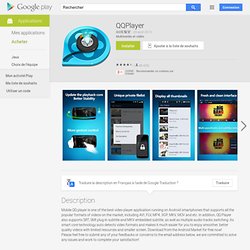 Talent Video Player Pro, the best video player"Video!Video!Video!" will play an important role in your phone's use.
QQPlayer - Android Market
This application is a 10 day trial period for PlayerPro Music Player. PlayerPro is an advanced music and video player for Android 2.x devices. PlayerPro features a beautiful, fast and intuitive interface, alongside powerful audio configuration options. In addition, there is a choice of several FREE plugins to complement it: 20+ skins, DSP Pack, Widget Pack ...
PowerAMP Music Player (Trial) - Android Market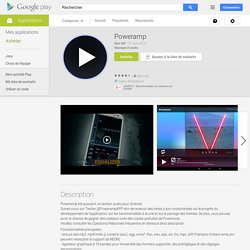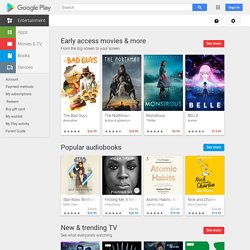 Nettoyeur Android et optimiseur de RAM le plus téléchargé dans le monde par un des top10 développeurs. ¡î Application N° 1 mondial dans la catégorie Outils.Reconnu par plus de 50 millions d'utilisateurs, Clean Master est l'optimiseur de RAM et le nettoyeur de déchets (les indésirables) N° 1 pour augmenter la vitesse de votre appareil Android. Gestionnaire de RAM/Tueur de tâches - Optimiser les applications et jeux de vitesse est beaucoup plus facile avec Clean Master. Nettoyer - Supprimez les fichiers indésirables (le cache et les fichiers résiduels) qui remplissent votre précieux espace de stockageEffacer - Protégez votre vie privée en supprimant des informations personnelles comme votre recherche et l'historique du navigateurGestionnaire des applications - Déplacez les applications vers une carte SD, retirez les applications pré-installées et sauvegardez les fichiers .apk