Любимые приложения Android
DailyRoads Voyager - Android Market. Acting as a car blackbox, dash cam or auto DVR, DailyRoads Voyager continuously records videos and captures photos during your journeys.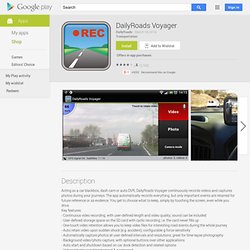 The app automatically records everything, but only important events are retained for future reference or as evidence. You get to choose what to keep, simply by touching the screen, even while you drive. Sonomètre - Sound Meter - Android Market. Smart Distance Pro is the extended set of Smart Tools® collection (distance, golf-rangefinder, speed).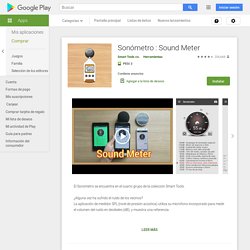 This range-finder(telemeter) measures the distance to a target by the camera perspective. The effective distance is 10m-1km. To measure the distance, you should know the height(width) of a target. Don't worry!! PDD Rus - Android Market. "Очень информативно.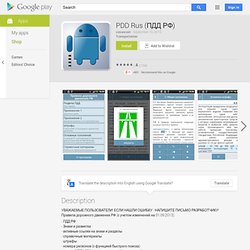 Всё самое необходимое всегда под рукой. Очень довольна. " - от Лариса Савелова"Всё очень грамотно и продуманно. Текст масштабируется, есть справочный материал, обновляется довольно часто. " - от Валерий Колегаев"Чтобы жена не звонила и не спрашивала, сколько дать менту денег, поставь ей эту прогу!!! " SPB TV - Android Market. Zattoo Live TV - Watch a huge selection of TV channels with one App - for free.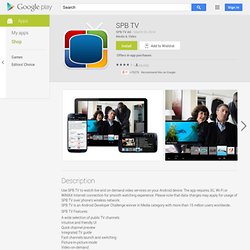 Bring your favorite TV channels with you wherever you go. Our Zattoo TV Guide gives you the perfect overview, so you can record your favorite shows (Switzerland, Spain, Denmark) and watch them whenever you want. You don't have to miss your favorite series, sport events or news, even while you're on the go or at home. ****** KEY FUNCTIONS:- Watch TV via Wifi/WLAN and mobile Network*- Watch many local and international TV Channels- TV Guide with 2 weeks program overview- Select your preferred streaming quality up to the maximum bitrate. Cool Reader - Android Market. Program is designed for reading fiction book.- Book reader compatible with Android 1.6+- read formats: fb2, fbz, txt, epub, html, doc, docx, odt, rtf, mobi, prc (PalmDoc), tcr.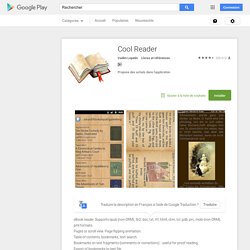 Supported ZIP and GZ archives.- It is possible to specify an encoding of reading file (include 932, 936, 949, 950 code page).- Local library. The selection of authors, series, title, publication year, genre.- Supported interface languages: russian, english, german, greek, ukrainian, belarusian, polish, chineze, bulgarian, turkish.- Supported dictionaries: ColorDict3, GoldenDict, Fora Dictionary, Dictan, Lingvo, FreeDictionary, HedgeDict, AardDictionary, QuickDict, Slovoed.- Fb2 and TXT file editing. Open GPS Tracker - Android Market. !!!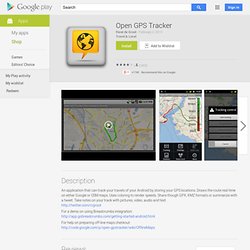 Problem on Android devices 4.4 !!! There is not possible to store data on external card from Locus. Please move the directory Locus to the internal phone storage manually. More here. QQPlayer - Android Market. PowerAMP Music Player (Trial) - Android Market. JetAudio Basic is a free mp3 music player with 10 bands graphic equalizer and various sound effects. -- Sound Effects plugins -- * AM3D Audio Enhancer ( (Sound effect plugins will be sold separately through in-app purchase.)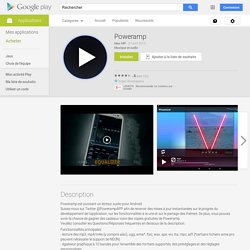 Приложения - Android Маркет. Simple, minutieux et sûr, Clean Master est l'application la plus téléchargée dans le monde pour optimiser la vitesse, libérer de la mémoire et assurer la sécurité des appareils Android.Sans égal dans l'amélioration des performances de l'appareil, la suppression des fichiers indésirable et spam, la protection contre les programmes malveillants, cheval de Troie et virus.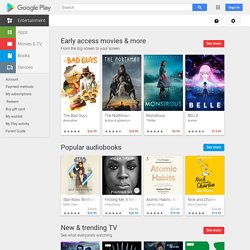 Joignez-vous aux plus de 100 000 000 personnes qui ont déjà installé ce gestionnaire complet d'optimisation, Clean Master! Nous sommes là pour résoudre tous vos problèmes d'appareils Android, que ceux-ci soient à la traîne, manquent d'espace, ou qu'ils soient infectés par des programmes malveillants. Faits saillants de Clean Master - Optimiseur d'appareils Android ☆ Minutieux : le processus de création des fichiers indésirables des millions d'applications a été analysé afin que Clean Master puisse efficacement affiner sa cible principale (détecter et nettoyer le cache et les fichiers résiduels) avec une précision parfaite.
---