Indian
Dal Makhani Recipe by Manjula, Indian Vegetarian food. Palak Daal Recipe. Wayne and I regularly frequent a place called Kasa.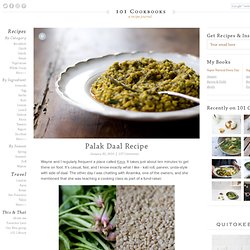 It takes just about ten minutes to get there on foot. It's casual, fast, and I know exactly what I like - kati roll, paneer, unda-style with side of daal. The other day I was chatting with Anamika, one of the owners, and she mentioned that she was teaching a cooking class as part of a fund-raiser. I have to admit that I'm always checking the Kasa blog with the hope that Anamika will post some of her recipes. How to make tikka masala sauce - Gordon Ramsay. Garlic Chicken Recipe - How To Make Garlic Chicken - How To Prepare Garlic Chicken Recipe. Chicken Tikka Masala. I hope everyone had a wonderful New Year's Eve last night!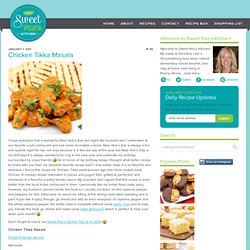 My husband and I celebrated at our favorite sushi restaurant and had some incredible cuisine. New Year's Eve is always a fun and special night for me, not only because it is the last day of the year but New Year's Day is my birthday! Garlic Chicken Tikka Curry. Masala Dal Recipe - How To Make Masala Dal - Masala Dal Receipe. Ingredients: 1 cup Split Red Lentil (Masoor Dal) 5 slit Green Chilli (Hari mirch) 1 tblsp chopped Coriander Leaves (Dhania Patta) 1/2 tsp Turmeric Powder (Haldi) 1/2 cup grated Coconut Salt to taste 1 tsp Mustard Seeds (Raai / Raee) 1 tsp Cumin Seed (Jeera) 2 chopped Tomato (Tamatar) 1 tblsp Oil 1 meduim sized sliced Onion (Pyaj) How to make masala dal: Wash and soak the gram for 30 minutes.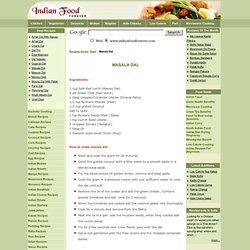 Grind the grated coconut with a little water to a smooth paste in a blender.keep aside. Restraurant Style Tikka Masala. Dal Makhani - Indian Food Recipes-Andhra Recipes-Indian Vegetarian Recipes-Sailu's Kitchen. Its finally here.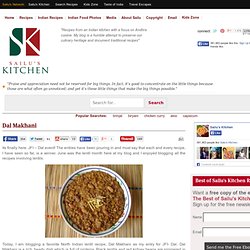 JFI – Dal event! The entries have been pouring in and must say that each and every recipe, I have seen so far, is a winner.
---