Time Management
Just Start: How Doing Anything Can Help You Accomplish Everything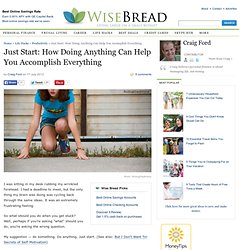 Wise Bread Picks I was sitting in my desk rubbing my wrinkled forehead. I had a deadline to meet, but the only thing my brain was doing was cycling back through the same ideas.
Power of Focused Attention
Photo by Simón Pais-Thomas I recently sat down with several highly enthusiastic achievers, all of whom have many ambitions. These casual chats revolved around the theme of, "How do I turn my ambitions into reality?"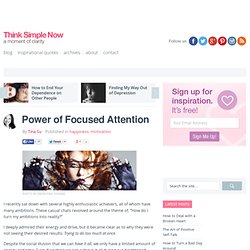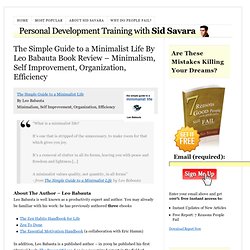 The Simple Guide to a Minimalist Life By Leo Babauta Minimalism, Self Improvement, Organization, Efficiency "What is a minimalist life?It's one that is stripped of the unnecessary, to make room for that which gives you joy.It's a removal of clutter in all its forms, leaving you with peace and freedom and lightness.[...]A minimalist values quality, not quantity, in all forms" - from The Simple Guide to a Minimalist Life by Leo Babauta
The Simple Guide to a Minimalist Life By Leo Babauta Book Review – Minimalism, Self Improvement, Organization, Efficiency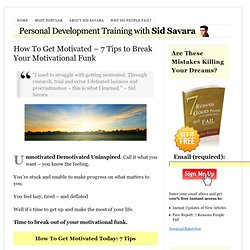 How To Get Motivated – 8 Tips and Tricks to Get Motivated Today!
"I used to struggle with getting motivated. Through research, trial and error I defeated laziness and procrastination – this is what I learned." – Sid Savara Unmotivated Demotivated Uninspired.
After a series of software development mishaps this week, Sid Savara, who was scheduled to demo his pet project at Manoa Geeks discovered that the project was at risk of not being completed in time. Sid had been looking forward to the event all week: a chance to showcase himself in front of the who's who in Hawaii's tech community. During the final stretch, however, Sid encountered some issues.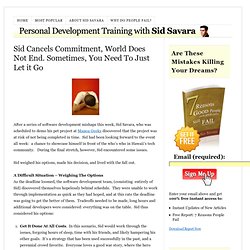 Sid Cancels Commitment, World Does Not End. Sometimes, You Need To Just Let it Go
In previous posts, I discussed why the so-called "negative" emotions of anger, shame, sadness, and fear are actually good friends and guides. In this post, I am going to close the loop on this project by outlining why joy, a "positive" emotion, can be your enemy.
How Joy Can Work Against You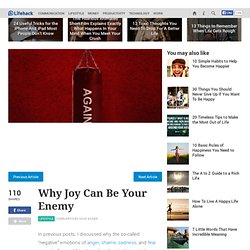 The only foolish question is the one that was never asked!
10 Questions That Will Improve Results in Any Area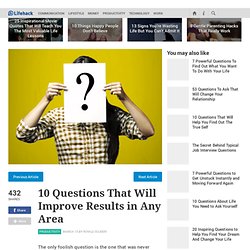 4 Critical Ways You Can Stop Wasting Time Today
By the end of this time management article you will have an important gift – a bundle of time to get more things done today. Sound too good to be true? Well, it's a simple fix — all you need to do is eliminate four bad time management habits and stop wasting time today.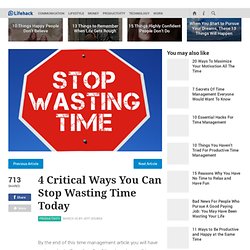 For years, I could be counted on to be late.
Punctuality Counts
How to Prioritize a Schedule for Optimal Time Management: 8 steps
In my last post, I talked about why being punctual matters.
How to Be On Time Every Time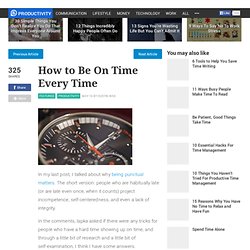 How to Be Punctual: 16 steps
Edit Article Edited by Summer Breeze, Ben Rubenstein, Jack Herrick, Krystle and 45 others If you're battling lateness, there is hope. According to the experts, you can avoid procrastination and tardiness by changing your habits and tweaking your routines. Here are some things you can do to turn lateness into punctuality.
How to Stop Running Late: 11 steps
Edit Article Edited by Farzana, Teresa, Carolyn Barratt, Flickety and 16 others Everybody is late for something at one time or another.