Poetry
IndivPoets
IndivPoems. Poetry for Grateful Living. By cutting to the truth of our experience, poetry shakes us and awakens us.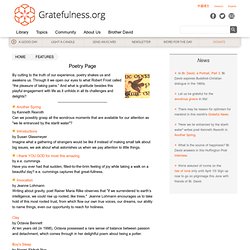 Through it we open our eyes to what Robert Frost called "the pleasure of taking pains." And what is gratitude besides this playful engagement with life as it unfolds in all its challenges and delights? Another Spring by Kenneth Rexroth Can we possibly grasp all the wondrous moments that are available for our attention as "we lie entranced by the starlit water"? Introductions by Susan Glassmeyer Imagine what a gathering of strangers would be like if instead of making small talk about big issues, we ask about what astonishes us when we pay attention to little things. Coming to the End of His Triumph: A Retrospective on Jack Gilbert. Jack Gilbert is nearly finished with his greatest poem.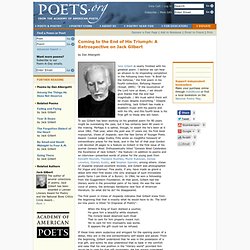 I believe we can hear an allusion to its impending completion in the following lines from "A Brief for the Defense," the first poem in his fourth collection, Refusing Heaven (Knopf, 2005): "If the locomotive of the Lord runs us down, / we should give thanks that the end had magnitude. / We must admit there will be music despite everything. " Despite everything, Jack Gilbert has made a stubborn music with his poems and with his life, and this fourth book is his final gift to those who will listen. Poetry.com. PoemHunter.Com. Poetry Foundation. Poetry Society of America. AmAcad Poets.org.
---