Child Lit&Svcs
Chinaberry.com: Books, audio books, toys, games, and crafts for the whole family
Center for Children's Books - Illinois
Inspiration & Role Models
Mother Goose on the Loose
Talk Story | Sharing stories, Sharing culture
Whether we set the stage with "In the beginning," "Once upon a time," or "Long ago and far away," everyone expects a story to follow. Finding a good story is easy; building a successful storytime isn't. As librarians, we actively encourage children to come to our programs, but let's face it, we aren't all comfortable in front of a group of wiggly, irrepressible kids, and we don't have time to plan a different program every week. What's more, longer class visits mean the 20-minute program you presented in the library last year is much too short now. Whatever your situation, Children's Programming Monthly , a new online magazine from ALA Editions, will put you a step ahead. This electronic newsletter, available in easy-to-download PDFs, is devoted to ideas that will help you build library programs for children in preschool through grade three.
Children's Programming Monthly | ALA Editions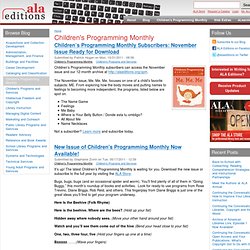 WebinarsALSC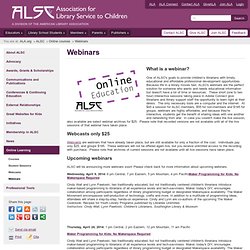 What is a webinar? One of ALSC's goals to provide children's librarians with timely, educational and affordable professional development opportunities. Because life in a library moves fast, ALSC's webinars are the perfect solution for someone who wants and needs educational information but doesn't have a lot of time or resources.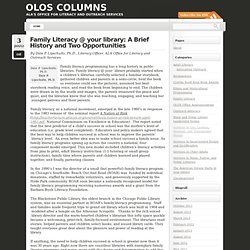 By Dale P. Lipschultz, Ph.D., Literacy Officer, ALA Office for Literacy and Outreach Services Dale P.
OLOS Columns » Family Literacy @ your library: A Brief History and Two Opportunities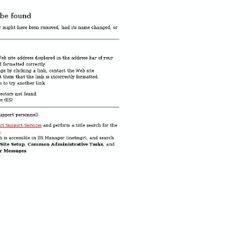 The page you are looking for might have been removed, had its name changed, or is temporarily unavailable. Please try the following: Make sure that the Web site address displayed in the address bar of your browser is spelled and formatted correctly. If you reached this page by clicking a link, contact the Web site administrator to alert them that the link is incorrectly formatted. Click the Back button to try another link. Technical Information (for support personnel)
The Children's Literature Web Guide is an attempt to gather together and categorize the growing number of Internet resources related to books for Children and Young Adults. Much of the information that you can find through these pages is provided by others: fans, schools, libraries, and commercial enterprises involved in the book world. My contribution, besides pulling all these sites together, is to compile book awards lists from a variety of print sources, and from Internet "sources" who generously post news of recent winners to discussion groups, or e-mail me directly (I don't actually decide who wins the book awards. Sorry!). I usually find out about the sites I list when their creators tell me about them, or when I see a notice about them on a newsgroup, or one of the major Web Indexes or "What's New" lists.
ChildLit Web Guide