DIY
Page 2 | craftgawker - StumbleUpon. DIY Wrap Bracelet - Honestly WTF - StumbleUpon. You should all know by now that we are all about stacking bracelets on our wrists.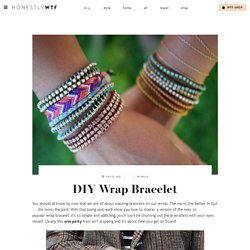 The more, the better. In fact . . . the most, the best! DIY Friendship Bracelet - Honestly WTF - StumbleUpon. For several months now, we've been receiving emails requesting a friendship bracelet DIY.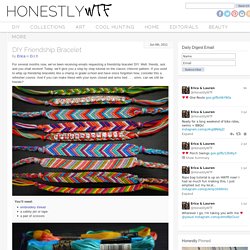 Well, friends, ask and you shall receive! Today, we'll give you a step by step tutorial on the classic chevron pattern. If you used to whip up friendship bracelets like a champ in grade school and have since forgotten how, consider this a refresher course. And if you can make these with your eyes closed and arms tied . . . umm, can we still be friends? You'll need:embroidery threada safety pin or tapea pair of scissors. DIY Braided Bead Bracelet - Honestly WTF - StumbleUpon. It's been awhile since our last bracelet DIY.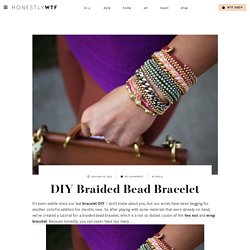 I don't know about you, but our wrists have been begging for another colorful addition for months now. So after playing with some materials that were already on hand, we've created a tutorial for a braided bead bracelet, which is a not so distant cousin of the hex nut and wrap bracelet. 30 Fun DIY Crafts To Keep You and the Family Busy During the Holidays | The Aimless Curator - StumbleUpon. How to make gift bags from newspaper | How About Orange - StumbleUpon.
When I bought something at a store recently, the clerk handed me my purchase in a bag made from a newspaper.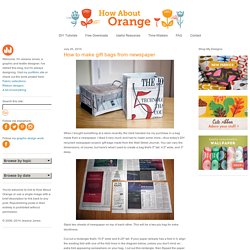 I liked it very much and had to make some more—thus today's DIY recycled newspaper project: gift bags made from the Wall Street Journal. You can vary the dimensions, of course, but here's what I used to create a bag that's 5" tall, 4.5" wide, and 3" deep. Stack two sheets of newspaper on top of each other. This will be a two-ply bag for extra sturdiness. PIN IT UP, GIRL - thebeautydepartment.com - StumbleUpon. Photo: justin coit for thebeautydepartment.com post designed by kristin ess Our email box is literally flooded with requests for updos so here's a fun one to get us all going!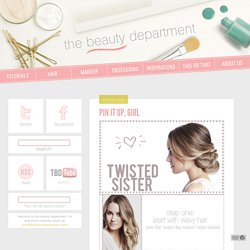 This is always a favorite for attending an event. This updo looks gorgeous on any hair color but particularly amazing with hilighted hair because it gives the hair lots of depth and dimension. For lack of a better word, I love the way it becomes "swirly". Best thing is; it's easy to do, gorgeous and keeps your hair out of your way for the night.
Doily canvas bag} & ashleyannphotography.com - StumbleUpon. Thankfully everyone seems to be making a switch from plastic to lasting when it comes to shopping bags, so here's another fun little tutorial on customizing one to make it oh so cute.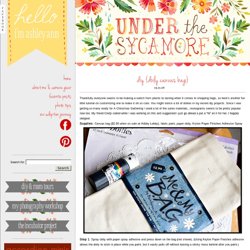 You might notice a lot of doilies in my recent diy projects. Since I was getting so many ready for A Christmas Gathering I used a lot of the same materials…monograms seems to be pretty popular now too.
---