Follow-ups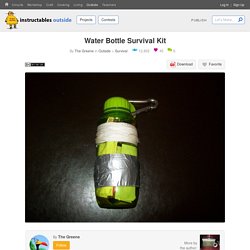 Water bottle survival kit
DISCLAIMER I AM NOT RESPONSIBLE FOR ANY INJURIES OR THINGS IN THAT NATURE. This is my first instructable I have done. Please leave comments. When I was in boy scouts, we went on a 6 mile hike and we got "lost". The leaders knew where we where but we did not. At the time my survival kit was just an altoids tin with the basic stuff in it such as matches, band aids,supper glue (etc).
LS3 - Legged Squad Support Systems LS3 is a rough-terrain robot designed to go anywhere Marines and Soldiers go on foot, helping carry their load. Each LS3 carries up to 400 lbs of gear and enough fuel for a 20-mile mission lasting 24 hours. LS3 automatically follows its leader using computer vision, so it does not need a dedicated driver.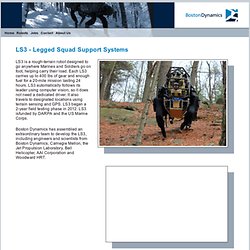 Boston Dynamics: Dedicated to the Science and Art of How Things Move.
I'm fairly nervous about teaching at Clarion this year. I said no when asked for years, because I wasn't sure what I had to teach anyone about writing. Mostly I figure I'm still figuring it out myself. I finally said yes, and I still don't think I know enough to dare to actually teach anyone. In the shower today I tried to think about the best advice I'd ever been given by another writer. There was something that someone said at my first Milford, about using style as a covering, but sooner or later you would have to walk naked down the street, that was useful...
advice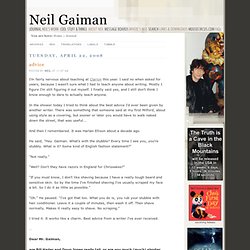 I was asked recently, on a stage in Sydney, what the best advice I'd ever received from another author was, and I told the Harlan Ellison shaving story I've told here. It is invaluable knowledge. This morning I thought, I wonder what the best non-shaving advice I've actually got from another author was...?
The Best Advice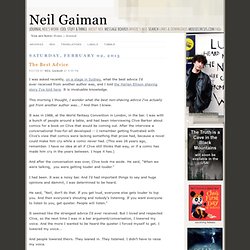 Neil Gaiman Presents | Audiobooks Produced by Neil Gaiman | audible.com
Dia Art Foundation - Walter De Maria, The Lightning Field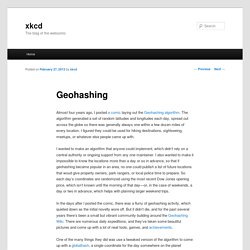 Almost four years ago, I posted a comic laying out the Geohashing algorithm. The algorithm generated a set of random latitudes and longitudes each day, spread out across the globe so there was generally always one within a few dozen miles of every location. I figured they could be used for hiking destinations, sightseeing, meetups, or whatever else people came up with. I wanted to make an algorithm that anyone could implement, which didn't rely on a central authority or ongoing support from any one maintainer. I also wanted to make it impossible to know the locations more than a day or so in advance, so that if geohashing became popular in an area, no one could publish a list of future locations that woud give property owners, park rangers, or local police time to prepare.
Geohashing
Murasaki Shikibu (紫 式部, English: Lady Murasaki) (c. 978 – c. 1014 or 1025) was a Japanese novelist, poet and lady-in-waiting at the Imperial court during the Heian period. She is best known as the author of The Tale of Genji, written in Japanese between about 1000 and 1012. Murasaki Shikibu is a nickname; her real name is unknown, but she may have been Fujiwara Takako, who was mentioned in a 1007 court diary as an imperial lady-in-waiting. Heian women were traditionally excluded from learning Chinese, the written language of government, but Murasaki, raised in her erudite father's household, showed a precocious aptitude for the Chinese classics and managed to acquire fluency. She married in her mid-to late twenties and gave birth to a daughter before her husband died, two years after they were married. It is uncertain when she began to write The Tale of Genji, but it was probably while she was married or shortly after she was widowed.
Murasaki Shikibu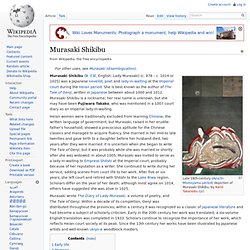 Written by Northern Lad No excuse now not to get hold of a good bird and make the most of it, with Northern Lad's step by step guide to jointing a chicken. Start with your full, intact chicken, and remove the giblets (if supplied).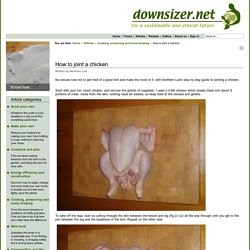 for a sustainable & ethical future - How to joint a chicken
Homes - Design - Types of lighting