Waardenburg
RNAi Screen for Pigment Disorders. Abstract Melanin protects the skin and eyes from the harmful effects of UV irradiation, protects neural cells from toxic insults, and is required for sound conduction in the inner ear.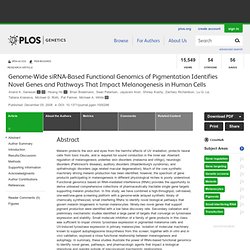 Aberrant regulation of melanogenesis underlies skin disorders (melasma and vitiligo), neurologic disorders (Parkinson's disease), auditory disorders (Waardenburg's syndrome), and opthalmologic disorders (age related macular degeneration). Much of the core synthetic machinery driving melanin production has been identified; however, the spectrum of gene products participating in melanogenesis in different physiological niches is poorly understood. Functional genomics based on RNA-mediated interference (RNAi) provides the opportunity to derive unbiased comprehensive collections of pharmaceutically tractable single gene targets supporting melanin production.
Hearing Loss Reviews
Pigmentary anomalies and hearing loss. [Adv Otorhinolaryngol. 2011] - PubMed result. Genetic and phenotypic heterogeneity in two novel cases of Waardenburg syndrome type IV - Viñuela - 2009 - American Journal of Medical Genetics Part A. Review and update of mutations causing Waardenburg syndrome - Pingault - 2010 - Human Mutation. SOX10 deletions and WS 2 and 4. Open Archive Waardenburg syndrome (WS) is an auditory-pigmentary disorder that exhibits varying combinations of sensorineural hearing loss and abnormal pigmentation of the hair and skin.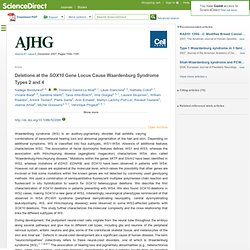 Depending on additional symptoms, WS is classified into four subtypes, WS1–WS4. Absence of additional features characterizes WS2. The association of facial dysmorphic features defines WS1 and WS3, whereas the association with Hirschsprung disease (aganglionic megacolon) characterizes WS4, also called "Waardenburg-Hirschsprung disease." Mutations within the genes MITF and SNAI2 have been identified in WS2, whereas mutations of EDN3, EDNRB, and SOX10 have been observed in patients with WS4.
---