Portails internationaux
Persée : Portail de revues en sciences humaines et sociales
Internet et la recherche en généalogie. Le Web constitue un vaste domaine où l'information foisonne. Les sources y sont multiples mais il faut tenir compte du fait qu'elles ne sont pas toujours fiables. En voici un certain nombre dont la fiabilité est éprouvée. Fédération québécoise des sociétés de généalogie (FQSG)
Généalibre: Utiliser internet pour sa généalogie
About the Online ProjectHistory of the Obituary IndexCredits & Thanks Ordering ObituariesTips from the StaffNewspapers IndexedBiographical References IndexedOther New Orleans Obit Indexing Projects Click here to
Louisiana Biography and Obituary Index, New Orleans Public Library-Mozilla Firefox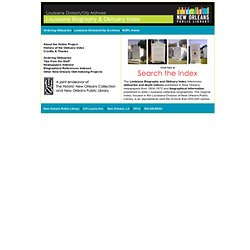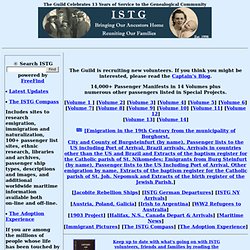 Immigrant Ships Transcribers Guild-Mozilla Firefox
We are all seeking to complete our family tree. In keeping with the belief that we all are entitled to know our heritage and those who came before us, I have created The Adoption Story Board. While it is in its infancy, I know that it will grow, just as the passenger lists grew, starting with a few lists added over ten years ago. It begins by taking the first step.
The LAGenWeb Project - Home-Mozilla Firefox
Welcome to The USGenWeb Project! We are a group of volunteers working together to provide free genealogy websites for genealogical research in every county and every state of the United States. This Project is non-commercial and fully committed to free genealogy access for everyone. Organization is by county and state, and this website provides you with links to all the state genealogy websites which, in turn, provide gateways to the counties.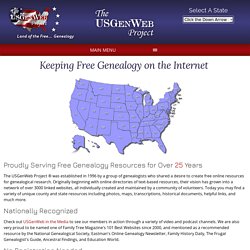 Skip Navigation. Resources for Genealogists Home > Research Our Records > Resources for Genealogists Now online - 1940census.archives.gov Start Your Family Research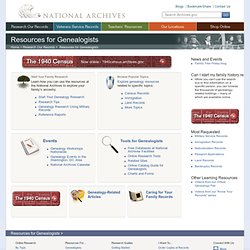 USGenWeb Archives Project Orleans Parish Louisiana-Mozilla Firefox
mnoGoSearch:-Mozilla Firefox
Portail européen des archives-Mozilla Firefox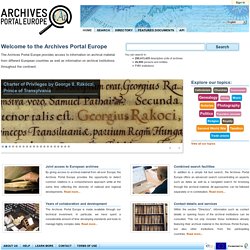 Welcome to the Archives Portal Europe This is the pilot installation of the future Archives Portal Europe. It provides access to information on archival material from currently 17 European countries as well as information on archival institutions throughout the continent.
Alles zum Thema ... HEIDIKatalog für die Bibliotheken der Universität und Universitätsbibliographie (HeiBIB) E-Journals 90.100 Fachzeitschriften im Volltext Datenbanken 2.820 Datenbanken (Bibliographien, Volltexte, Lexika, Wörterbücher …) HeiDOK Der Heidelberger Dokumentenserver: Elektronisches Publizieren im Open Access Open Journal System Heidelberg Publikation wissenschaftlicher Zeitschriften HeidICON Die Heidelberger Bilddatenbank: Bildmaterial für Forschung und Lehre Heidelberger historische Bestände – digitalBibliotheca Palatina, Klosterbibliothek Lorsch, Schrifttum zur Stadt und Universität Heidelberg, zur Kunstgeschichte, Archäologie, Ägyptologie und Südasien … Heidelberger Fachinformationsdienste arthistoricum.net (Kunst), Propylaeum (Altertumswissenschaften), Savifa (Südasien)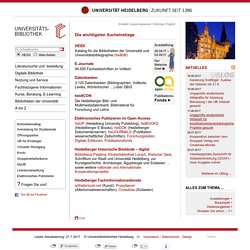 UB Heidelberg - Universitätsbibliothek Heidelberg-Mozilla Firefox