Technology for the Lazy
How to Make / Create Your Own Website: The Beginner's A-Z Guide to Starting a Website. The essential step by step guide on how to set up a website by Christopher Heng, thesitewizard.com This tutorial shows you how to make or create a website.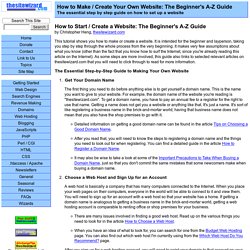 It is intended for the beginner and layperson, taking you step by step through the whole process from the very beginning. Domain Names, Web Hosting and SSL Certificates - Go Daddy. Me - Personal and collaborative sticky notes web-app | Codec Guide: K-Lite Codec Pack - Windows 7 codecs. TinEye Reverse Image Search. Aviary.com. Beautiful Word Clouds. Three Handy Tasker Profiles from Our Readers. Your prezis | Prezi. How to Set Up a Fully Automated App and Settings Backup on Android.
As for SMS backup and Call Logs, I use two apps that do it automatically, silently, and with deadly efficiency.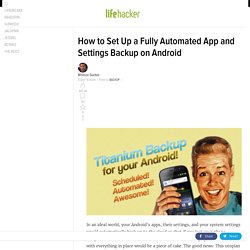 SMS Backup — sends them all as an email to your gmail address under a user specified label (SMS) - it also can mark them as read so you can set it and forget it. CallTrack — Sends all incoming and outgoing, missed and dialed, calls (everything on the call log) into a specified goggle calendar under your account. So I can see week by week, day by day, who I called, who called me, how long we spoke for, etc. If I had google calendar skills, I could probably turn this info into a neat graphic or excel spreadsheet. INSTRUCTABLES.COM passwords - login with these free accounts to bypass compulsory web registration - Bugmenot.com. Plugins. Plugins, widgets & badges Find out more about the TinEye official browser plug-ins, widgets and bookmarklets to make your searching easier and faster.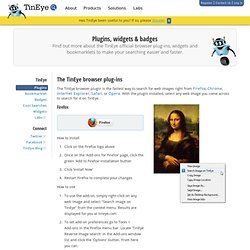 The TinEye browser plug-ins The TinEye browser plugin is the fastest way to search for web images right from Firefox, Chrome, Internet Explorer, Safari, or Opera. With the plugin installed, select any web image you come across to search for it on TinEye. Download music, movies, games, software! The Pirate Bay - The world's most resilient BitTorrent site. SimplyNoise - The Best Free White Noise Generator on the Interne. Myfav.es - Start here.
---