Money and Deals
Budgeting Worksheet - A Household Budget For Today and Tomorrow
The Graduating Student's Guide to Managing Finances and Tackling Debt
"…always [pay] the highest interest rate debt first." From a theoretical standpoint, I agree with this 100%. However, for people who have large balances on multiple cards, sometimes it's better to focus on paying off the card with the lowest balance first. There are a couple of benefits to this: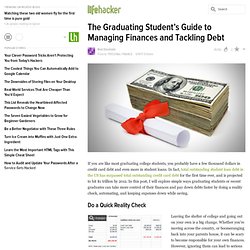 Log in to Payoff to pay off debt and save money | Payoff.com
The Freecycle Network
Last Updated Feb 24, 2011 6:23 AM EST This story was last updated February 10, 2011. First of all, the IRS has a gift for you: an extra three days to file your returns! Individual taxpayers will have until Monday, April 18, to file their returns. The reason: Friday, April 15, is a legal holiday in the District of Columbia, and because D.C. holidays affect tax deadlines in the same way federal holidays do, all taxpayers are being given an extra three days to file their returns. Now, on to your tax return: Claim these often overlooked deductions and credits and you just might be able to pay less to the IRS.
16 Tax Deductions for This Year's Tax Return