photography
Get flash to fully experience Pearltrees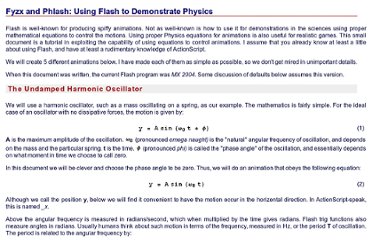 Flash is well-known for producing spiffy animations. Not as well-known is how to use it for demonstrations in the sciences using proper mathematical equations to control the motions. Using proper Physics equations for animations is also useful for realistic games. This small document is a tutorial in exploiting the capability of using equations to control animations.
Lighting can be the difference between a good shot and a great one. Walk into most professional photographer's studios and you'll be confronted with truckloads of lighting equipment. To the average hobby photographer it's enough to make your mind boggle – and for your stomach to turn as you think about the cost of it all. Most of us can't afford a full lighting rig – however what if there was a way to experiment with the type of lighting gear that pro photographers use without spending too much money? What if you could make it yourself.
The file /stable/en/kdegames/katomic/index.html could not be found. Please check if you entered the URL correctly, or use the navigation on the left to access the complete KDE User Documentation. If you reached this page from another part of the KDE Documentation website, please notify the KDE Documentation Team so we can fix the problem.