One taste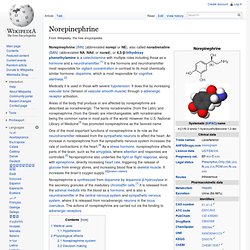 Areas of the body that produce or are affected by norepinephrine are described as noradrenergic. The terms noradrenaline (from the Latin) and norepinephrine (from the Greek) are interchangeable, with noradrenaline being the common name in most parts of the world. However the U.S.
Norepinephrine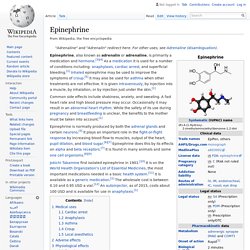 Epinephrine (also known as adrenaline, adrenalin, or 4,5-β-trihydroxy-N-methylphenethylamine) is a hormone and a neurotransmitter.[1] Epinephrine has many functions in the body, regulating heart rate, blood vessel and air passage diameters, and metabolic shifts; epinephrine release is a crucial component of the fight-or-flight response of the sympathetic nervous system.[2] In chemical terms, epinephrine is one of a group of monoamines called the catecholamines. It is produced in some neurons of the central nervous system, and in the chromaffin cells of the adrenal medulla from the amino acids phenylalanine and tyrosine.[3] Medical uses[edit]
Epinephrine
Serotonin /ˌsɛrəˈtoʊnɨn/ or 5-hydroxytryptamine (5-HT) is a monoamine neurotransmitter. Biochemically derived from tryptophan, serotonin is primarily found in the gastrointestinal (GI) tract, platelets, and in the central nervous system (CNS) of animals, including humans. It is popularly thought to be a contributor to feelings of well-being and happiness.[6] Serotonin secreted from the enterochromaffin cells eventually finds its way out of tissues into the blood. There, it is actively taken up by blood platelets, which store it. When the platelets bind to a clot, they release serotonin, where it serves as a vasoconstrictor and helps to regulate hemostasis and blood clotting.
Serotonin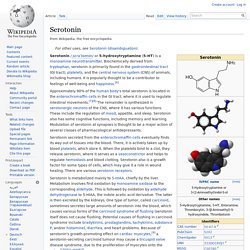 Dopamine Functions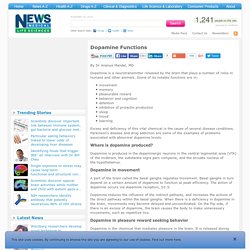 By Dr Ananya Mandal, MD Dopamine is a neurotransmitter released by the brain that plays a number of roles in humans and other animals. Some of its notable functions are in: movement memory pleasurable reward behavior and cognition attention inhibition of prolactin production sleep mood learning
Upcoming... To achieve its mission, the Philoctetes Center holds roundtable discussions with experts from various fields (neuroscience, psychology, mathematics, psychoanalysis, humanities, art, philosophy and theology). These discussions are recorded and transcribed and the records are edited and archived on our website. All Programs June 12, 2011 Stranger than Truth: The Art of the Trio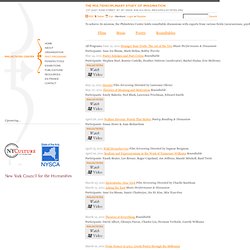 Past Programs
Love Code: The Chemistry of Intimacy Roundtable Participants: Stephanie Brown, Sue Carter (moderator), Elaine Hatfield, Dolores Malaspina, Stephen Porges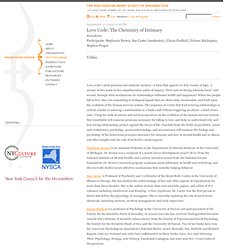 Love Code: The Chemistry of Intimacy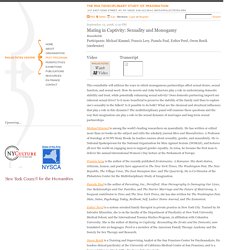 Mating in Captivity: Sexuality and Monogamy Roundtable Participants: Michael Kimmel, Francis Levy, Pamela Paul, Esther Perel, Owen Renik (moderator)
Mating in Captivity: Sexuality and Monogamy
What's Your Type?
We're each a mix of all four of Helen Fisher's relationship categories, but we express some traits more regularly than others. For example, you might primarily be an Explorer and secondarily a Negotiator, but then not have much Builder in you. As you read on, you'll probably guess both your primary and secondary types, as well as those of your mate.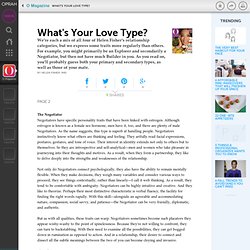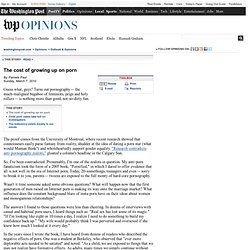 The cost of growing up on porn
Guess what, guys? Turns out pornography -- the much-maligned bugaboo of feminists, prigs and holy rollers -- is nothing more than good, not-so-dirty fun. The proof comes from the University of Montreal, where recent research showed that connoisseurs easily parse fantasy from reality, shudder at the idea of dating a porn star (what would Maman think?) and wholeheartedly support gender equality. "Research contradicts anti-pornography zealots," gloated a column's headline in the Calgary Sun. So, I've been contradicted.
Helen Fisher's Types: Explorer, Builder, Director, Negotiator
In a previous post I wrote of a personality and matching test at Chemistry.com that was developed by researcher Helen Fisher. We are already seeing some possible patterns in how her types correspond to socionic types, and I encourage readers to take the test if they haven't already and share their results in that post. The best introduction to Fisher's research is this half-hour interview with her by Nicole Simon. Here Fisher talks about the history of her research, her main findings, and the types themselves. Each type is supposedly related to one of four chemicals that broadly influences personality: dopamine (a neurotransmitter), serotonin (neurotransmitter), testosterone (hormone), and estrogen (hormone). Explorer: (more dopamine expression) -- risk-taking, curious, creative, impulsive, optimistic and energetic
Everything you know about sex is only a first step. Most advice for couples doesn't go far enough—as a result, basic truths about long-term passion are surprising. By Kat McGowan , published on January 01, 2006 - last reviewed on February 06, 2008
Sex Shockers
Sex and Love: The Biology of Romance
Sex and Love: The Biology of Romance Roundtable Participants: Michael Baum, Helen Fisher, Siri Gullestad, Hiroaki Matsunami, Michael Numan, Donald Pfaff (moderator) From the biological standpoint, sexual behaviors can be viewed as the most rudimentary form of social interaction.
You complain that your boyfriend lies to you. "Is this your 'victim story'?" Dr. Phil asks you warily. Your boyfriend admits to lying . "Is this something you do because you're gutless?"
Dear Reader, Get A Life
There's always an explanation: A 22-year-old college grad wants to hold out for the right job rather than jump into an underpaid makeshift position. Rents are so inflated, a 25-year-old moving out of her boyfriend's apartment couldn't possibly afford a place of her own. With two bedrooms to spare, parents can rehouse the kids and everyone will benefit. Whatever the reason, young adults are returning home in increasing numbers—following graduation, the dissolution of a relationship or the loss of a job. They often live rent-free and subsidized, with no scheduled date for departure. But while much attention has been paid to live-at-home "adultescents," little has been said about their parents, many of whom are Baby Boomers who greet their boomerang kids with open arms.
The PermaParent Trap
Orgasm + Vitality with Dr. Sara Gottfried (Part 1)
Nicole Daedone and Dr. Sara Gottfried: Orgasm and Stress
Love Code: The Chemistry of Intimacy
Helen Fisher: This is Your Brain on Love
Dr Helen Fisher - Biological Anthropologist - Home Page
Herbert Benson: The Relaxation Revolution
As Above, So (Very Different) Below: On the Masculine and Feminine | Nicole Daedone
Every journey begins with a single step. The journey of the soul can sometimes be a difficult one, and sometimes be an easy one. Of the different ways our souls may choose to make those journeys, taking the road that leads through our sexuality can be one of the most troublesome, as well as one of the most rewarding. A key to great sex: Eye Contact!
Lovers | The Personal Revolution