Jaz
terenske vaje
Companies have long engaged in head-to-head competition in search of sustained, profitable growth. They have fought for competitive advantage, battled over market share, and struggled for differentiation. Yet in today's overcrowded industries, competing head-on results in nothing but a bloody "red ocean" of rivals fighting over a shrinking profit pool. In a book that challenges everything you thought you knew about the requirements for strategic success, W. Chan Kim and Renée Mauborgne contend that while most companies compete within such red oceans, this strategy is increasingly unlikely to create profitable growth in the future.
About | Blue Ocean Strategy
Kanal uporabnika zokorn
EYES AND EARS OF GOD part 1 (7)
Creative Inc. Book Tour: 8 Tips For Promoting Your Work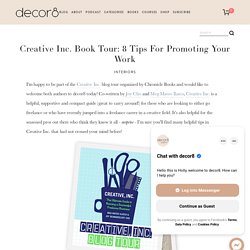 I'm happy to be part of the Creative Inc. blog tour organized by Chronicle Books and would like to welcome both authors to decor8 today! Co-written by Joy Cho and Meg Mateo Ilasco , Creative Inc. is a helpful, supportive and compact guide (great to carry around!) for those who are looking to either go freelance or who have recently jumped into a freelance career in a creative field. It's also helpful for the seasoned pros out there who think they know it all – surprise – I'm sure you'll find many helpful tips in Creative Inc. that had not crossed your mind before!
Your Photostream