Bisernica
61sv10.pdf (Predmet application/pdf)
Blue is Bleu
KOTIPALAPELI
Yarning
In Color Order
Where to start? This week was crazy! So much going on at the moment, it's a bit overwhelming! Luckily, all good things, but that doesn't mean it's not still taxing :) I finally finished up this color wheel mini quilt! I started it the day after I discovered I would be teaching again at Sewing Summit, so back in January.
FoQ_Academy_Timetable__details_2012.pdf (Predmet application/pdf)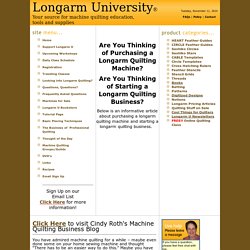 longarm_newbie
Click Here to visit Cindy Roth's Machine Quilting Business Blog You have admired machine quilting for a while – maybe even done some on your home sewing machine and thought "There has to be an easier way to do this." Maybe you have seen a longarm quilting machine demonstrated at a local quilt show or have watched your local longarm quilter in action and have admired her (or his) work.
view continental video This method produces a true purl stitch, but there is one important distinction: because the yarn is wrapped around the needle clockwise instead of the more common counter clockwise, the resulting stitch is oriented differently on the needle, and must then be worked accordingly on the following round.
The Purl Stitch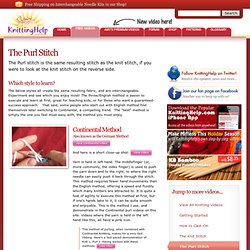 Paul & Paula: Happy Eastern!
This week end we are away on a little trip. Some fresh air for us, having breakfast served... ahhh.... how nice... So last week end I was standing in the kitchen with my daughter and dyed eggs. Easter eggs.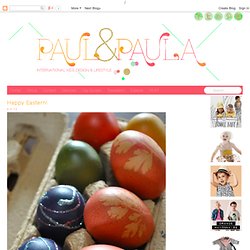 Needlework
I love pumpkin — all different types. But my favorite is a pumpkin with a compact flesh, which is very creamy. Over the past few years on In the Kitchen With, we've collected quite a few pumpkin and butternut squash recipes that are perfect as these vegetables start showing up in abundance at markets and stores. This week, I gathered the best of pumpkin (or squash) recipes. How will you use your pumpkins, and what are your favorite flavors to pair with them? For me, I look forward to making risotto with gorgonzola or taleggio, and I always make loaves upon loaves of pumpkin bread, and I can't resist a quick soup made with roasted butternut squash and pureed with other roasted vegetables (recipes below). — Kristina
in the kitchen with: best of pumpkin dishes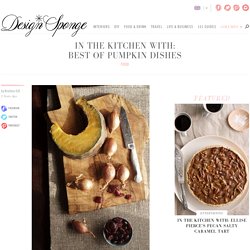 Home Page | www.habutextiles.com
mer mag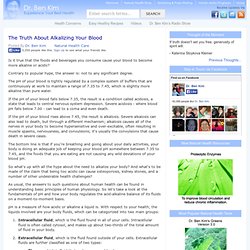 Is it true that the foods and beverages you consume cause your blood to become more alkaline or acidic? Contrary to popular hype, the answer is: not to any significant degree. The pH of your blood is tightly regulated by a complex system of buffers that are continuously at work to maintain a range of 7.35 to 7.45, which is slightly more alkaline than pure water. If the pH of your blood falls below 7.35, the result is a condition called acidosis, a state that leads to central nervous system depression. Severe acidosis - where blood pH falls below 7.00 - can lead to a coma and even death.
The Truth About Alkalizing Your Blood
Tkomal počez
all things beautiful.
Perfect ass or good dancer