This&That
We LOVE bread in my home!When I saw this recipe for Homemade Olive Garden Breadsticks, I definitely wanted to give them a try. These breadsticks are so good, and pretty easy to make! They would make a GREAT side dish to your meal! Pin It By Chef in Training February 17, 2012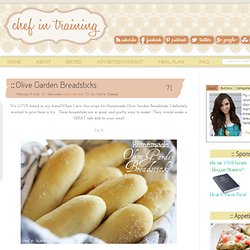 Homemade Olive Garden Breadsticks
new york bagels « eat your vegetable
8 ounces (250 grams) water 0.5 oz (15 grams) fresh cake yeast (0.2 ounces instant or bread machine yeast–6 grams) 1 pound high-gluten flour (500 grams) (I can also vouch for King Arthur all-purpose flour)
Huevos Rancheros
My huevos rancheros is a pretty classic version made from very common ingredients and just happens to taste like a million bucks. For a leaner version, char the tortilla over an open flame of a gas burner (or you can warm it between sheets of damp paper towels in the microwave) and then fill it with the browned vegetables, tomatoes, and scrambled eggs instead of fried. Whatever you do, don't forget the salsa or hot sauce, depending on what squeals your wheels.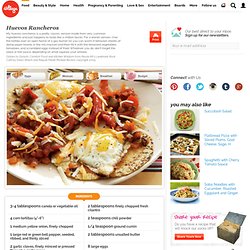 Every time we have a gathering at my maternal grandmother's house I am always asked to bring a dessert or drinks. I usually don't mind bringing desserts for parties since I like to bake but at my grandma's house there's always like five other desserts and my dessert often goes uneaten. But for our Father's Day gathering this year (which was actually held on Saturday) I didn't have to bring a dessert or drinks. My uncle actually said that I could bring whatever I wanted. I just had to let him know what I was bringing.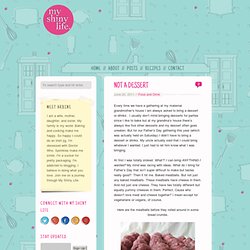 NOT a Dessert | My Shiny Life
Moroccan Chicken and Quinoa | My Shiny Life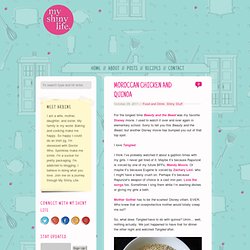 For the longest time Beauty and the Beast was my favorite Disney movie. I used to watch it over and over again in elementary school. Sorry to tell you this Beauty and the Beast, but another Disney movie has bumped you out of that top spot. I love Tangled.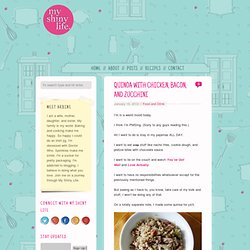 Quinoa with Chicken, Bacon, and Zucchini | My Shiny Life
I'm in a weird mood today. I think I'm PMSing. (Sorry to any guys reading this.) All I want to do is stay in my pajamas ALL DAY. I want to eat crap stuff like nacho fries, cookie dough, and pretzel bites with chocolate sauce.
I cannot believe summer is winding down and the kids are heading back to school. Sounds like most of us have been busier than we ever could have imagined. "Down time" these days is filled with work and play but not so much relaxation. This guacamole salsa recipe is for the last week of Summer Fest.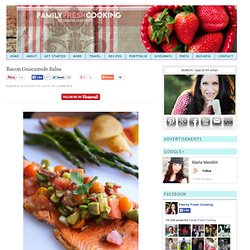 Healthy Homemade Bacon, Tomato, Avocado Guacamole Salsa Recipe — Family Fresh Cooking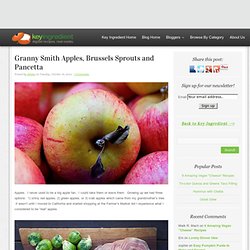 Posted by Denise on Tuesday, October 16, 2012 · 7 Comments Apples. I never used to be a big apple fan.
Granny Smith Apples, Brussels Sprouts and Pancetta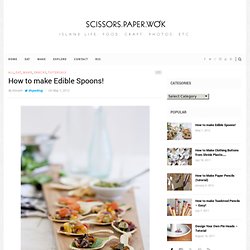 A few years ago I did a post on how to make edible spoons and bowls from dough. I thought it was a great idea, but just not with my method and recipe. I searched online to see if anyone else had done something similar and stumbled across a small handful of ideas, but then found this little gem… Roy, the inventor of the Edible Spoon Making Kit has indeed thought of a really simple and clever way to make edible spoons.
Have you ever been a situation when you wanted to throw out all things complicated - be it from serious life to career issues to as simple as clearing out a crumpled up wardrobe to your bookshelf? Ah! I know how it feels.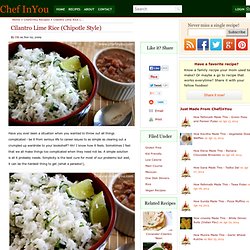 I suspect the mice like bananas. Or perhaps it's the cinnamon that tickles their tiny pink noses. Whatever it is, they like it.
The Best Banana Bread I've Ever Made
Asian Coleslaw Recipe
Let's talk coleslaw. I don't really like the mayonnaisey stuff. I sorta don't really like mayonnaise in general. Unless, of course, it's in tuna salad.
Have I ever mentioned that Fall is by far my favorite season? Well it is. Growing up in South Florida, we never really had a change of season, but I always loved the idea of starting everything fresh and was that nerdy girl with glasses that loved going back to school every year. Some things don't change—I'm very much still nerdy and awkward.
White Chicken Chili Recipe
Alex cooked dinner last night and, oh, what a meal he made! Two weeks ago, my mother forwarded me this Tomato and Sausage Risotto recipe from her Martha Stewart Everyday Food newsletter — like it surprises you that it runs in the family — with only the caption "this was very good." I have been meaning to make it ever since, but I guess we can argue I lost my chance. As I put together a grocery order on Saturday night, aligning it to recipes Alex would want to cook this week and food I could assemble for myself while working at home, this risotto was at the top. Because it's fantastic! And really, how could it not be?
tomato and sausage risotto
My Mom would always say "well if (insert childhood friend's name here) jumped off a bridge, would you jump off the bridge too?" No Mom… I wouldn't. Unless I had some sort of bungee cord and a survival guarantee.
BLT Corn Salad Wraps
Coconut Crab Rice
Joy the Baker - Strawberry Raspberry Vanilla Quick Jam
Hawaiian Haystacks: Chicken Sauce Reinvented
Jalapeno Cranberry Skillet Corn Bread