Makeup Blogs
Cult of Pretty - A Cult Beauty Products Blog - StumbleUpon. Ugh, what the hizz happened, it's WINTER you guys.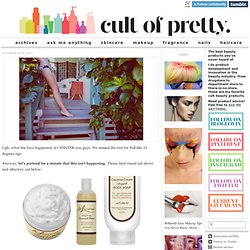 We missed the exit for Fall like 10 degrees ago. Anyway, let's pretend for a minute that this isn't happening. Please find visual aid above and olfactory aid below: I really have a thing for coconut-scented anything-for-my-body. I'm constantly plotting a way to move to Hawaii and spend my days slathered in coconut body oil on the beach, so I guess I try to recreate the feeling in my cold NY apartment.
Nerdy Girl Makeup | Looks | Page 6 - StumbleUpon. Makeup 101- Basic Makeup Techniques & Makeup Geek - Tips, Video Tutorials, Reviews, & More! - StumbleUpon. List of Lusts: Coral/Peach Cheeks | Beautyholics Anonymous. From Kitchen Counter to Beauty Counter | Beauty Nerds United - StumbleUpon. Lately, I've been watching a lot of Cosmetic Couturier lip videos.
In every video she always uses the sugar scrub from LUSH. I know a lot of you probably have the same problem I do when it comes to LUSH…it's ridiculously difficult to get to one of the stores and ordering bath products online can be a bit scary. I am hypersensitive to certain scents, so I can't just pick something out and try it out without some serious fears. Today, I decided, I want my own lip scrub.
---