Makeup Blogs
Cult of Pretty - A Cult Beauty Products Blog - StumbleUpon
Ugh, what the hizz happened, it's WINTER you guys. We missed the exit for Fall like 10 degrees ago. Anyway, let's pretend for a minute that this isn't happening. Please find visual aid above and olfactory aid below: I really have a thing for coconut-scented anything-for-my-body. I'm constantly plotting a way to move to Hawaii and spend my days slathered in coconut body oil on the beach, so I guess I try to recreate the feeling in my cold NY apartment.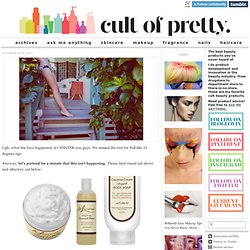 Summer loving :) - Tutorial with turquoise, blue and purple - StumbleUpon
Inspired by the beautiful sea and watching it turn from turquoise to blue and by the way it hits the purple sun setting at the end of the day I created this look as my first summer look! I can´t emphasise enough how excited I am to see summer just around the corner! This whole look is done using products from Mac Cosmetics simply because I was standing with my palettes in front of me, you can obviously switch out the products for what ever you have that is similar :) 1. Start of with a primer on the lid to make sure that the eyeshadows don´t crease and to get a more vibrant colour pay off.
List of Lusts: Coral/Peach Cheeks | Beautyholics Anonymous
Lately, I've been watching a lot of Cosmetic Couturier lip videos. In every video she always uses the sugar scrub from LUSH. I know a lot of you probably have the same problem I do when it comes to LUSH…it's ridiculously difficult to get to one of the stores and ordering bath products online can be a bit scary. I am hypersensitive to certain scents, so I can't just pick something out and try it out without some serious fears. Today, I decided, I want my own lip scrub.