Freelance writing tips
Freelance Writing Jobs and Your Freelance Writing Career
Writing for DOLLARS!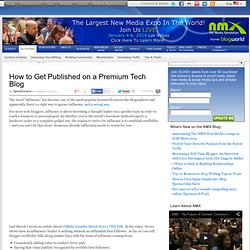 The word "influence" has become one of the most popular buzzwords across the blogosphere and apparently there's a right way to garner influence, and a wrong way. For most tech bloggers, influence is about becoming a thought leader on a specific topic in order to reach a business or personal goal. So whether you're the world's foremost Android expert, a hardcore coder or a complete gadget nut, the reason to strive for influence is to establish credibility – and you can't do that alone. Someone already influential needs to vouch for you.
How to Get Published on a Premium Tech Blog — BlogWorld Expo Blog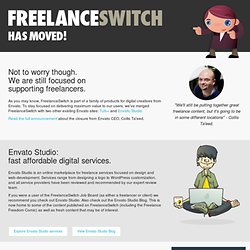 Microlancer is an online marketplace for freelance services focused on design and web-development. Services range from designing a logo to WordPress customization, and all service providers have been reviewed and recommended by our expert review team.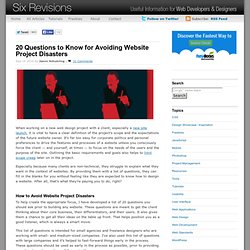 20 Questions to Know for Avoiding Website Project Disasters
When working on a new web design project with a client, especially a new site launch, it is vital to have a clear definition of the project's scope and the expectations of the future website owner. It's far too easy for corporate politics and personal preferences to drive the features and processes of a website unless you consciously force the client — and yourself, at times — to focus on the needs of the users and the purpose of the site. Outlining the basic requirements and goals also helps to limit scope creep later on in the project. Especially because many clients are non-technical, they struggle to explain what they want in the context of websites. By providing them with a list of questions, they can fill in the blanks for you without feeling like they are expected to know how to design a website. After all, that's what they're paying you to do, right?
@Le Starman Royale, duc des Mudkips et des modules MIDI: First of all, I have done many a post on this blog in which you see my iTunes library. It's a little ridiculous, actually. Second of all, no. I like them the way they are. Besides, that's my Mac that I don't actually do anything to...my main computer, a Hackintosh, has a severely tweaked GUI to the point of "wtf Whitson". I listen to a little NPR, sadly less than I'd like to nowadays.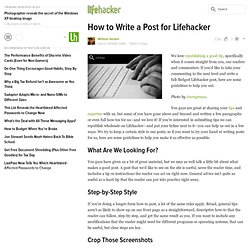 How to Write a Post for Lifehacker
The media world is changing and its jobs are changing too. The rise of the blogger is an often-told story, but are the lucky few bloggers who do it for a living well paid?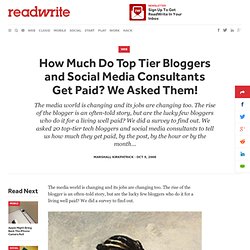 How Much Do Top Tier Bloggers and Social Media Consultants Get Paid? We Asked Them!