Series
The Hour (BBC TV series) The series premiered on BBC Two and BBC HD from 19 July 2011 each Tuesday at 9 pm.[2][3] Each episode lasts 60 minutes, with Ruth Kenley-Letts as producer and Coky Giedroyc as lead director.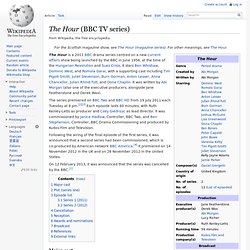 It was commissioned by Janice Hadlow, Controller, BBC Two, and Ben Stephenson, Controller, BBC Drama Commissioning and produced by Kudos Film and Television. Following the airing of the final episode of the first series, it was announced that a second series had been commissioned, which is co-produced by American network BBC America.[4] It premiered on 14 November 2012 in the UK and on 28 November 2012 in the United States. On 12 February 2013, it was announced that the series was cancelled by the BBC.[1] In the autumn of 1956, Freddie Lyon (Ben Whishaw) is a reporter unhappy with his job producing newsreels for the BBC.
Luther (TV series) Idris Elba stars as the show's lead character, Detective Chief Inspector John Luther Luther is a British psychological crime drama television series starring Idris Elba as the title character Detective Chief Inspector John Luther.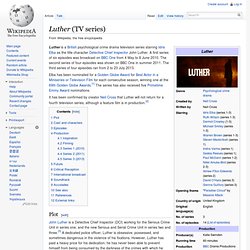 A first series of six episodes was broadcast on BBC One from 4 May to 8 June 2010. The second series of four episodes was shown on BBC One in summer 2011. The third series of four episodes ran from 2 to 23 July 2013. List of Miranda episodes. Series overview[edit] Episodes[edit] Series 1 (2009)[edit] Series 2 (2010)[edit] Series 3 (2012–13)[edit] Miranda was recommissioned for a third series by BBC Comedy commissioner Cheryl Taylor in January 2011.[19] It was later confirmed that the third series would be broadcast from 26 December 2012.[20] The series consists of six episodes.[21]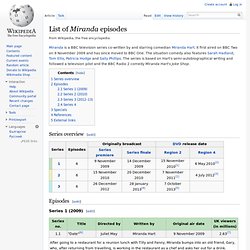 EZTV - TV Torrents Online. Appropriate Adult. Etymology[edit] The film got its title from the role of Janet Leach in the investigation as an appropriate adult during the questioning of Fred West.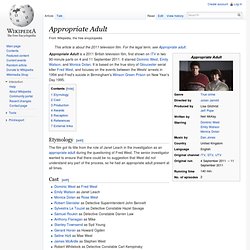 The senior investigator wanted to ensure that there could be no suggestion that West did not understand any part of the process, so he had an appropriate adult present at all times. Cast[edit] List of Mad Men episodes. List of Midsomer Murders episodes. The following is a list of episodes for the British drama Midsomer Murders that first aired in 1997.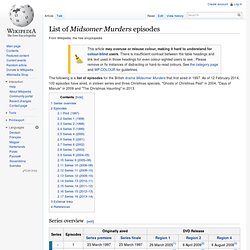 As of 12 February 2014[update], 100 episodes have aired, in sixteen series and three Christmas specials, "Ghosts of Christmas Past" in 2004, "Days of Misrule" in 2008 and "The Christmas Haunting" in 2013. Series overview[edit] Episodes[edit] Monty Pythons. List of The Big C episodes. List of The Tudors episodes. On June 20, 2010, the series aired its 38th and final episode.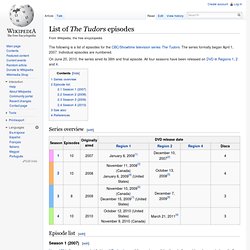 All four seasons have been released on DVD in Regions 1, 2 and 4. Series overview[edit] List of Boardwalk Empire episodes. Boardwalk Empire is an American television series created by Terence Winter and based on the book Boardwalk Empire: The Birth, High Times and Corruption of Atlantic City by Nelson Johnson.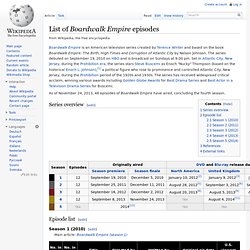 The series debuted on September 19, 2010 on HBO and is broadcast on Sundays at 9:00 pm. Set in Atlantic City, New Jersey, during the Prohibition era, the series stars Steve Buscemi as Enoch "Nucky" Thompson (based on the historical Enoch L. List of The Borgias episodes. List of Hell On Wheels episodes. List of Justified episodes. As of April 1, 2014[update], 64 episodes of Justified have aired.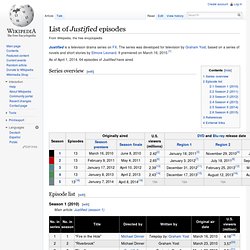 Series overview[edit] Episode list[edit] Season 1 (2010)[edit] Season 2 (2011)[edit] Season 3 (2012)[edit] List of Pretty Little Liars episodes. On January 11, 2011, ABC Family picked up Pretty Little Liars for a second season of 24 episodes.[4] It began airing on Tuesday, June 14, 2011.[5] It was announced in June that a special Halloween-themed episode would air as part of ABC Family's 13 Nights of Halloween line-up.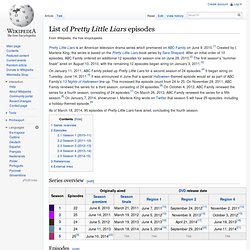 This increased the episode count from 24 to 25. On November 29, 2011, ABC Family renewed the series for a third season, consisting of 24 episodes.[6] On October 4, 2012, ABC Family renewed the series for a fourth season, consisting of 24 episodes.[7] On March 26, 2013, ABC Family renewed the series for a fifth season.[8] On January 7, 2014, showrunner I. Marlene King wrote on Twitter that season 5 will have 25 episodes, including a holiday-themed episode.[9] As of March 18, 2014[update], 95 episodes of Pretty Little Liars have aired, concluding the fourth season. List of The Good Wife episodes. List of Downton Abbey episodes. Series overview[edit] Episode list[edit] Series One (2010)[edit] Series Two (2011)[edit] Downton Abbey: Behind the Drama[edit] A 46-minute-long documentary compiled in anticipation of the Christmas 2011 two-hour special broadcast, Behind the Drama features behind-the-scenes footage from the filming of the series and short interviews with Julian Fellowes, the writer, actors (Elizabeth McGovern, Joanna Froggatt, Brendan Coyle, Dan Stevens, Michelle Dockery, Jessica Brown Findlay, Laura Carmichael, Penelope Wilton, Phyllis Logan, Thomas Howes, Leslie Nicol, Sophie McShera, Allen Leech) and other members of the team that produces Downton Abbey.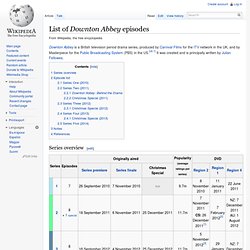 List of Desperate Housewives episodes. Desperate Housewives is an American television comedy-drama-mystery which premiered on ABC on October 3, 2004, in the United States. The first season had a single special episode, while the second and third season each had two. Seasons one through eight have been released on DVD in Regions 1, 2, 3, 4 and 5. Desperate Housewives follows the lives of four women–Susan (Teri Hatcher), Lynette (Felicity Huffman), Bree (Marcia Cross) and Gabrielle (Eva Longoria)–through the eyes of Mary Alice (Brenda Strong), their dead friend and neighbor. List of Shameless episodes.
---