Stats
Home | Integromics® | IT for Life Sciences. GO... Don't Panic . Learn Statistics. Using R for statistical analyses - Introduction. Help and Documentation My Publications See my books about R at my Publications Page: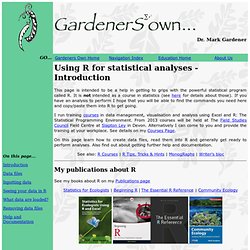 Oracle Forms PJCs/Java Beans - Version 1.5.1 (Español) - Oracle Forms PJC/BEAN - Excel Project. BEAN oracle.forms.jvr.xls.Write Crear Fichero: Crear el fichero de Excel.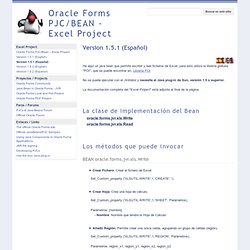 Set_Custom_property ('XLSUTIL.WRITE',1,'CREATE','');Crear Hoja: Crea una hoja de cálculo. Set_Custom_property ('XLSUTIL.WRITE',1,'SHEET', Parámetros); Parámetros: [nombre] - Nombre: Nombre que tendrá la Hoja de Cálculo. The R programming language for programmers coming from other programming languages. IntroductionAssignment and underscoreVariable name gotchasVectorsSequencesTypesBoolean operatorsListsMatricesMissing values and NaNsCommentsFunctionsScopeMisc.Other resources Ukrainian translation Other languages: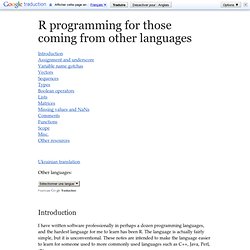 R and JAVA. Biocep. JavaGD - Java Graphics Device - RForge.net. rJava - Low-level R to Java interface - RForge.net. If you want to run R within a Java application, please see the JRI pages for details. rJava allows you to use R code to create Java objects, call Java methods and pass data between R and Java.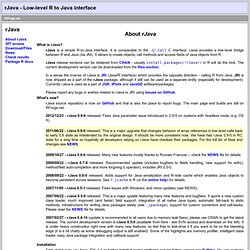 Most functions are already documented by the corresponding help pages in R, but here is a very basic crashcourse: The following gives a quick guide to the use of rJava. If you have questions about installation, please visit the R Wiki - rJava package. iPlots - High interaction graphics for R. The Omega Project for Statistical Computing.
---