Stats
OmicsOffice® – The Omics Intelligence Suite One solution for all your needs OmicsOffice is a cross-technologies consistent environment that allows the user to rely on the same application for the analysis and integration of data coming from different genomics technologies … Real Results.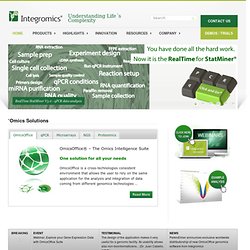 Home | Integromics® | IT for Life Sciences
GO... Don't Panic . Learn Statistics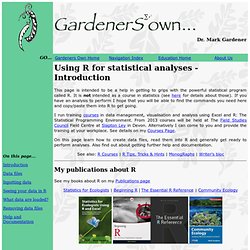 Help and Documentation My Publications See my books about R at my Publications Page:
Using R for statistical analyses - Introduction
Oracle Forms PJCs/Java Beans -
Version 1.5.1 (Español) - Oracle Forms PJC/BEAN - Excel Project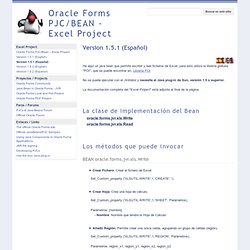 BEAN oracle.forms.jvr.xls.Write Crear Fichero: Crear el fichero de Excel. Set_Custom_property ('XLSUTIL.WRITE',1,'CREATE','');Crear Hoja: Crea una hoja de cálculo. Set_Custom_property ('XLSUTIL.WRITE',1,'SHEET', Parámetros); Parámetros: [nombre] - Nombre: Nombre que tendrá la Hoja de Cálculo
The R programming language for programmers coming from other programming languages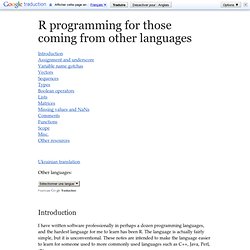 IntroductionAssignment and underscoreVariable name gotchasVectorsSequencesTypesBoolean operatorsListsMatricesMissing values and NaNsCommentsFunctionsScopeMisc.Other resources Ukrainian translation Other languages:
R and JAVA
Sharp Statistics typically works with consultants, engineers and scientists who are either spending long periods of time using Microsoft Excel or having difficulty to perform the analysis required, whether that is due to volume or complexity of the data. We build Excel Add Ins that can automate routine tasks saving time and allowing clients to concentrate on acting on information rather than getting bogged down in the mechanics of the analysis. Our Add Ins can also add extra functionality to Excel to allow clients to carry out the analysis without having to spend time and money on buying separate software applications, and then have the trouble of transferring data between the two.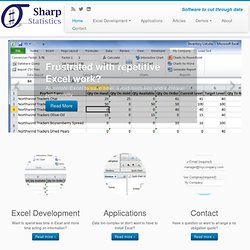 biocep
JavaGD - Java Graphics Device - RForge.net
If you want to run R within a Java application, please see the JRI pages for details. rJava allows you to use R code to create Java objects, call Java methods and pass data between R and Java. Most functions are already documented by the corresponding help pages in R, but here is a very basic crashcourse: The following gives a quick guide to the use of rJava. If you have questions about installation, please visit the R Wiki - rJava package.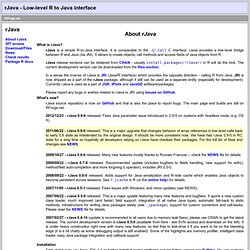 rJava - Low-level R to Java interface - RForge.net
iPlots - High interaction graphics for R
Blog Table of Contents CRAN-style repository for Omegahat packages Papers on General Topics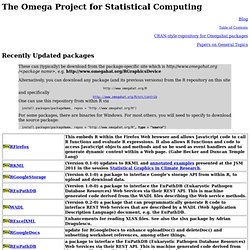 The Omega Project for Statistical Computing