Stats
Home | Integromics® | IT for Life Sciences
GO... Don't Panic . Learn Statistics
If you are learning biology, ecology, geography or environmental science then sooner or later you will have to deal with a load of numbers: in short, statistics. I began writing spreadsheets to help myself learn statistics when I was an undergraduate. After many years of tinkering the result is a suite of spreadsheets called " Don't Panic ".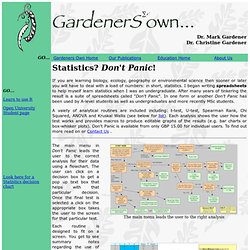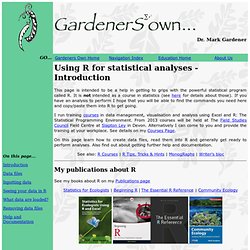 Help and Documentation My Publications See my books about R at my Publications Page :
Using R for statistical analyses - Introduction
Oracle Forms PJCs/Java Beans -
Version 1.5.1 (Español) - Oracle Forms PJC/BEAN - Excel Project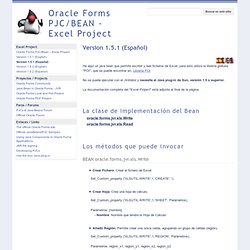 BEAN oracle.forms.jvr.xls.Write Crear Fichero: Crear el fichero de Excel. Set_Custom_property ('XLSUTIL.WRITE',1,'CREATE',''); Crear Hoja: Crea una hoja de cálculo. Set_Custom_property ('XLSUTIL.WRITE',1,'SHEET', Parámetros); Parámetros: [nombre] - Nombre : Nombre que tendrá la Hoja de Cálculo
The R programming language for programmers coming from other programming languages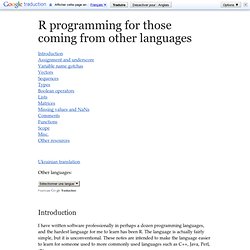 Introduction Assignment and underscore Variable name gotchas Vectors Sequences Types Boolean operators Lists Matrices Missing values and NaNs Comments Functions Scope Misc. Other resources Ukrainian translation
R and JAVA
biocep
JavaGD - Java Graphics Device - RForge.net
If you want to run R within a Java application, please see the JRI pages for details. rJava allows you to use R code to create Java objects, call Java methods and pass data between R and Java. Most functions are already documented by the corresponding help pages in R, but here is a very basic crashcourse: The following gives a quick guide to the use of rJava. If you have questions about installation, please visit the R Wiki - rJava package .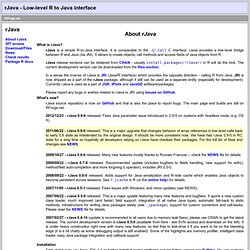 rJava - Low-level R to Java interface - RForge.net
iPlots - High interaction graphics for R
The Omega Project for Statistical Computing