Pdf
Reportlab.platypus. Calculating true three-fold PDF in Python. I created a three-column PDF format using frames and reportlab in the article Multi-column PDFs.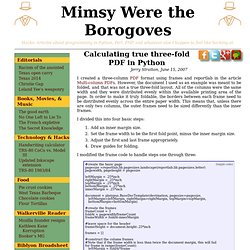 However, the document I used as an example was meant to be folded, and that was not a true three-fold layout. All of the columns were the same width and they were distributed evenly within the available printing area of the page. Crear documentos PDF en Python, y 1. En este post vamos a ver una pequeña introducción de cómo generar informes en formato PDF desde Python.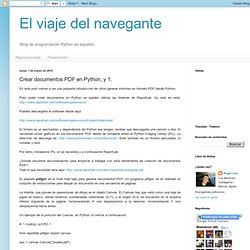 Para poder crear documentos en Python se pueden utilizar las librerías de ReportLab. Su web es esta: Puedes descargarte el software desde aquí: Universo Digital » Generar PDF con Python. Enviado por Cleve el 6 noviembre, 2009 Hace algún tiempo hablamos de Reportlab, un modulo para capturar string o imagenes y convertir todo eso a un documento PDF.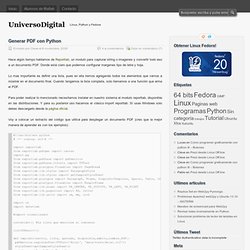 Donde está claro que podemos configurar margenes tipo de letra y hoja. Lo mas importante es definir una lista, pues en ella iremos agregando todos los elementos que vamos a mostrar en el documento final. HTML/CSS to PDF converter written in Python - HTML2PDF Converter. PDFMiner. Last Modified: Mon Mar 24 12:02:47 UTC 2014 Python PDF parser and analyzer Homepage Recent Changes PDFMiner API What's It?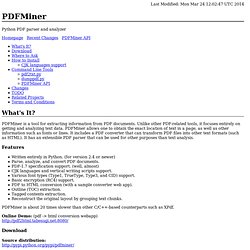 PyPdf. Out of date!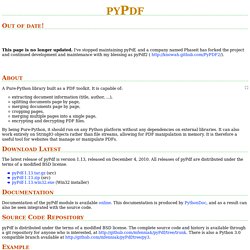 This page is no longer updated. I've stopped maintaining pyPdf, and a company named Phaseit has forked the project and continued development and maintenance with my blessing as pyPdf2 ( About A Pure-Python library built as a PDF toolkit. Python for PDF Generation :: Dev Shed. The aim of the Portable Document Format is noble.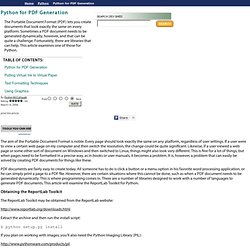 Every page should look exactly the same on any platform, regardless of user settings. If a user were to view a certain web page on my computer and then switch the resolution, the change could be quite significant.
---