Electronica
Motherboard PCB Bracelet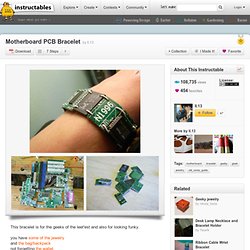 This bracelet is for the geeks of the leet'est and also for looking funky. you have some of the jewelry and the bag/backpack not forgetting the wallet , and now the bracelet! Tools needed:
Es un archibo comprimido que te permite aprender todo lo necesario en Informatica y Electronica Contenido: Aprenda Electronica desde Cero Cómo Cambiar un Microprocesador Como instalar un disco Rigido Cómo Montar un Cibercafé Español Como Montar una PC Paso a Paso Consejos generales para rellenar cartuchos Curso de Hardware Curso de Recuperación de Datos Curso de Reparacion de Monitores Curso de Reparacion de videograbadoras Curso Oficial de Windows 2003 Español Año 2005 Curso Reparación de Impresoras Curso Reparacion de TV 2005 Instructivo de Rellenado Manual de Adobe GoLive Español Manual de Adobe Pagemaker Manual de Adobe Premier Manual de Adobe Streamline Manual de Autocad 2006 Español Manual de Cibercontrol Manual de CyberAdmin Control Manual del Reciclador de Cartuchos Manual Oficial de Pinnacle Studio Plus Español Montaje y Configuracion de PC Taller de Mantenimiento de la Pc
Software para Electrónica y mas...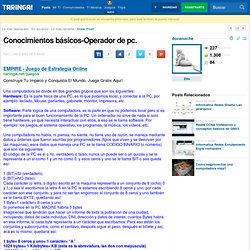 Intro Phys Comp Labs Components Some of the basic components Breadboard Setting up a breadboard Soldering Begining soldering exercise -- soldering a power connector Electronics Introduction to electronics Switches Switches Digital input and output on the Arduino Module Analog input and output on the Arduino Module ToneOutput - Introduction to Tone output using the Tone library Servomotor control Serial Communication - an introduction to microcontroller-to-PC communication using Processing Serial Communication - More on serial DC Motor Control using an H-bridge MIDIOutput - Introduction to MIDI output Arduino to DAW - Sending MIDI from Arduino to Music Software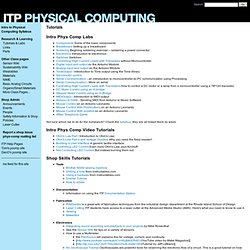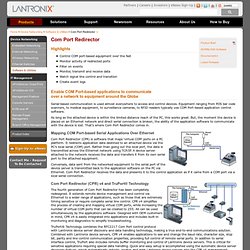 Highlights
Products > Device Networking > Utilities and Tools > Com Port Redirector
Departamento de Ingeniería Electrónica: ElectroWeb
Pablin
Main Page - Mech
Simbología electrónica / Símbolos electrónicos
Tutoriales Electrónica Fácil