Spirit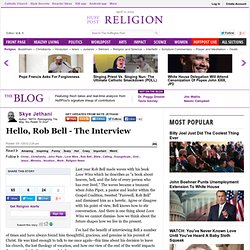 Skye Jethani: Hello, Rob Bell - The Interview
Last year Rob Bell made waves with his book Love Wins which he describes as "a book about heaven, hell, and the fate of every person who has ever lived." The waves became a tsunami when John Piper, a pastor and leader within the Gospel Coalition, tweeted "Farewell, Rob Bell" and dismissed him as a heretic.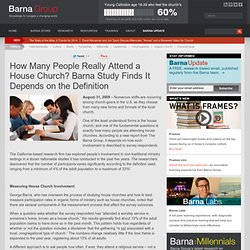 Numerous shifts are occurring among church-goers in the U.S. as they choose from many new forms and formats of the local church. One of the least understood forms is the house church, and one of the fundamental questions is exactly how many people are attending house churches.
The Barna Group - How Many People Really Attend a House Church? Barna Study Finds It Depends on the Definition
Stoning
NoseFrida the Snot Sucker! | FridaBaby
Overview
Sex And The City Set On A Hill « Diary of a Christian Universagnosticostal
Dealing With Inconsistencies in Scripture | Christian Piatt
The Pee Stick (PregMANcy) | Christian Piatt
Quotes about Doubt - O Me of Little Faith
I get asked occasionally if I've heard this or that quote about doubt and faith from such-and-such famous person.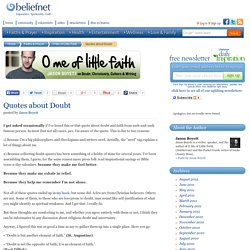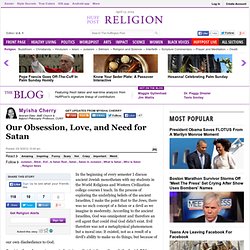 In the beginning of every semester I discuss ancient Jewish monotheism with my students in the World Religions and Western Civilization college courses I teach. In the process of exploring the underlying beliefs of the ancient Israelites, I make the point that to the Jews, there was no such concept of a Satan or a devil as we imagine in modernity.
Myisha Cherry: Our Obsession, Love, and Need for Satan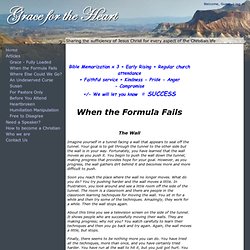 When the Formula Fails
When the Formula Fails The Wall
the necessity of companionship
A young lady whose blog I read has wondered where she stands in her faith now that she has left the legalistic environment of her upbringing. A mother's entry on another blog states that she has abandoned the Christian faith in spite of being strong and active in years past. A former pastor wrote on a discussion group that he has left the ministry and the faith because of all the "unfulfilled promises."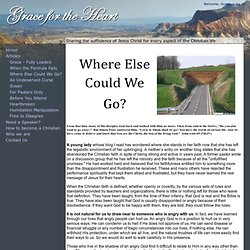 Where Else Could We Go?
Ancient Underwater Worlds
I'm not sure what Rob Bell was doing on Saturday, but I wonder how long it took for him to realize that he had blown up the Internet. At least, the Christian twitterverse and blogosphere.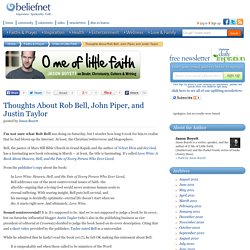 Thoughts About Rob Bell, John Piper, and Justin Taylor - O Me of Little Faith
My parents objected. "We're Jewish," they said.
Neil Gaiman: Hanukkah with bells on - Features - Books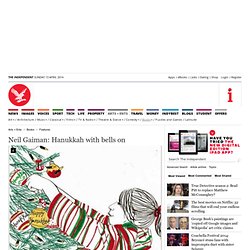 The Collision of Faith & Creativity: Interview with Gary Molander | Church Marketing Sucks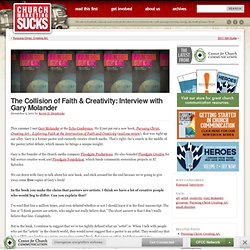 This summer I met Gary Molander at the Echo Conference .
The cashier was pleasant and friendly. He joked around with the kids, and easily made small talk while he lovingly rang up our toothpaste and toilet paper. He carefully bagged our baubles and breakables, and he made sure to ask if we wanted the drinks we'd just grabbed from the cooler left out.
'Happy Holidays' and other four letter words | The Path Less Taken
Baby Weight by Cheryl Strayed
John 1:5: The Archer's Grief
Today we're considering John 1:5, which reads: "The light shines in the darkness, but the darkness has not understood it."
The Rosie Show: Randy Roberts Potts and Nate Phelps - OWN TV
Some people are nice while others not so much... which one are you? [VIDEO]
"The patriarchal, ego-fortifying, psyche-destroying, soul-crushing, domineering, brain-washing, fear-inducing, manipulative, spiritually abusive world of the fundamentalism I know"
[I was raised] in an Independent Fundamentalist Baptist church, home, and school. There was intense focus on the filthy rags verse. We were indoctrinated to believe that we were completely worthless in the eyes of God; and this is how we came to view everyone else as well — which leads to the hubris and judgmentalism so common to fundamentalism.