Objectivity in the U.S.
CNN Fights Back With 'Objectivity' Arguments. During CNN's upfronts presentation on Tuesday, HLN personalities weighed in on scandals in the news.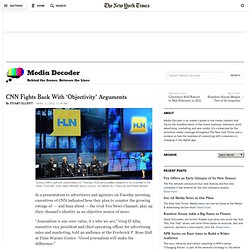 From left, Jane Valez Mitchell, Nancy Grace, Joy Behar, A.J. Hammer and Robin Meade. In a presentation to advertisers and agencies on Tuesday morning, executives of CNN indicated how they plan to counter the growing ratings of — and buzz about — the rival Fox News Channel: play up their channel's identity as an objective source of news. "Journalism is our core value; it's who we are," Greg D'Alba, executive vice president and chief operating officer for advertising sales and marketing, told an audience at the Frederick P. Rose Hall at Time Warner Center. Ted Koppel - Wildly Opinionated Fox MSNBC - Serious Objectivity | VIDEO. The man best known as the longtime anchor of ABC's Nightline, Ted Koppel, says "wildly opinionated" cable news has left him "saddened," and he believes viewers deserve–and the times require–"a little more serious objectivity."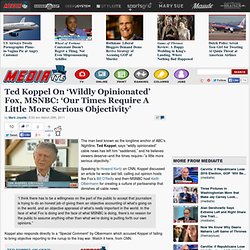 Speaking to Howard Kurtz on CNN, Koppel discussed an article he wrote last fall, calling out opinion hosts like Fox's Bill O'Reilly and then-MSNBC host Keith Olbermann for creating a culture of partisanship that dimishes all cable news: "I think there has to be a willingness on the part of the public to accept that journalism is trying to do an honest job of giving them an objective accounting of what's going on in the world, and an objective appraisal of what's really important in the world. In the face of what Fox is doing and the face of what MSNBC is doing, there's no reason for the public to assume anything other than what we're doing is putting forth our own opinions." Why Most Journalists Dislike Fox News: It's Not the Reason You Think | Dallas Public Relations Idea Grove. According to Dee Rambeau, July is Media Orchard's "Pick on Fox News" month — so since July is almost over, I thought I'd better get in one last lick.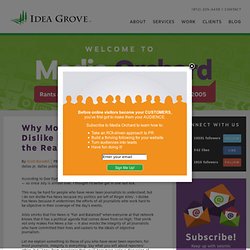 This may be hard for people who have never been journalists to understand, but I do not dislike Fox News because my politics are left of Roger Ailes'. I dislike Fox News because it undermines the efforts of all journalists who work hard to be objective in their coverage of the day's events. FOX News, MSNBC and Objectivity - Objectivity in Cable News. This is a confusing time for journalism students.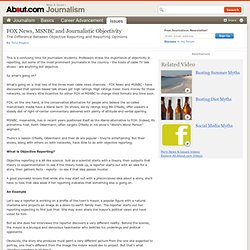 Professors stress the importance of objectivity in reporting, but some of the most prominent journalists in the country - the hosts of cable TV talk shows - are anything but objective. So what's going on?
---