Objectivity in the U.S.
CNN Fights Back With 'Objectivity' Arguments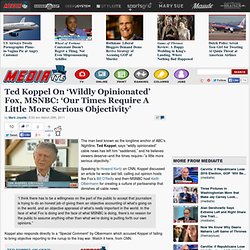 The man best known as the longtime anchor of ABC's Nightline, Ted Koppel, says "wildly opinionated" cable news has left him "saddened," and he believes viewers deserve–and the times require–"a little more serious objectivity."
Ted Koppel - Wildly Opinionated Fox MSNBC - Serious Objectivity | VIDEO
Why Most Journalists Dislike Fox News: It's Not the Reason You Think | Dallas Public Relations Idea Grove
According to Dee Rambeau, July is Media Orchard's "Pick on Fox News" month — so since July is almost over, I thought I'd better get in one last lick. This may be hard for people who have never been journalists to understand, but I do not dislike Fox News because my politics are left of Roger Ailes'. I dislike Fox News because it undermines the efforts of all journalists who work hard to be objective in their coverage of the day's events.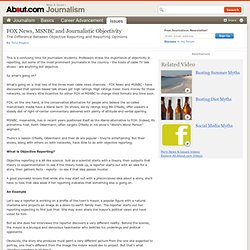 This is a confusing time for journalism students. Professors stress the importance of objectivity in reporting, but some of the most prominent journalists in the country - the hosts of cable TV talk shows - are anything but objective. So what's going on?