A Regarder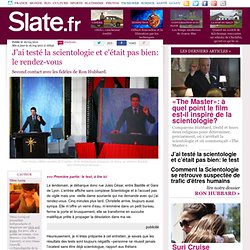 J'ai testé la scientologie et c'était pas bien: le rendez-vous
»»» Première partie: le test, à lire ici Le lendemain, je débarque donc rue Jules César, entre Bastille et Gare de Lyon. L'entrée affiche sans complexe Scientologie et à l'accueil pas de vigile mais une vieille dame souriante qui me demande avec qui j'ai rendez-vous. Cinq minutes plus tard, Christelle arrive, toujours aussi sympa.
Delphine Quid'beuf GAGNON, Lycee Professionnel Saint Jacques De Compostelle
rrrewind: popular links archive
Gadget et accessoires fun | Idées de cadeaux originaux à offrir
Télécharger Writer2ePub - gratuit -
Ma Maison Céliane | Solutions électricité, pièce par pièce | Collection d'interrupteurs Céliane de Legrand
Best Of Autour du Web 2010
Sony Ericsson LiveView™
FAKIR | Presse alternative | Edition électronique
Sur le site du Ministère de la Santé, Roselyne Bachelot oublie un détail dans son CV : ses douze années passées au service de l'industrie pharmaceutique.Mais qu'a-t-elle fait, exactement, pour SoguiPharm, Ici-Pharma, Astra-Zaneca ? Le plus simple, c'était de lui demander. Sauf que la ministre se fâche et s'échappe en courant... Jeudi 5 novembre. Comparaisons biographiques
Régis Entrainement Kung Fou - une vidéo Comédie et Humour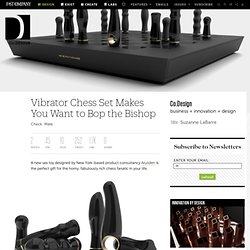 A new sex toy designed by New York-based product consultancy Aruliden is the perfect gift for the horny, fabulously rich chess fanatic in your life. It's a chess set with pieces that double as vibrators, 32 in all, from round-tipped pawns to knights shaped like anal beads. Like any decent vibrator, they're made of medical-grade silicone and ABS. Unlike any old vibrator, they've also got gold-plate detailing and could cause you to have inappropriate thoughts of Bobby Fischer. Produced for the chichi erotic shop Kiki de Montparnasse, the sets are being trotted out in late November, early December.
Vibrator Chess Set Makes You Want to Bop the Bishop | Co.Design
pendentif, bijoux pendentifs, pendentif or, pendentif argent
Le concept Pendentif.com. L'expert qui vous accompagne est leader français de la réalisation de pendentifs. Afin d'optimiser votre achat, vous bénéficiez en amont d'un entretien personnalisé avec l'un de nos experts. Son rôle est de vous expliquer comment choisir votre futur pendentif en alliant qualité, beauté tout en respectant votre budget de départ.
Google Shows the Future of Browser Games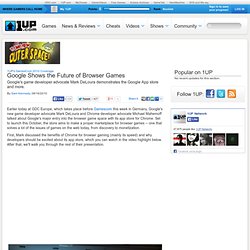 Earlier today at GDC Europe, which takes place before Gamescom this week in Germany, Google's new game developer advocate Mark DeLoura and Chrome developer advocate Michael Mahemoff talked about Google's major entry into the browser game space with its app store for Chrome. Set to launch this October, the store aims to make a proper marketplace for browser games -- one that solves a lot of the issues of games on the web today, from discovery to monetization. First, Mark discussed the benefits of Chrome for browser gaming (mainly its speed) and why developers should be excited about its app store, which you can watch in the video highlight below.
Tutorial Final Cut : correction couleur dynamique avec des keyfr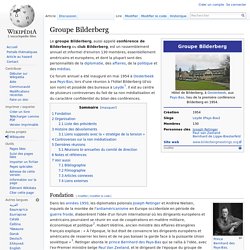 Un article de Wikipédia, l'encyclopédie libre. Le groupe Bilderberg, aussi appelé conférence de Bilderberg ou club Bilderberg, est un rassemblement annuel et informel d'environ 130 membres, essentiellement américains et européens, et dont la plupart sont des personnalités de la diplomatie, des affaires, de la politique et des médias. Ce forum annuel a été inauguré en mai 1954 à Oosterbeek aux Pays-Bas, lors d'une réunion à l'hôtel Bilderberg (d'où son nom) et possède des bureaux à Leyde[1]. Il est au centre de plusieurs controverses du fait de sa non-médiatisation et du caractère confidentiel du bilan des conférences. Fondation[modifier | modifier le code]
The Family